This Is The Lipstick Molly Ringwald Wore In The Breakfast Club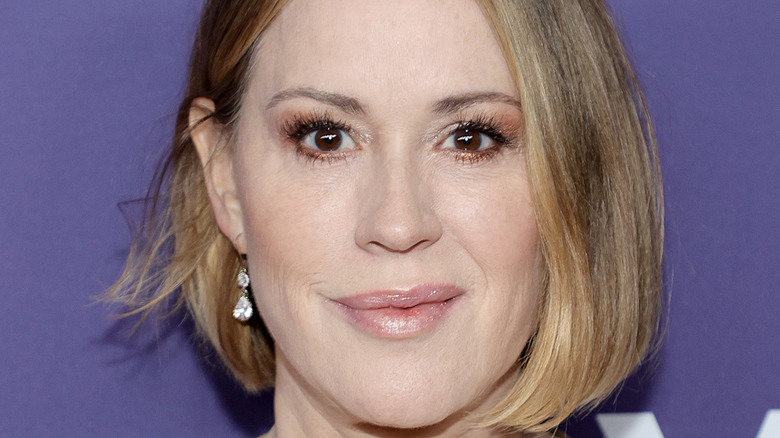 Jamie Mccarthy/Getty Images
There are some movies that withstand the test of time. A select few also have fashion and beauty trends that are great no matter what year you're watching them in. "The Breakfast Club" is one of those movies. The characters' looks are so classic, they'll never go out of style. Case in point: The lipstick that Molly Ringwald wears in the movie actually went viral on TikTok nearly three decades after the movie came out. 
The amount of lip colors out there is actually overwhelming. So, when a makeup artist picks a specific hue to convey the right mood in a movie, of course it becomes iconic. All good trends come back around, but the lipstick that Ringwald's character Claire wears in "The Breakfast Club" never actually went anywhere to begin with.
Here's everything you need to know about the iconic lip shade Ringwald wore in John Hughes' classic 1985 film so you can stock up on this fabulous product yourself. Because this is not just a trend — this lipstick will be sitting in your makeup bag for years to come. 
Molly Ringwald wears Black Honey Lipstick in The Breakfast Club
There's nothing better than getting the inside scoop on the iconic beauty products used in movies. Whether you're looking to recreate a specific moment from the film, or you just happened to be eyeing the perfect shade, TikTok user Britney Cale is your girl. The creator found the exact lipstick that Molly Ringwald wears in "The Breakfast Club," and you've probably heard the name before. It's called Black Honey, and it's going viral on TikTok. 
You know that remake of a song that the younger generation thinks is new, but you know the truth? Yeah, well that's likely how Ringwald felt when everyone went crazy over the Black Honey Lipstick from Clinque. The lipstick became super popular on TikTok in 2021, and for a great reason. While the lipstick looks almost black in the tube, it turns into your personal perfect shade of pink when you apply it to your lips. Black Honey Lipstick has been used by several on-screen stars over the last few years, including actress Zooey Deschanel.
The shade isn't just iconic for the gorgeous color in the movie, but how Ringwald's character applies it. In "The Breakfast Club," she puts the lipstick in her cleavage and applies it without using her hands. So, you know, it isn't just great for looking good, but you could also use it to try the trick, too. 
Black Honey is flattering on everyone
Clinque's Black Honey Lipstick came out in 1971, and has been a favorite of makeup artists ever since. From Zooey Deschanel's character on "New Girl," to Troian Bellasario on "Pretty Little Liars," there have been tons of on-screen celebrities that have worn the shade. It makes sense considering how unique this product is.
The shade goes on sheer in your personal shade of pink and then can be built up as opaque as you'd like. Basically, it's your own personal hue with none of the extra mixing. "It's flattering on everyone. It's magical," Janet Pardo, senior vice president of product development at Clinique, says on the brand's website. She added, "It makes your teeth look whiter, it makes your lips look gorgeous, and it's very forgiving — you don't even need a mirror when you put it on. It's functional, yet so desirable."
When this product went viral in 2021, it sold out just about everywhere. Thankfully, at the time of publication, you can purchase it through the Clinique website for $20. That's a small price to pay to get your perfect shade. Run, don't walk, to get this color, because we're certain it'll stick around for a long time.