Was Kate Middleton Really William's Wing-Woman Before They Got Together?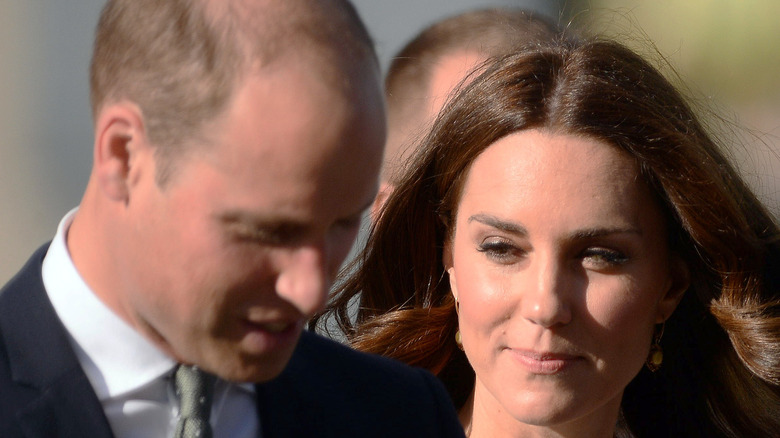 Isaaack/Shutterstock
As it turns out, some real-life fairytales do exist. Case in point? Prince William and Kate Middleton's story book romance. Way, way back in the day, the Duke and Duchess of Cambridge were just a pair of normal college students who fell in love. In a tale that many know all too well, Kate and William first met in 2001, during their first year the University of St. Andrews in Scotland (via Insider). However, it wasn't until Middleton modeled in a charity fashion show (wearing a sheer dress, might we add), that the prince began to see her in a new light, as noted by In Style. When Middleton walked down the catwalk, William reportedly whispered to his friend "Wow, Fergus, Kate's hot!"
What eventually turned into a healthy and loving marriage initially began as a friendship. "When I first met Kate I knew there was something very special about her. I knew there was possibly something that I wanted to explore there," Prince William shared in an interview with ABC. "We ended up being friends for a while and that just sort of was a good foundation. Because I do generally believe now that being friends with one another is a massive advantage." 
In fact, the pair were such good friends that the mother of three was the prince's wing-woman back in their college days — but not in the way you might think.
Kate Middleton pretended to be Prince William's girlfriend to save him from eager suitors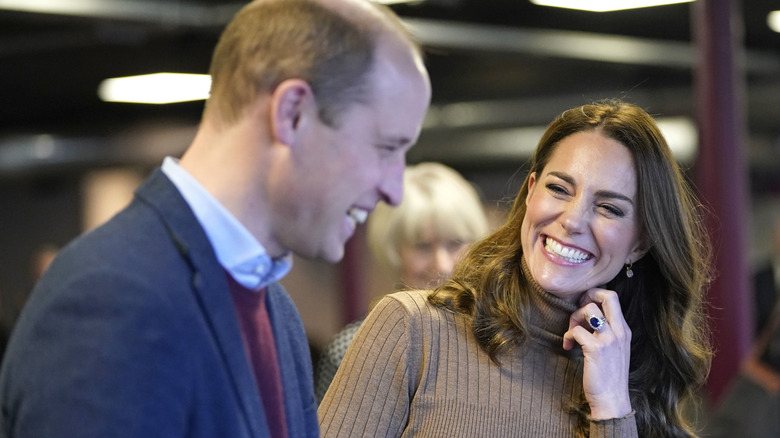 Danny Lawson/Shutterstock
According to Cosmopolitan, before Kate Middleton and Prince William became college sweethearts, the Duchess of Cambridge was a wing woman for her now-hubby. But rather than helping the prince score dates, instead, Middleton helped fend off William's many female suitors. How did she do it? By pretending to be the his girlfriend. When speaking to Katie Nicholl for her book "Kate: The Future Queen," Laura Warshauer, a university friend of William and Kate's, recalled a night when Middleton used her wily tactic to help the prince.
"Will was getting really hit on by this girl at a party and it was getting quite uncomfortable because he couldn't shake her off," Warshauer shared, via the Mirror. "He was being polite, but this girl just didn't get the hint." 
Out of the blue, Middleton swopped in to save the day by wrapping her arms around the Prince. To his suitor, "he said, Oh, sorry, but I've got a girlfriend', and he and Kate went off giggling," Warshauer continued. To show his appreciation, the Prince mouthed a 'thank you' to Kate, his knight in shining armor. 
According to Warshauer, "Kate was the only girl in the room who could have done that. And that was just a month after we started university." It didn't take long for Middleton and Prince William's fake romance to turn into a real one. And the rest, as we say, was history.