These Homes Inspired The Sets On The Bold And The Beautiful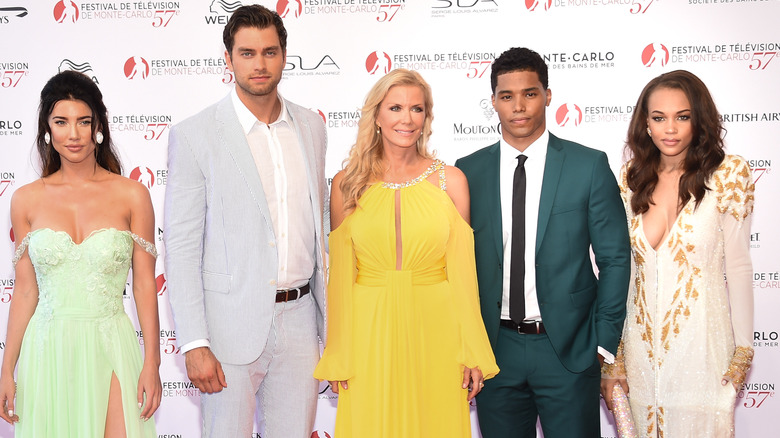 Stephane Cardinale - Corbis/Getty Images
"The Bold and the Beautiful" lives up to its name in a myriad of ways. The half-hour CBS soap, which will celebrate 35 years on the air in 2022, presents the luxury and glamor of a fictional version of the Los Angeles fashion scene, with Eric Forrester (John McCook) heading up Forrester Creations, a premier fashion house, for decades. Thanks to chemist Brooke Logan (Katherine Kelly Lang), who has been married to nearly every adult male Forrester — including Eric and his son, Ridge Forrester (Thorsten Kaye) — and the groundbreaking wrinkle-free fabric she created, the family and Brooke have money to spare on the most high-scale homes in town, according to SoapHub.
Almost every episode of "B&B" reminds fans of this luxury and allows them to fantasize about living in some of the most beautiful accommodations with stunning establishing shots of the characters' impeccables homes. And, some of these homes were inspired by the real-life abodes of the powers-that-be behind the scenes, both past and present.
Bill and Lee Philip Bell's home became a part of The Bold and the Beautiful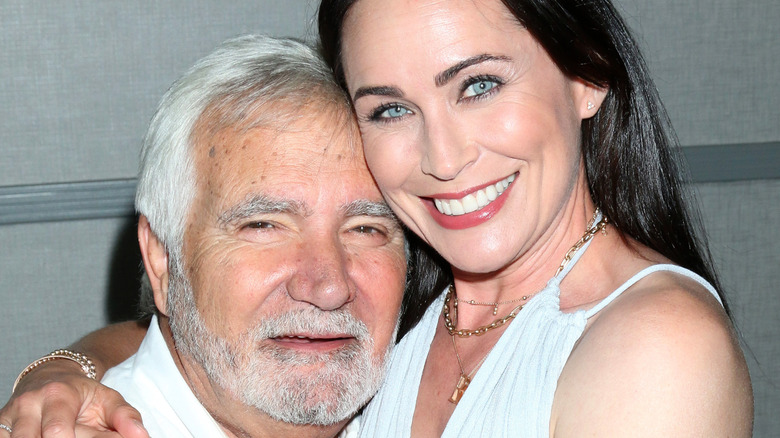 Kathy Hutchins/Shutterstock
While Eric Forrester's mansion seems like Grand Central Station, with people coming and going at leisure and moving in and out as the mood suits them, Eric's house looks very much like the real-life home of the late Bill and Lee Philip Bell, the husband and wife writing team that created "The Bold and the Beautiful" back in 1987.
When Lee Philip Bell passed away in early 2020 after losing her husband in 2005, their children, Bill Bell Jr., Lauralee Bell (Christine on "The Young and the Restless," which Bill also created), and Bradley Bell, the current executive producer and head writer for "B&B", sold their parents' Beverly Hills mansion, with Lauralee posting a farewell to their family home on Instagram.
"This house was also where lots of story ideas were created, Y&R and B&B holiday parties took place, family bday celebrations, hysterical grandkid Easter egg hunts, our annual Christmas photo but most importantly, lots of laughs," Lauralee wrote. "So when you see some the B&B actors in the opening titles or an establishing Forrester house shot, you'll know that was the location of so many special times."
Other Bell homes are the models for other Forrester homes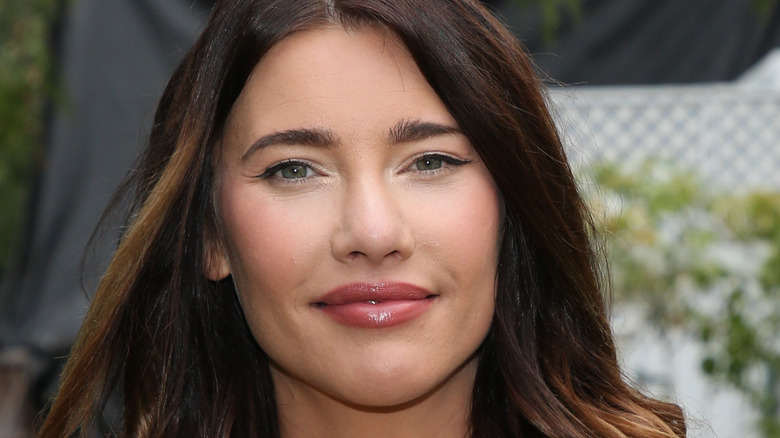 Paul Archuleta/Getty Images
When Ridge Forrester is married to Brooke Logan — they have been wed a whopping nine times — they live in their own mansion. It may not be as large and luxurious as the one that Eric owns, but it is still quite a sight. And, it was inspired by the home belonging to the soap's longtime executive producer, Brad Bell, according to SoapHub.
Ridge's daughter, Steffy Forrester (Jacqueline MacInnes Wood), lives in a dream house for those who adore the beach, with the establishing shots offering the picturesque Pacific ocean. On the soap, it is simply called The Cliff House, and Steffy is raising her family there with husband Finn (Tanner Novlan). In 2021, fans even learned that Steffy's house has its very own guest house. That beautiful piece of property is also modeled after a Bell family home, this one being Brad Bell's Malibu property. For the Bell soaps, keeping it in the family is the name of the game, indeed.