Tom Brady Announces His Retirement In Touching Post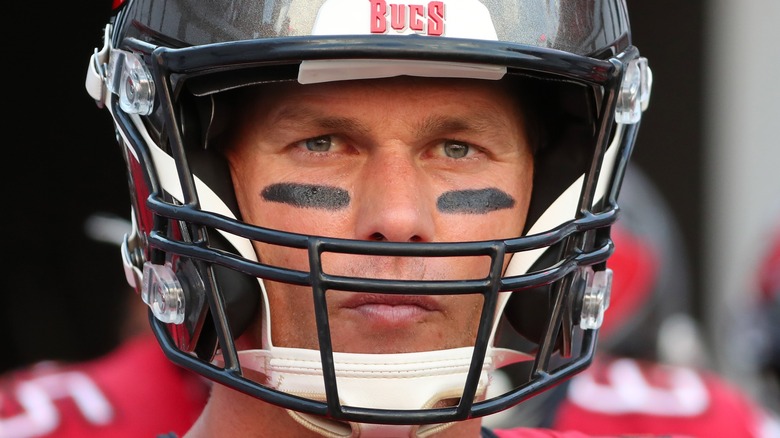 Steve Jacobson/Shutterstock
After much speculation, Tom Brady has officially announced he is retiring from the NFL. Taking to his social media on Tuesday morning, the legendary quarterback shared a series of lengthy posts expressing his gratitude to, well, just about everyone (via Sports Illustrated). His decision comes after failing to lead the Tampa Bay Buccaneers to the Super Bowl in a close defeat by the Los Angeles Rams.
The GOAT first explained why he has decided not to embark upon another season, writing, "I have always believed the sport of football is an 'all-in' proposition—if a 100% competitive commitment isn't there, you won't succeed, and success is what I love so much about our game," Brady tweeted. He then said, "This is difficult for me to write, but here it goes: I am not going to make that competitive commitment anymore."
The 44-year-old tweeted that after 22 years, it is time for him to turn his attention to other areas of his life.
Tom Brady is thankful to the people in his life who supported him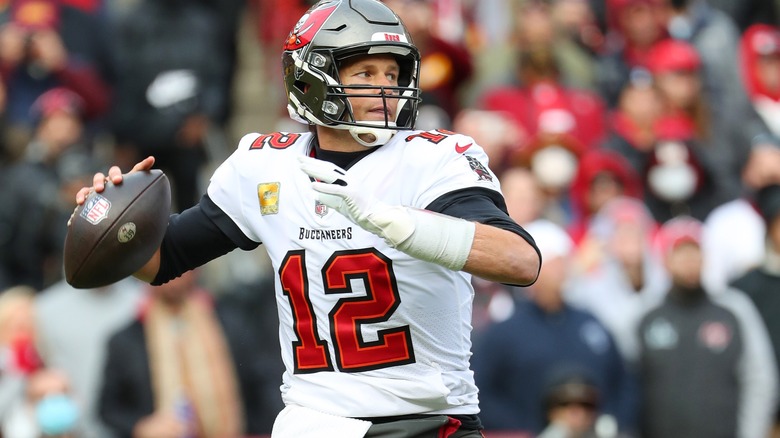 Steve Jacobson/Shutterstock
In a crushing series of tweets for every Bucs fan, and maybe even his fans from New England, Brady shared he has asked himself tough questions over the past several days. "Right now, it's best I leave the field of play to the next generation of dedicated and committed athletes," the QB wrote, continuing his difficult post by launching into expressions of gratitude. First, Brady thanked his teammates, adding, "I am always here for you guys."
Brady thanked Bucs fans, the city of Tampa and the Glazer family, who own the team (via Republic World). The prolific player thanked his coaches and the many staffers and supporters of his entire career. Brady then shared an emotional thank you to his family, writing, "I could never have imagined the time and energy you have given me the past 30 years in football. I can never repay you."
Finally, Brady shared some heartfelt words for his wife.
Tom Brady ends his retirement announcement with touching words for Gisele Bündchen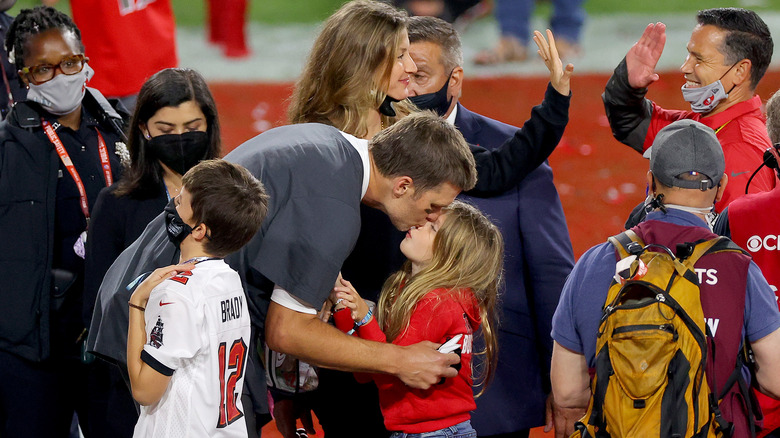 Kevin C. Cox/Getty Images
In his emotional post announcing his retirement, Brady shared a sweet message for his wife and family. "To my wife Gisele, and my children Jack, Benny and Vivi," he tweeted, naming his kids with his ex, Bridget Moynahan, and with the model. "Our family is my greatest achievement." He thanked Bündchen for her "selflessness" in allowing him to excel in his career.
"My playing career has been such a thrilling ride," Brady said, adding he cherishes his time on the field and the relationships he built. "I feel like the luckiest person in the world," he wrote, adding, "The future is exciting" and he planned to take things day by day and "enrich" the lives of those who did the same for him.
Of course, reaction from fans was swift, with the news trending on Twitter within minutes. There's no doubt football will be a different game now!