What We Know About Tom Brady's Reported Retirement From Football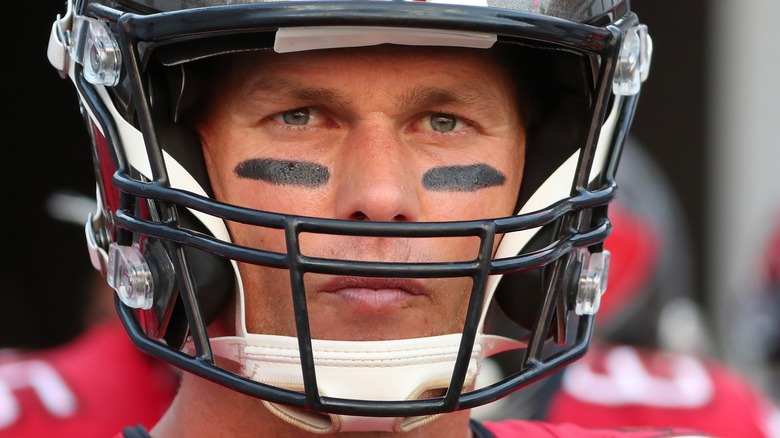 Steve Jacobson/Shutterstock
Tom Brady is officially retiring from professional football, ESPN reported. The seven-time Super Bowl ring winner played in the National Football League for 22 seasons, and the possibility of his retirement came up throughout the playoffs this year. The 44-year-old player often said that he didn't want a farewell season, and after his Tampa Bay Buccaneers lost to the Los Angeles Rams, ending the team's Super Bowl LVI hopes, the QB, who is one of the league's all-time greatest, decided it was time to hang up his pads. 
For now, Brady hasn't made a formal announcement of his retirement. But, when he does, Brady will also reveal what he plans to do next in his career and life. CBS Boston reported that sources from the NFL great's inner circle revealed that Brady doesn't want to make a formal announcement during Super Bowl week, so many expect his formalized plans to come very soon. CBS Sports' Jason La Canfora reported, "Brady is fully aware of the ripple effect his departure would have on the organization, and however he opts to formalize his plans — on social media or through a press conference or both — there is a growing anticipation that it's coming this week."
Several factors went into Brady's choice to retire after this season. Read on to find out what they are.
Here's what went into Tom Brady's retirement considerations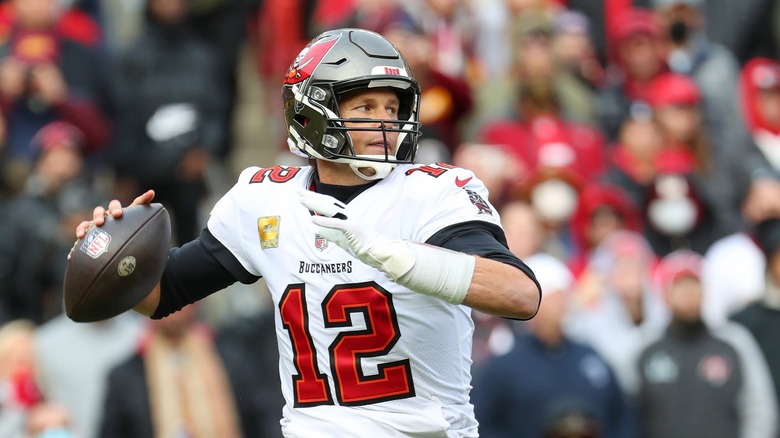 Steve Jacobson/Shutterstock
Tom Brady factored in several things when choosing to retire from the National Football League and the Tampa Bay Buccaneers at the age of 44, according to ESPN. First and foremost, Brady considered his family and health when deciding now is the correct time to leave the game. In addition, he took the fact that the Bucs will likely have several roster changes after losing out to the Los Angeles Rams last week. With many new players coming onto the team, this is probably a good time for a new quarterback, too, like one of the five possibilities CBS Sports mentioned.
After Brady's retirement, the Buccaneers have at least one surprising potential quarterback replacement to consider. While many consider Aaron Rodgers as the only possible replacement for Brady, there's an outside chance that previously retired Andrew Luck might be willing to come back to professional play to helm the Bucs in Brady's absence. Whoever takes over has big shoes to fill after Brady's retirement. The last time the possibility came up four years ago, he decided to continue, winning two more Super Bowls in the meantime.