The Most Expensive Clothing Items You Can Get At Anthropologie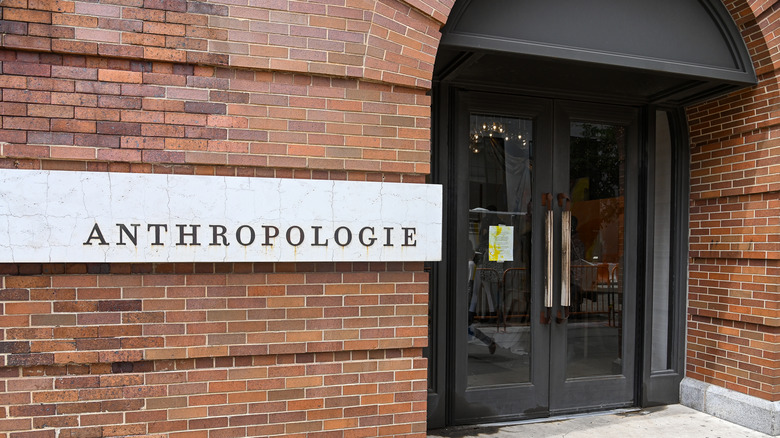 Ben Gabbe/Getty Images
Anthropologie is a one-stop shop for all things boho-chic. Whether you're looking for a plush bedspread, or a new dress for a fancy dinner party, you'll find it all under the gorgeous roof of an Anthropologie store. Most shoppers come to Anthro for their most popular items, including monogrammed coffee mugs, their selections of home decor like the Primrose mirror, and of course, their heavenly-smelling candle, Capri Blue.
While shoppers come in to decorate their homes and find gifts for friends and family, Anthropologie is still primarily known for their selection of clothing. From loungewear and sneakers, to dainty jewelry and even wedding dresses, shoppers continue to flock to the store to fill their closets and enhance their wardrobes. So much so that, according to Mental Floss, Anthropologie shoppers make up a large portion of the revenue for parent company, Urban Outfitters. In 2014, Urban Outfitters made over $3 billion in net sales, with Anthropologie contributing roughly 39% of the total. And some of those sales may be due to Anthro's uber-expensive clothing items.
Anthropologie has expensive taste
According to their website, every item at Anthropologie "​​caters to the lifestyle of our five muses: soft & delicate; boho chic; easy cool; elegant classic; and modern sporty." Their clothing is geared toward educated and creative women between the ages of 30 and 45. Many shoppers know that you don't go to Anthropologie for huge deals (although, their sale room is always a must-see), but rather for high-quality items that cost a bit more.
When it comes to clothing, the most expensive items for sale at Anthropologie fall under their wedding line, BHLDN. Their Cordelia gown, part of a special collection, features "wispy appliques in raw edge chiffon, luminescent beading and metallic threads" and rings in at $2,500. As you peruse the website further, you'll find an array of gowns in different styles, all retailing between $895 and $2,500.
According to House Beautiful, there are a lot of tips and tricks when it comes to shopping at Anthropologie, but, unfortunately, many of them don't apply to BHLDN items. In fact, any type of discount Anthropologie offers does not apply to the BHLDN wedding dresses, per Anthropologie's website. But, if you are looking for a deal, consider joining Anthropologie's loyalty program, which offers members-only specials, free shipping over $50, and a special treat on your birthday.