Jeremiah Duggar Has A New Career After The Counting On Cancellation
In June 2021, several outlets confirmed TLC's long-running series "Counting On" had been cancelled after 11 seasons in the wake of Josh Duggar's arrest. In a statement given to People, the network revealed, "TLC will not be producing additional seasons of 'Counting On.' TLC feels it is important to give the Duggar family the opportunity to address their situation privately."
The situation in question involved the ongoing sex abuse lawsuit against Josh, whose family was at the center of original show "19 Kids and Counting," which ran from 2008 to 2015. "19 Kids and Counting" was cancelled when the controversy initially gained traction, with "Counting On" debuting shortly after, notably without Josh as a cast member. He was subsequently involved in another scandal, this one involving dating site Ashley Madison, and ultimately confessed to having a pornography addiction and being consistently unfaithful to wife Anna Duggar.
In April 2021, Josh was arrested on child pornography charges. At the time, TLC noted, "'19 Kids and Counting' has not aired since 2015. TLC cancelled the show on the heels of prior allegations against Josh Duggar and he has not appeared on-air since then." However, they ultimately bowed to pressure from fans and cancelled "Counting On" too. "We look forward to all the new adventures and endeavors that may come our way, and with so many grown children and wonderful grandchildren, we know our love will only continue to multiply!" Jim Bob and Michelle Duggar said in a statement after the show was canceled, per People. Thankfully, Jeremiah Duggar has found an alternative way to make money without the show.
Jeremiah Duggar launched his own business following the show's cancellation
According to The Sun, "Counting On" alum Jeremiah Duggar applied for a business license in June 18, 2021, just a few days before TLC cancelled the long-running show. Jeremiah's business is called Hometown Construction, LLC, but, aside from being the ostensible owner-operator, the former reality star also works alongside twin brother Jedidiah and their siblings, James and Joseph Duggar, at Good Neighbor Realty. Elsewhere, he holds two further licenses giving him the freedom to work as both a commercial pilot and flight instructor. In March 2020, Jeremiah launched yet another business, entitled Fly Here.
A source told The Sun that the Duggars were "shocked by the news" that "Counting On" wouldn't be continuing, noting, "They were quietly confident it would be renewed for at least one more season because Josh isn't on it." The insider further shared, "The petition from those who boycotted 'Counting On' was hard to ignore, and sponsors were very concerned following Josh's arrest."
It seems Jeremiah, who's now in his early 20s, is focused on the future, however. His family is 100% behind him too, even praising his skills as a handyman on their official Instagram page. They shared, "Jeremiah and Jason know how to get things done! When they're not on a construction site, you can usually find them getting supplies... ready for the next project! Grateful for these hardworking guys!"
The rest of the Duggar family has also moved on to pursue other careers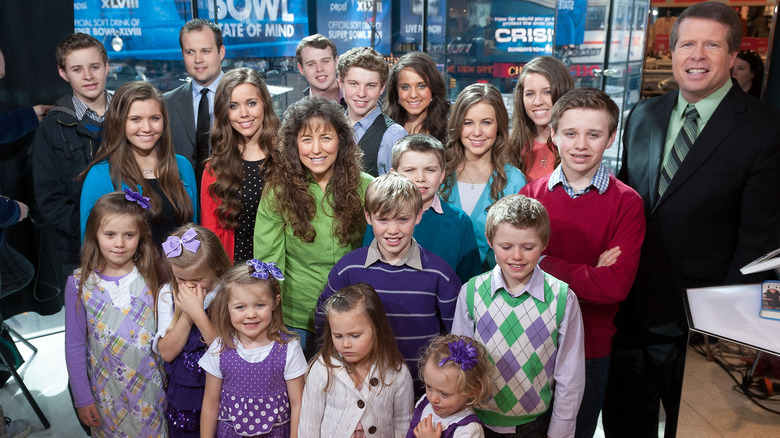 D Dipasupil/Getty Images
As for the rest of the Duggar clan, it appears as though many followed in the footsteps of their father, Jim Bob Duggar. According to Showbiz CheatSheet, even while appearing on "Counting On," Jim Bob has built a multi-million-dollar empire through various avenues (after all, raising 19 children isn't cheap). For the past 20 years, Jim Bob has maintained a profitable real estate business, in which he flips commercial and residential properties, and he has also managed to build an entire conservative lifestyle brand that includes television shows, books, and speaking events. Jim Bob also served as a Republican politician in the Arkansas House of Representatives from 1999 to 2002, per People.
Many of the Duggar sons and sons-in-law also own their own businesses or are involved in politics in some way. Ben Seewald, who is married to Jessa Duggar, went to school for political science and is currently a pastor, per Meaww. Jeremy Vuolo, who is married to Jinger Duggar, is a former Major League Soccer player and currently works as an ordained minister. Joe Duggar, Austin Forsyth (who is married to Joy Duggar), and Jason Duggar work in construction and house flipping, just like their father and father-in-law. Jedidiah Duggar is also following in his father's footsteps by pursuing politics as a Republican, according to Meaww.
Due to the strict beliefs that the Duggar family possesses, most of the women in the family are expected to stay at home and are discouraged from pursuing high-powered careers outside of the home, as In Touch Weekly reports.