Does The Dyson Airwrap Dupe Going Viral On TikTok Really Work?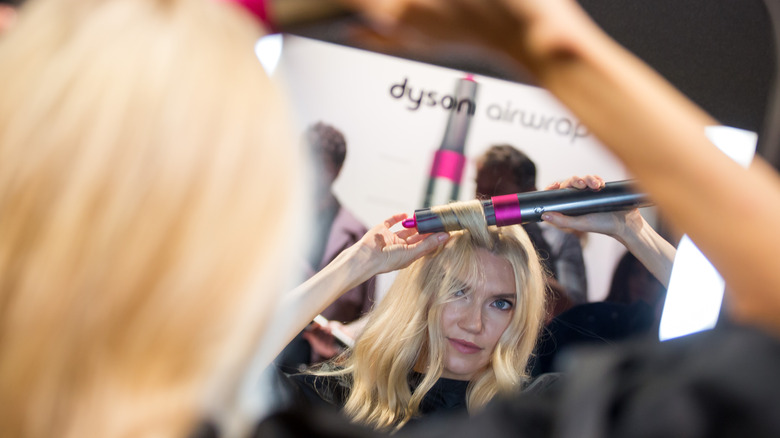 Bloomberg/Getty Images
If you're a fan of or active member of the beauty world, chances are the Dyson Airwrap has a spot on your wish list. Dyson is known for delivering unique products using innovative technology that manage to become people's holy grails. Oh, and they're also known for being insanely pricey. At first it was Dyson vacuums that earned a spot in everyone's homes as well as The New York Times' title of "Best Cordless Stick Vacuum." However, over the past few years since their transition into hair styling tools, Dyson has grown to become the top brand in hair tools. From their very first hair dryer to the most recent cordless flat-iron, every hair tool that Dyson releases becomes a huge hit — but none quite like the Airwrap. 
As a three time Allure Best of Beauty Award winner, the Dyson Airwrap's reputation precedes it. The styler tool comes with multiple attachments, each using unique low-heat technology to straighten, blow dry, and curl your hair, promising smooth and bouncy results every use according to Dyson. It instantly received glowing reviews, with a Glamour review praising the staying power of its results, and even awarding it a Best of Beauty award. 
So, if it's such a must-have game-changer, why hasn't everyone made the switch yet? Why does it still land on everyone's Christmas wishlist every year? That would be due to the fact that it costs a whopping $550. No, that extra zero wasn't an accident. Enter TikTok and it's magical world of beauty dupes.
The Airwrap dupe doesn't quite deliver
TikTok doesn't merely serve the purpose of providing endless hours of entertainment. It's also a great place to turn to for product recommendations, and especially dupes for the pricier ones. When the world craved Dyson's Airwrap, TikTok came to their beck and call providing a viral dupe that costs only $20. This isn't the first dupe of the cult favorite Airwrap, and while Stylecaster has rounded up some options, none have gone quite as viral as the $20 Ali Express one. Now, a price jump that crazy is bound to garner skepticism as well as countless comparison review videos. TikToker Mirta Miller has gained 12 million followers as a result of her beauty tip videos as well as product reviews. So when the $20 dupe began to circulate, she was on it. 
In the comparison TikTok video, Miller styles one side of her hair using the Dyson Airwrap and the other side using the Ali Express $20 Styler. She puts them through a full test by first drying her hair, and then using the infamous curling attachment that uses air to grab your hair and hold it in place to curl it. Throughout the video, Miller noted a few times that the dupe wasn't quite up to the same standard as its counterpart, but she did conclude that the results weren't as long lasting with the dupe and her curls fell flat within an hour. One commenter pointed out, "One of the selling points for Dyson is the science behind how it works/ it's healthier for your hair." It looks like this dupe is a great hair tool and option for those that can't afford Dyson, but at the end of the day, Dyson reigns supreme.