Cheaper Alternatives To The Dyson Airwrap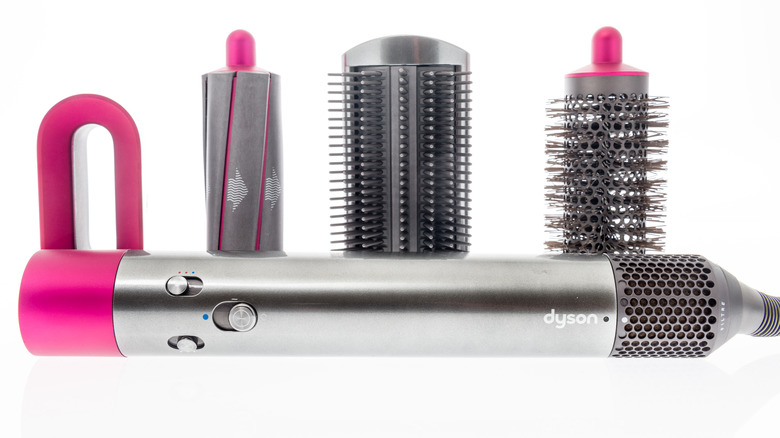 Keith Homan/Shutterstock
We may receive a commission on purchases made from links.
If you're familiar with the Dyson brand, you probably know they make excellent vacuums, fans, hair dryers, and other styling products like the Airwrap. But, of course, if you've ever shopped for anything Dyson, you know that you also pay for their well-researched and carefully manufactured products. Often, Dyson sets the standard with the products they create, and the Dyson Airwrap ($550) is no different. The device allows you to curl, wave, smooth, and dry your hair, all without using extreme temperatures, which helps protect against heat damage. It comes with a mini Dyson Dryer, two 1.2-inch barrels, two 1.6-inch barrels, a brush for straightening, and finally, a brush for curling. Consumers seem to love it too, rating it 4.4 stars out of 5, leaving 1015 positive reviews of the multi-functional hair tool.
While the Dyson Airwrap is great, there's no denying that the hefty price tag might leave it well out of your price range for a hair styling tool, even if it's incredible. However, if you like the idea of this multi-functional product, there's good news! Chic Pursuit revealed which products work as effective Dyson Airwrap dupes. Read on to find out if one of them is right for you.
Here's where to buy great Dyson Airwave dupes
Bloomberg/Getty Images
If you can't see spending more than $500 on the Dyson Airwrap, according to Chic Pursuit, there's a great dupe from a recognizable beauty brand — Revlon. For about $60, you can get the Revlon One-Step Hair Dryer. Bustle also recommends the popular Airwrap dupe, which costs $490 less than its Dyson counterpart. Of course, it doesn't include all the attachments that the more expensive styling tool comes with, but the Revlon version helps you achieve similar results while avoiding excessive heat damage. One area where the cheaper version is noticeably lacking is defined curls, because it doesn't help you achieve that look. 
If you're looking for a more affordable alternative with multiple attachments, then the Remington Volume and Curl Air Styler might be a better choice. At just under $37, this styler includes a drying brush, a smoothing brush, a curling wand, and a smaller drying brush. It also rotates, Chic Pursuit reported, which helps you achieve a great blowout. Again, the Airwrap beats out this Remington tool in defined curls. So if curls are what you're after, these dupes might not be for you.