Donald Trump Jr.'s Remarks About Whoopi Goldberg Have Twitter In A Tizzy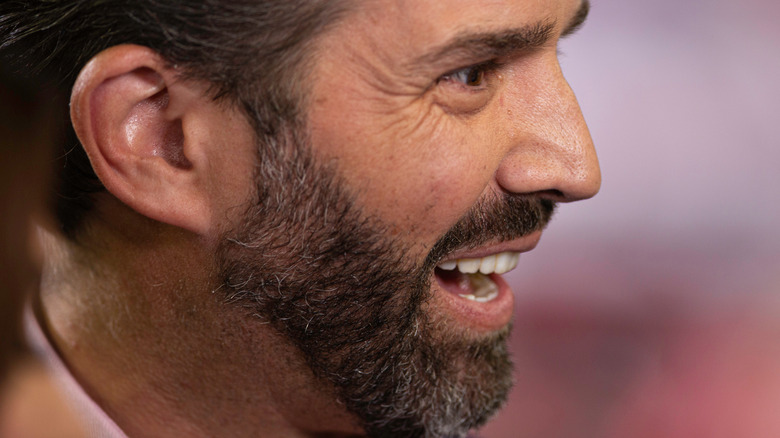 YASAMIN JAFARI TEHRANI/Shutterstock
On "The View," co-host Whoopi Goldberg got herself into quite a bit of hot water with her comments about the Holocaust. In discussing a Tennessee school banning the graphic novel "Maus," which is about the Holocaust, per The Hollywood Reporter, Goldberg said "Let's be truthful about it because Holocaust isn't about race ... It's about man's inhumanity to man." Backlash against the comments came quickly.
One of those who took to social media to talk about it was Donald Trump Jr. He wrote, "Why is it that Rosanne [Barr] (a Jewish woman) gets canceled for off color remarks but Whoopi's gets a total pass for antisemitism and downplaying the Holocaust? I can't help but notice that only people on the right face consequences for their mistakes."
Here's why he brought up Roseanne Barr in a conversation about Goldberg.
The original run for Roseanne Barr's show "Roseanne" was from 1988 to 1997, and it was brought back in 2018 and had even been renewed for an eleventh season (via History). Roseanne then tweeted about Valerie Jarrett, senior adviser to Barack Obama and an African-American woman, saying [sic] "muslim brotherhood & planet of the apes had a baby=vj" (per The New York Times). And a few hours later, ABC canceled her show, saying "Roseanne's Twitter statement is abhorrent, repugnant and inconsistent with our values."
Seems like Trump Jr. thinks it's hypocritical that Goldberg is being treated differently than Barr was. Twitter had thoughts.
Some think Trump Jr. has completely missed the point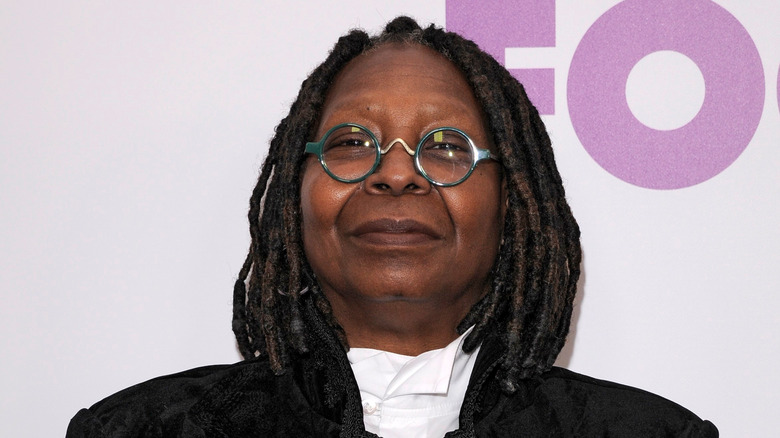 Ron Adar/Shutterstock
One tried to explain why it was different, writing, "Whoopi admitted she was wrong immediately. She apologized just as quickly. There is also the fact that White Supremacists argue over whether they inclusive or exclusive of certain groups of people".
Another wrote, "If you're not a narcissist and have the ability to correct yourself, admit mistakes, and offer sincere apology people tend to forgive missteps."
Yet another brought up Donald Trump, tweeting, "There's a big difference between downplaying [and] mischaracterizing. But you'd need to have paid attention in school to understand what that difference is. Your pop could take a lesson or two from Whoopi on how to properly own a mistake and apologize!"
Others were in agreement with Trump Jr. "Rosanne was the creator and face of the show and none of her co-actors stood for her!! She lost it all!! The View and like types get passes, daily!!!" one wrote.
While another tweeted "How to not get canceled; 1. Claim you were misunderstood 2. Profess ignorance 3. Placate by having an expert discuss the importance of the issue you minimized 4. Have a long history of leftist views 5. Immediately launch into an antiTrump story Rinse ... repeat"
Goldberg apologized later in the day via Twitter. And the next day on "The View," Goldberg apologized again as well as sat down for an interview with Anti-Defamation League CEO Jonathan Greenblatt, who outlined why her comments were in the wrong (via KESQ).