What Donald Trump Jr. Has Been Up To Since The Trump Presidency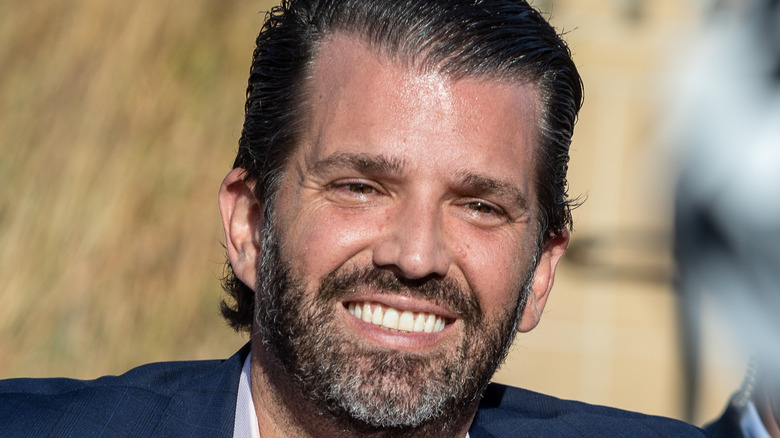 Chris Manning/Shutterstock
While Donald Trump's daughters and his teenage son have remained relatively quiet since the Trump presidency ended — with reports that Ivanka Trump and her husband, Jared Kushner, want to even distance themselves from the former president (via CNN)– his two sons with first wife, Ivana, have still publicly shown their loyalty to their father. Both Eric Trump and Donald Trump Jr. appear on conservative news shows to defend their father quite frequently, with Don Jr. often making his own social media videos where he spits out his thoughts in quick succession.
Both Don Jr. and his brother, Eric, became de facto heads of the Trump Organization when both the organization and its CFO, Allen Weisselberg, were indicted on tax fraud counts. After the indictment, Weisselberg stepped down from the company, leaving Don Jr. and Eric as executive vice presidents, according to Bloomberg. But what else has Don Jr. been doing since his father left office on January 20, 2021, and his time as first son came to an end?
Donald Trump Jr. bought a multi-million dollar Florida home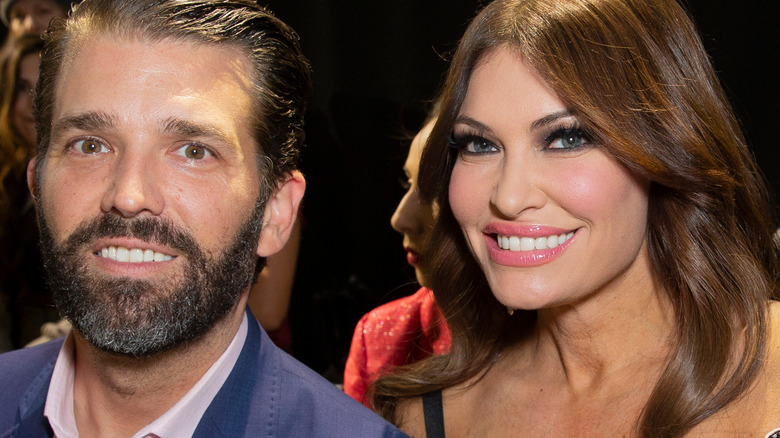 lev radin/Shutterstock
While the Trump family is from New York City, with Donald Trump being born and raised in Queens and his children being raised in Manhattan, the Sunshine State seems to be where some Trumps are spending the post-presidency years. Donald himself has retreated to his Mar-a-Lago golf resort in Palm Beach, Florida, the place he would call "The Winter White House" during his presidency. Ivanka Trump and Jared Kushner have chosen to live a bit further south in Miami as they build a home on a private island (via CNN). However, Donald Trump Jr. and his girlfriend, Kimberly Guilfoyle, have opted to stay closer to dad.
In April 2021, the pair bought a $9.7 million home in Jupiter, Florida, just a short 20-minute drive from Mar-a-Lago, so it's easy to hop in the car and do the former president's bidding or play a round of golf whenever the mood suits them. The pair were apparently attracted to the home because of the backyard space, according to realtor Rob Thomson of Jupiter's Waterfront Properties and Club Communities.
"Only a handful of houses in the 188-home community have this much backyard space," Thomson told People. "Don Jr. is a family guy and his children live close. The space for the kids is ample." Between them, Don Jr. and Guilfoyle have six children.
Donald Trump Jr. has continued to work with his father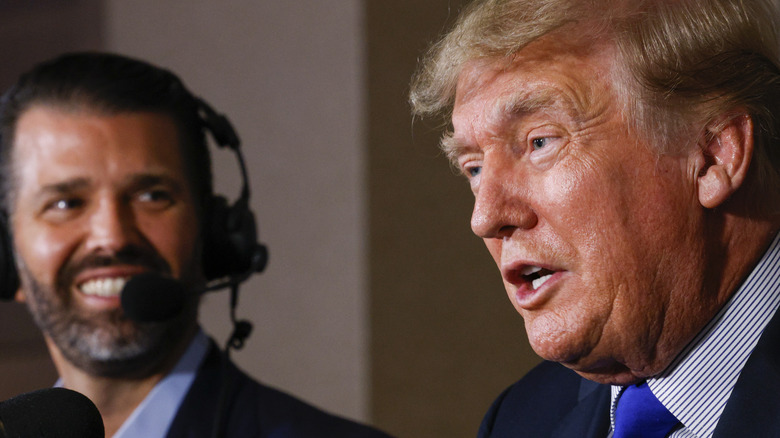 Douglas P. Defelice/Getty Images
As Jared Kushner seems to want nothing to do with the father-in-law after acting as his most trusted White House advisor, with reports emerging that he even tried to avoid him in chaotic the last days of his presidency, it seems Donald Trump Jr. has taken on the old Jared role in Donald Trump's life.
In April 2021, CNN reported that Don Jr. has become an unofficial political advisor to the former president, making sure he stays relevant as he teases the world with the idea that he will run for the White House in 2024.
On September 11, 2021, a somber day as the country marked the 20th anniversary of the 9/11 attacks, Donald and Don Jr. marked the occasion by taking some father and son bonding as they called a boxing match between Evander Holyfield and Vitor Belfort in the Hard Rock Hotel and Casino in Hollywood, Florida. Holyfield, a former reigning champion, was knocked out in the first round (via the New York Post).