Tommy Dewey Shares What Makes His New Show Pivoting So 'Real' - Exclusive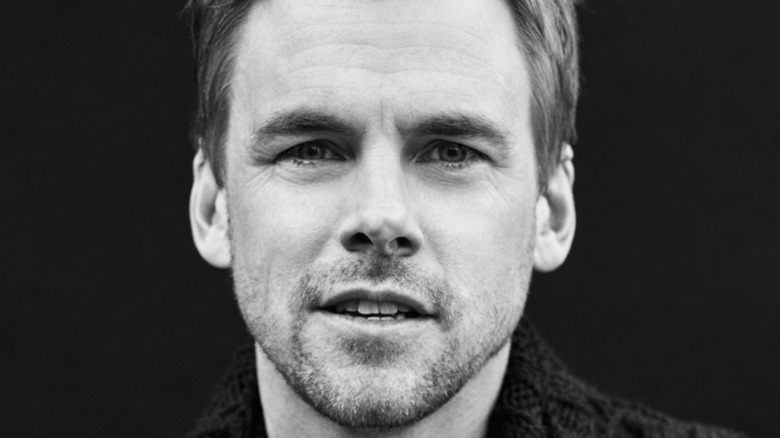 Riker Brothers
Tommy Dewey is well-known for his leading role as Alex in the Hulu original, "Casual." He's also had roles in "The Mindy Project" and "Now We're Talking." In 2022, Dewey is starring in Fox's new comedy series, "Pivoting," alongside Eliza Coupe, Ginnifer Goodwin, and Maggie Q. Dewey plays Henry, the husband of Coupe's character, Amy, who helps her through the life-upheaval that comes after the death of the three female lead's childhood best friend.
In an exclusive interview with The List about his role on "Pivoting," Dewey said his character is "fun loving. He's always looking to turn something into a good time. He has a dry sense of humor about even the most dire circumstances, and I do have that in common." While talking about the show, Dewey also shared what it is about the writing and the acting that makes "Pivoting" feel so "real." He also discussed how the series handles a dark subject matter with a comedic spin — here's everything he dished to The List.
Pivoting 'strikes the right tone' handling grief, according to Tommy Dewey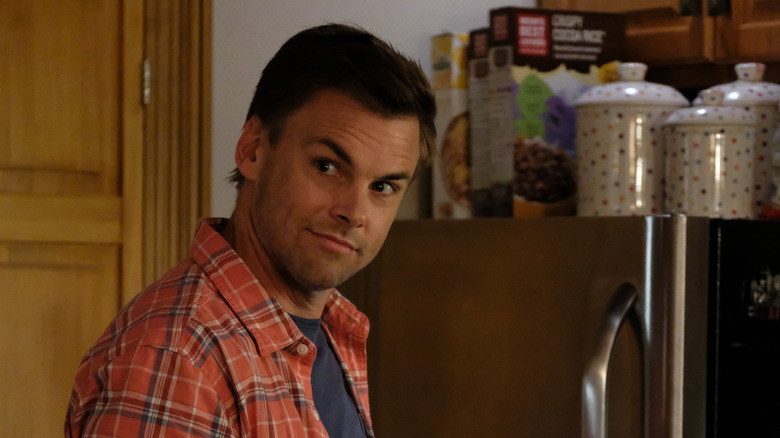 Michael Becker / FOX
Because the main characters in "Pivoting" are all grieving the loss of a close friend, you might expect the show to be quite dark. But, while it has its emotional moments, a lot of the show leans more towards comedy than anything else. About balancing the serious subject with humor, Tommy Dewey told us in an exclusive interview, "I think it strikes the right tone. I think one reason it does so is because it's born from real events in Liz Astrof's life." Astrof is the creator of the show who The Hollywood Times cited, saying that she was inspired for the show by the death of her own childhood friend.
Dewey said at times, the more humorous approach to grief "rings true." "It certainly did for me, and I think it's real," he said. However, Dewey clarified that the show does not make fun of the tragic event. Instead, it shows how those coping with loss often respond with humor. "I think what the show is saying is that when things get too tragic, sometimes humor is the way to ... not move past it, but live with it," Dewey said.
The actor added that exploring grief in a more comedic way makes the show more enjoyable for audiences. "If every scene is pulling at your heart strings in a certain way, it can be numbing," Dewey said. "If you go to that place too often, they wear you out, in terms of entertainment [and] what you're watching."
Tommy Dewey and Eliza Coupe work together spontaneously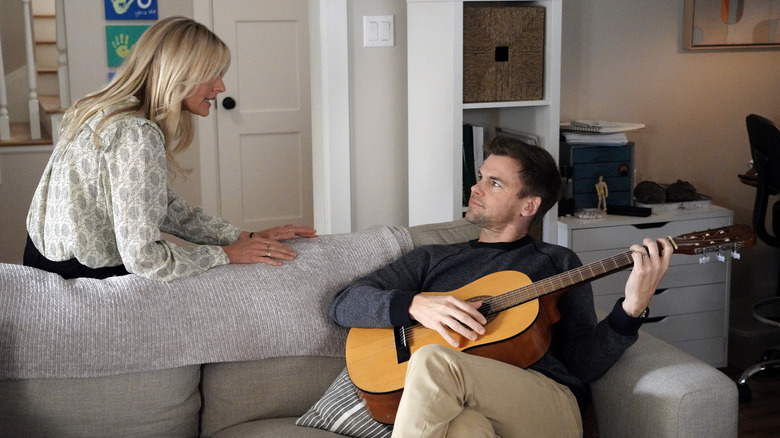 Michael Becker / FOX
On this show, Tommy Dewey is reuniting with his former "Casual" costar Eliza Coupe. Knowing that Coupe would be playing his wife made accepting a part in "Pivoting" an easy decision for Dewey. Speaking about Coupe, the actor said, "She's one of the funniest people I know, and I think she's great on the show."
Thanks to their past experience, Dewey already knew they worked well together, and coming together on "Pivoting" was just a matter of translating that chemistry into a slightly different style. While they were filming this show, Dewey said, "We occupy the same comedic frequency — we know where the other is going in a scene. We laugh a lot. We blow a lot of takes."
Dewey added that the times they couldn't get through a scene because they were laughing so much are some of his favorite memories from behind the scenes. "Which I'm sure are not the favorite memories of the crew people, who just wanted to go home to their families," Dewey joked. But, ultimately, Dewey said those moments created some of the best scenes. "Getting in that funny mood where we are blowing takes is part of the method. If we can stay in that place all day long, I think we end up with some really good spontaneous-looking stuff."
You can see Tommy Dewey in "Pivoting" on Thursdays at 9:30 PM ET on FOX.