Where You Can Buy The Exact Clothes Mindy Kaling Wears On The Mindy Project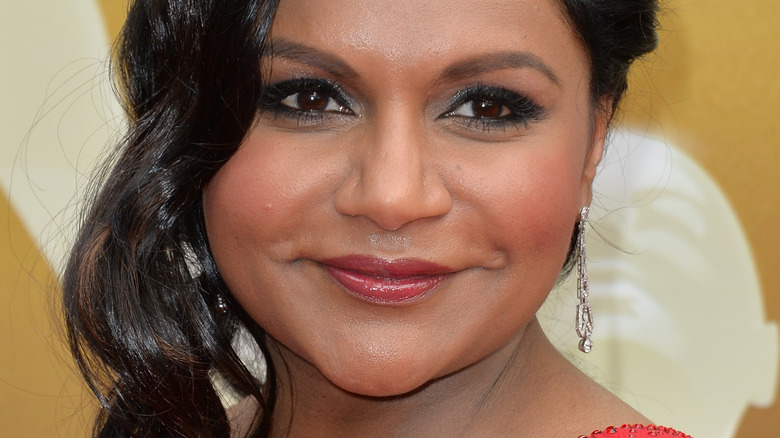 Shutterstock
Mindy Kaling has become one of Hollywood's hardest working people. She currently has a second season of Netflix's "Never Have I Ever" on the way, and is set to star in Disney+'s new "Monsters at Work" animated series, according to Extra. She's also the executive producer and co-writer of HBO Max's upcoming comedy series "Sex Lives of College Girls" (via Deadline). And let's not forget, it's also been announced that Kaling is working on a new "Scooby-Doo" series for HBO Max, which will feature an East Asian Velma, per NBC News. So, busy is an understatement. 
She's definitely come a long way over the years, not just in television and movies, but her style as well. As her career as taken off, Kaling's fashion has evolved into very vibrant looks. As HuffPost puts it, Kaling has both a "colorful" and "joyful" presence on the red carpet and on her Instagram where she often posts photos of her adorable outfits. Though, if you're a fan of Kaling and her style, you definitely admire every look she ever wore in her TV series "The Mindy Project."
Mindy's style is full of colors and patterns
Mindy Kaling's character in "The Mindy Project," Mindy Lahiri, was a fashion icon. Vulture agrees, saying that Mindy's outfits throughout the show featured "every color and print under the sun." By Season 2, "mixed patterns and bold colors had become synonymous with Mindy's look," according to the show's costume designer, Emmy-nominated Salvador Perez. Perez even said that if there was ever something Kaling liked on the show, they would "get it in all the colors available." 
If you happen to see something from the show you like while rewatching it on Hulu, you can actually find exact items from the series on sites like WornOnTV. Browsing around, you can shop for clothes that Kaling actually wore on "The Mindy Project," like the navy and red checkered top from Season 6, Episode 9. However, since it's been a few years since the show ended, a lot of the exact items are unavailable. You can still use them for inspiration when shopping on your own, though. 
Back in 2017, Observer even put together a list of some of the best looks from Mindy's character in Season 6, but as you'll see Mindy isn't actually "the most affordable TV character you could emulate." She features a lot of expensive designers. So if you're on a budget, use Mindy's wardrobe as more a guide while shopping at more affordable places. Just remember incorporating more colors and patterns is key, and you'll be looking like Mindy Lahiri in no time.