The Most Expensive Items You Can Get At ModCloth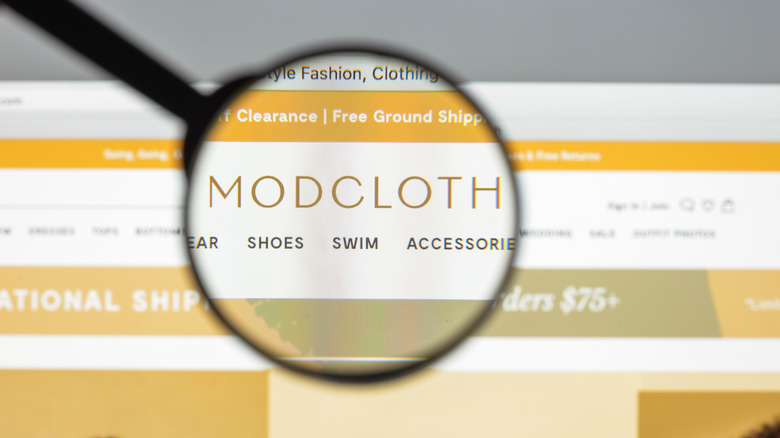 Casimiro PT/Shutterstock
The vintage-inspired styles at ModCloth are often quirky, colorful, and just all-out fun. The brand's inclusive sizing and unique designs make it a go-to fashion hub for style mavens who effortlessly balance eccentric whims and mainstream trends. 
It's uniquely stylish and affordable? Yup! It's no wonder why ModCloth garners attention from even the most elite fashion gurus, including Vogue. In its piece highlighting affordable looks to wear to artsy events, Vogue featured ModCloth's funky footwear.
So, with a brand known for affordability, what's the range of pricing? With frequent sales, fashion-savvy shoppers can scoop up finds for as little as $10. Whether you sort your search by era to find the jazziest 1920s flapper dress, or by price, you're in for a rainbow of vintage-inspired looks. ModCloth does offer pricier items as well, and its most expensive clothing often features intricate designs and over-the-top detail for under $300. 
If luxe-for-less is your thing, sort your search by price to find ModCloth's most expensive items.
ModCloth's higher-priced items include sunshine and rainbows
For just over $200, ModCloth offers a smattering of gorgeousness that looks like it was pulled directly from a Parisian runway. The sunflower yellow Shining So Brightly Swing Coat serves up oodles of the retailer's signature details for $229. It features an exaggerated run of sunshine-y buttons, a tailored waist, hood, and the most covetable deep pockets.
The coat pairs perfectly with the scalloped faux-suede Walk in the Clouds heels, featuring rainbows and white cloud patch appliques. The heel is an etched translucent lucite, finished with a purple ombre hue. The teal blue shoe comes at a splurge-worthy price tag of $250. And, if you're looking to keep the fancy rainbow theme flowing, visit the brand's dedicated Rainbow Shop, and check out the sparkly-sass of the Beguile and Blaze Twofer Dress. This higher-end mini dress will carry you through what Cosmopolitan has declared a season of sequined minis, so you'll be up-to-date on the latest fashion trend.
And, there is still one ModCloth dress that tops out at $359. Although it's the most expensive ModCloth dress currently available, it makes sense. After all, it is a wedding dress!