Jason Ritter Gives His Honest Opinion On Playing A Villain In Raising Dion - Exclusive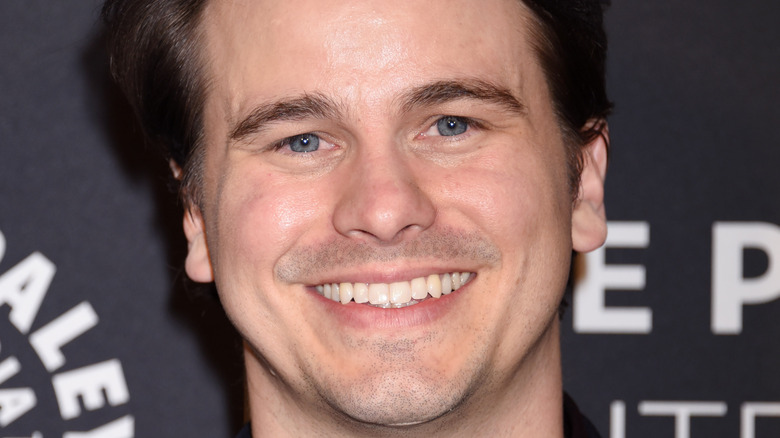 Ga Fullner/Shutterstock
After viewers of Netflix superhero series "Raising Dion" watched the first season's finale, the prognosis was not good that star Jason Ritter would be making it back for the second season. After all, his character, Pat Rollins had been family friend and mentor to youngster Dion Warren (Ja'Siah Young), helping the child cope with the sudden onset of mysterious superpowers following the death of his father (Michael B. Jordan). Yet when the season ended, the show dropped a huge revelation about Pat, who was actually the electrically charged villain known as the Crooked Man, according to Collider.
At the season's conclusion, Pat was vanquished by Dion, releasing all the souls that the Crooked Man had trapped within his electrical storms and causing him to dissipate into nothingness. So where does that leave him when the long-awaited second season debuts? Viewers will find out, as Pat does return more or less intact in the second season — but was his true identity revealed after all?
In an exclusive interview with The List, Ritter discusses his return to "Raising Dion," and reflects on the experience of getting to play a super-powered villain.
Jason Ritter had 'so much fun' playing a super-villain
Playing the super-powered nemesis in the first-season finale of "Raising Dion" was a highlight for Jason Ritter. "It was so much fun, I have to say. I've always wanted superpowers. I think a lot of us can relate to that. If they have to be bad guys to get superpowers, I'm totally in. If that's what it takes to get lightning shooting between my fingers and all that stuff, sign me up," he said. 
"It was so much fun to play this character that has good and bad elements in him from the beginning and the bad side of him wins out in Season 1," he added. "Now, it's interesting to watch this journey where he's saying that's all gone now. How much of this supernatural thing was making him do this? Was the supernatural element what made him lie to all of his loved ones for five years? I don't know. There are little character flaws that have been built into Pat in the beginning that create a really a fun thing in Season 2, where we don't know how we feel about him."
Jason Ritter on working with Raising Dion's special effects
Portraying a character who shoots bolts of electricity out of his fingers obviously requires some special effects. As Jason Ritter explained, while he'd had "a certain amount" of experience with special effects in the past, "Raising Dion" took it to a whole other level. 
"I really love it," he said of working with special effects. "I think this season, the special effects guy was there a lot of the time on set and he was really great at saying, 'Here's what I'm looking for, here's what it's going to look like, here's how you can help me.' That's the hardest part, if you're there and you're looking at something in your hand, but you don't know what you're supposed to be looking at, it's very helpful to have someone there who's going to do it. [They'll say], 'It's a ball the fire, but there's flickers coming off.' The more specific you can get in your own mind, the better it looks when it's all put together and you're like, 'Ah, that is what I thought I was looking at.'
The second season of "Raising Dion" is streaming now on Netflix.