Guerdy Abraira's Favorite Real Housewives Of Miami Moments - Exclusive Interview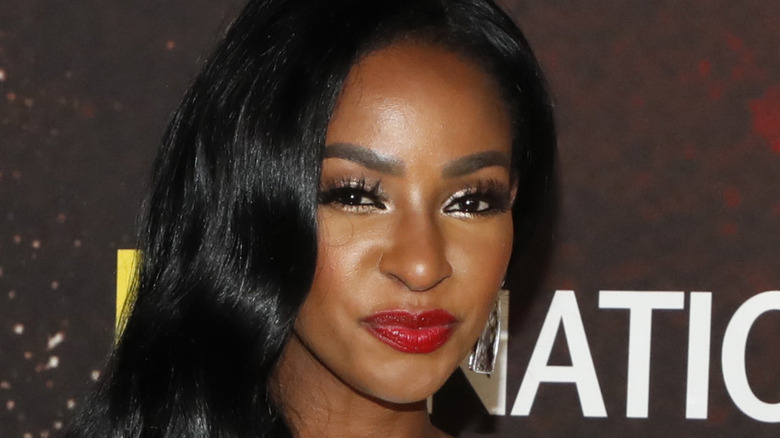 Astrid Stawiarz/Getty Images
When you think of any of the "Real Housewives" franchises, chances are one of the first words that comes to mind is "drama" — each episode is fueled by interpersonal explosions. The fourth season of "The Real Housewives of Miami" — back after an eight-year hiatus — is no exception. Its cast includes several members from the first three seasons, along with a cast of new Housewives.
Among these new Housewives is Guerdy Abraira. A native of Haiti, she's led a global life, spending part of her childhood in Paris before settling with her family in Miami, according to BravoTV. Already a well-known figure in Miami for Guerdy Design, her high-end event planning business, as well as for her participation in charitable endeavors, she's renowned for her design talent and sense of style. Guerdy Design has been recognized by Harper's Bazaar as one of the top event planners in the world, and Abraira herself regularly travels around the world to coordinate events. With her participation in RHOM, she's looking forward to raising her already high profile even higher. In this exclusive interview, Abraira shares her Housewives adventures.
Balancing work and Housewives has been doable, thanks to family and staff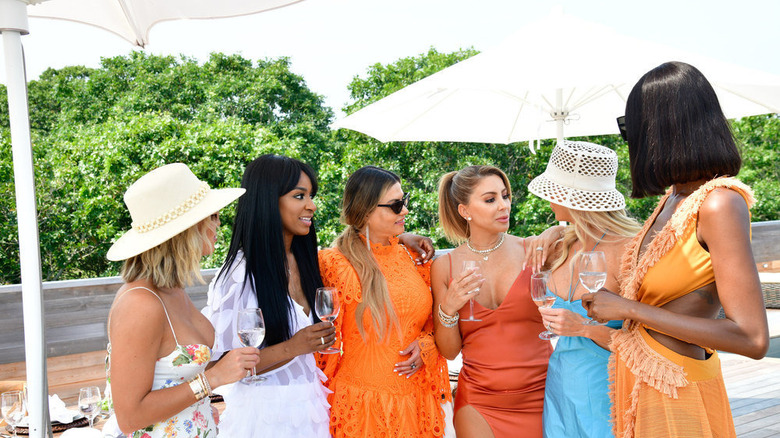 Eugene Gologursky/Peacock
You're an event planner, and your event planning takes you around the world. How do you balance that with your "Real Housewives" work?
It is my first go-around, and I think I've done the best I could. I think that it's been really kind of amazing. I surround myself with people who really understand where we need to go, and it's been really amazing. The support system that I have from my team at the office, to my team at home [and] my family, it's really been incredible.
How did you become involved with "Real Housewives"?
Well, I think that the buzz goes out [that sys] "Okay, we're looking for Housewives." All of a sudden, names are thrown in the hat. I feel like my name, I'm told, was being brought up a lot. I do a lot in the community. I do a lot of charity events and attend a lot of them and throw a lot of parties for a lot of amazing people. It was inevitable, I think, that this opportunity came about, and so I was happy to be able to represent Miami.
Guerdy Abraira shares some party-planning secrets—and spills on Alexia's wedding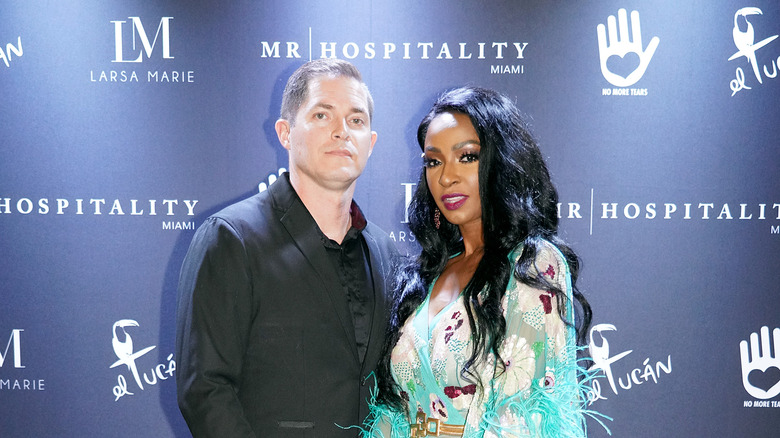 Romain Maurice/Getty Images
A lot of the appeal of "Real Housewives" is the fabulous parties that the Housewives have all the time. And since you are known for event planning, have you taken on the role of chief party planner for the show?
I tried to, and we know what the end result is as far as Alexia getting hitched with Todd, but getting there was a journey for sure. Lots of highs, lots of lows, emotionally speaking. Everybody throws their party their way. There is no right way to throw a party, as long as it reflects you — "You like it, I love it," type of thing. I don't walk into a party like, "Oh, she did all this wrong." It's not my place, to be honest. You got to be respectful to your host and that's rule number one, respect the host or hostess.
I was going to ask you about Alexia's wedding. How did you feel doing your work and organizing this thing while on the show? Is that different from just organizing a wedding without the cameras?
It was very interesting. It's hard when you're planning a party for a friend. It's not the same thing as throwing a party for a client that calls you and wants to know your rate and that's it. There's lots of emotional attachment to it. She was going through — and we'll see [this] continuously — she has a lot of stuff happening at home. I did not know that as I was planning her wedding, so my job was like, "Let's get this done, checklists, officiant, cake," and the poor thing, she's going home with lots of really major issues that are life-changing. I didn't know that, and it was interesting to see it all play back, and I'm like, "Oh, now I understand why she was late. It all makes sense [and I'm] connecting the dots." We all go through it, and it's called life.
Here's what the Housewives experience has been like for Abraira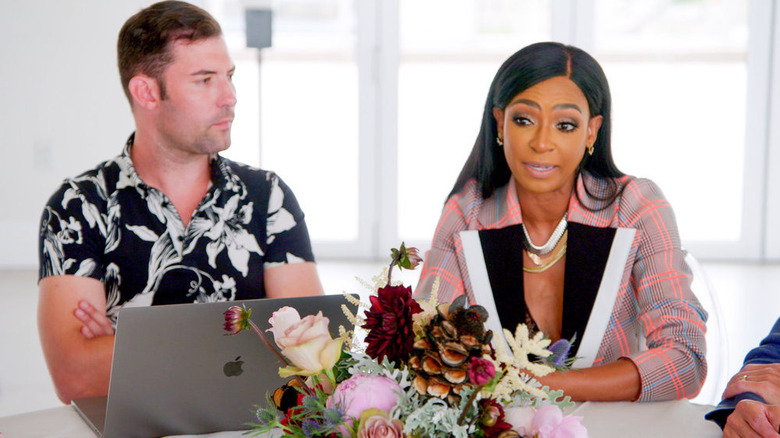 Bravo
You are also known to be a big Housewives fan. Which of the returning cast members were you most looking forward to meeting?
In general, I wasn't fawning over one particular person. I think it's the concept of the Housewives is really what, to me, is so powerful. How many all-women cast shows [exist in reality TV with such high drama?] The fact is that the "Real Housewives" have a big presence in the globe. We're putting a camera on the natural settings of girls getting together, and this happens if I curse — s***shows happen everywhere. We happen to be videotaped going through them, but it doesn't make anyone better than the next, [because] we all go through life's ups and downs.
Which other housewives are you closest to now?
I don't really consider myself being close to one person over another. I think that all the relationships are varying in their own style, and it's all organic. I'm not going to force something on someone if they want some space or if they're not really into me. I feel like we all have relationships. I do have stronger ones right now than others, and it's all in the evolution because I feel like when you see the reunion and other episodes to come, you'll see how relationships that you thought were strong may have fizzled, and vice versa. It's always an evolution. Today, I may be best friends with Dr. Nikki, [but] next week you never know who's friendship I may attain.
Any relationships surprise you so far?
Well, that of Julia and Adriana, to be honest. I thought they're amazing "soulmates," they call it, and I think that it's great that you're able to find your soulmates. I do believe that you can find your soulmates in a spouse, in a friend, in a sibling. I find that it's actually remarkable and commendable that they were able to say out loud "we are soulmates." It was really interesting the last episode that aired, showing that symbolism of such a friendship. I'm all for it as long as, you know, those players in that tennis game are also applauding.
She's proud to have the opportunity to represent Miami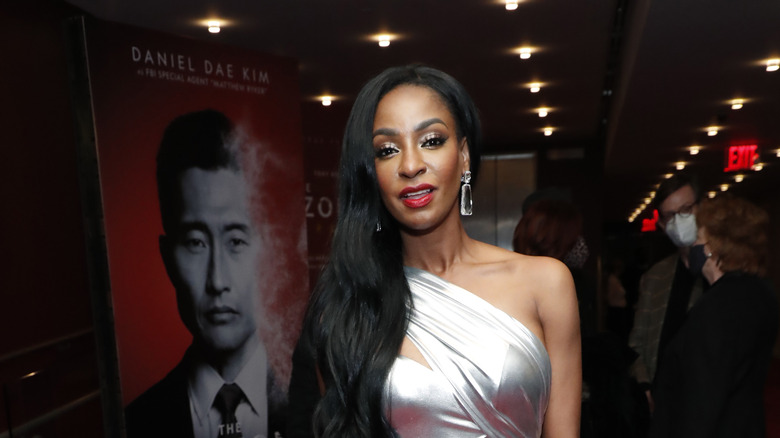 Astrid Stawiarz/Getty Images
What is your favorite reality TV show of the year?
Our show, of course — hello! I do mean that because Miami, it was always gonna come back to me. I saw it. I'm like, "Listen. Change up the game." The need for Miami franchise, to me, was culturally needed. That's very important. New York is great. You have Beverly Hills, you have Salt Lake City, Potomac. Miami had to happen again. This time I feel like it's like the right way, representing different types of people in Miami across the board, and I'm happy to represent my people.
Who is your favorite celebrity couple of the year?
Me and my husband! We're not too shabby. I'm not one to follow the day-to-day activity of the rich and famous so much — I'm too busy planning parties for them! Whoever's the couple that's most in love is a couple of mine. I think that I'm a lover of love, you know? No particular preferences there.
Is there any particular celebrity look that you like this year?
Rihanna and that belly bump! That was one of the best highlights of January 2022. I'm like, "Oh my gosh, she's pregnant!" She's fierce and a force to reckoned with, and I'm very happy for her. Bad gal Riri.
New episodes of "The Real Housewives of Miami" stream Thursdays on Peacock.