Catherine Zeta-Jones Snaps A Rare Photo Of Her Husband And Kids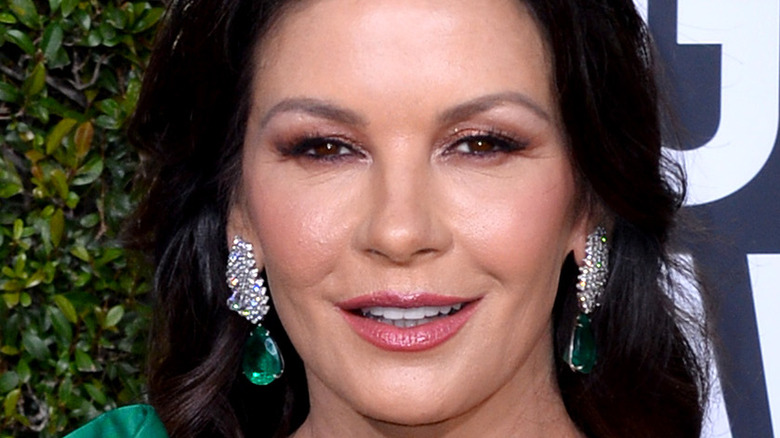 Featureflash Photo Agency/Shutterstock
From the moment they first met, Michael Douglas hypothesized that actress Catherine Zeta-Jones would be the mother of his children. Douglas requested the first meeting with Zeta-Jones during the 1996 Deauville Film Festival. Then-couple Antonio Banderas and Melanie Griffith introduced Douglas and Zeta-Jones for the first time, and Douglas politely asked Zeta-Jones if she would sit next to him during a private dinner.
"I met her in the bar and was a total gentleman," Douglas said during an appearance on "The Jonathan Ross Show" in 2016 (via E! News). "I said to her after about half an hour, 'You know, I'm going to be the father of your children.' It sounded good, and she said, 'You know, I've heard a lot about you and I've seen a lot about you, and I think it's time I say goodnight.'" Thinking that he had left a bad impression, Douglas later sent her flowers and an apology — and the rest is history.
In November 1998, the couple revealed that they were expecting their first child together, a son named Dylan. Then, in November 2000, Douglas and Zeta-Jones officially tied the knot, as Us Weekly reported. In 2003, Zeta-Jones gave birth to the couple's daughter, Carys. Though the pair had considered getting a divorce in 2013, they reconciled later that year. Recently, Zeta-Jones posted a rare photo of her husband and kids that perhaps proves just how strong her family unit is all these years later.
Catherine Zeta-Jones took a rare photo of her family on vacation
On Wednesday, Catherine Zeta-Jones snapped a photo of her family while on vacation in the jungles of Dominica in the Caribbean. The photo, posted to Michael Douglas' Instagram account, featured Douglas and the couple's two children, 21-year-old Dylan and 18-year-old Carys. "Good morning 🇩🇲!" Douglas captioned the snap. This photo has garnered quite a bit of attention from the couple's fans, given the fact that Zeta-Jones and Douglas rarely post photos of their family unit to their social media profiles.
During an interview with WSJ Magazine in April 2021, Zeta-Jones spoke about how her marriage to Douglas has stood the test of time. "First of all, we have a lot of fun together," Zeta-Jones said. "My husband is 25 years older than me; that's not a secret. ... The constant is love and respect. We've never, ever lost our sense of humor, and we enjoy each other's company."
She added that their jobs allow them to spend a lot of time together since their shooting schedules allow for plenty of time off. "So we've had in our relationship huge amounts of time where we've been just us," she explained.