What Is 'Glitchcore' And How Can You Rock It This Spring?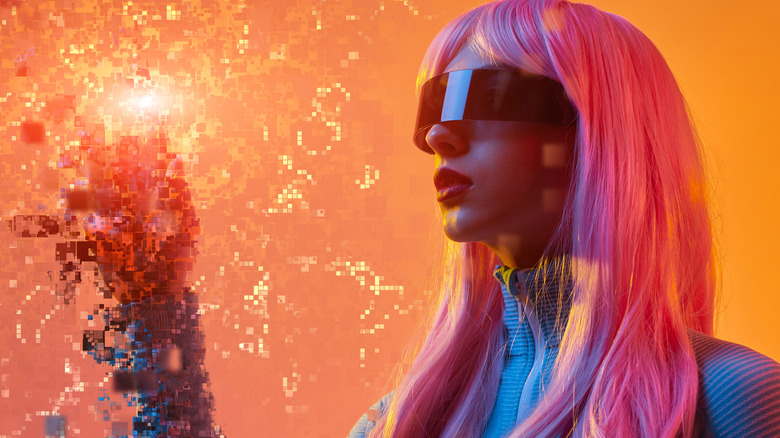 Mark Nazh/Shutterstock
Glitchcore landed on the fashion scene around the start of the COVID-19 pandemic, according to Vogue. This niche aesthetic draws inspiration from the chaotic patterns created by computer glitches: heat maps, pixelated images, and psychedelic patterns. Like the much-loved bell-bottoms made popular by the hippie culture of the 1960s, glitchcore is driven by nostalgia.
Though contemporary computers have a glitch now and again, it's hardly the same psychedelic mayhem of computers in the 1980s and the Y2K era. Old school computers were more prone to malfunctions that resulted in technicolor chaos on their monitors. These haphazard yet oddly beautiful patterns are cropping up in recent major runway shows, according to The Guardian.
But how can you apply that larger-than-life runway inspiration into your everyday wardrobe? It's not just about the pattern itself; it's how you mix and match your strategically chaotic look. Think about adding pixel-based images, wild heat map graphics, and even a smattering of cyberpunk, if you're feeling sassy.
Glitchcore fashion is all about mixing and matching tech-inspired patterns
Arthur Arbesser is a Milan-based designer highlighted in Vogue's glitchcore feature, and he shared exclusively with The List his approach to the glitchcore fashion aesthetic. "Deliberately clashing patterns have been a reoccurring theme within each of my collections," Arbesser told us. "I have always loved a colorful and graphic chaos that creates a unique, vibrant look. So I guess my personal take on glitchcore was and will always be an important part of the Arthur Arbesser aesthetic."
Are you looking to incorporate glitchcore into your wardrobe? Taking a cue from the expert, look for bold, bright, and tech-inspired basics like the red pixelated coat by Avec Les Filles or like Moschino's pixel-print teddy bear skirt. Next, look to bring together bold, unusual patterns. For example, start with Boden's adorable Kitty Shirt Dress, and choose one color with which to coordinate a clashing print. The edgy pink-striped blazer by Collusion would work quite stunningly, for example.
Glitchcore gives you permission to explore the inherent beauty of chaos. So, shop the runways and boutiques and head to your local thrift stores for bright, tech-inspired textiles. Then, simply enjoy the nostalgia of the early computer era. Plus, you can match your makeup with this fashion trend by adding neon eyeshadows to your collection.