The New Masked Singer Contestant Who Reportedly Made Judges Walk Off The Stage In Protest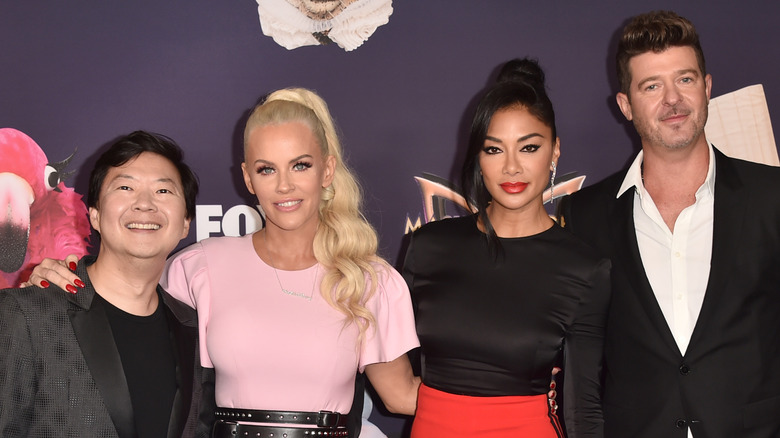 Alberto E. Rodriguez/Getty Images
"The Masked Singer" has officially been renewed for season 7 at Fox, and fans of the wacky singing competition series couldn't be happier. The show features celebrities dressed in elaborate costumes, who show off their singing chops as the panel of judges — Jenny McCarthy Wahlberg, Nicole Scherzinger, Ken Jeong, and Robin Thicke — try to guess their identities using a series of clues given in each episode.
A first look at season 7 was given last month (via What To Watch) and showed some of the newest costumes, which included a frog, butterfly, gladiator, cyclops, squirrel, and lemur. Variety reports that the theme for the upcoming episodes is "The Good, the Bad, and the Cuddly." The theme may be even more fitting now after news that one contestant sent some of the judges into a rage following their unmasking.
While "The Masked Singer" is notorious for keeping their celebrity contestants' identities under wraps, the controversy has leaked spoilers online. So continue reading at your own risk.
Judges weren't happy to see this political figure unmasked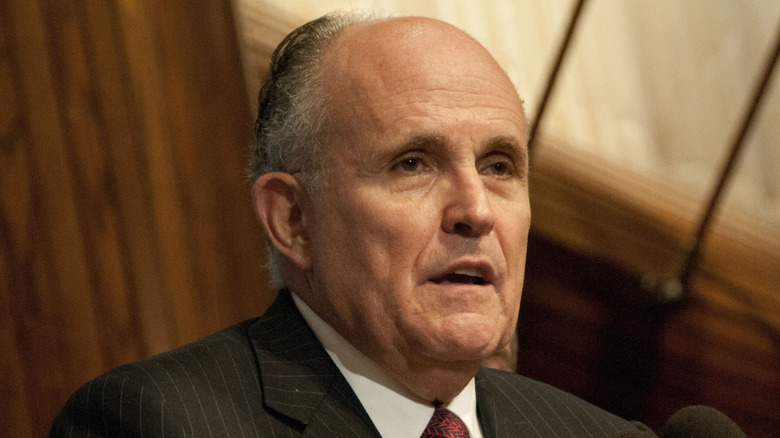 Al Teich/Shutterstock
TMZ reports that during the very first taping of "The Masked Singer" season 7, a controversial political figure was unmasked, and it caused issues on the set. Sources tell the outlet that former New York mayor Rudy Giuliani was revealed as the mystery singer during the taping, likely making him the first famous face to be voted off the show in season 7. Once Giuliani was revealed, judges Robin Thicke and Ken Jeong were said to immediately be upset with his casting on the show and stormed off the set in protest.
Giuliani is one of the more polarizing figures in politics after serving as Donald Trump's attorney and advisor. Following Trump's election loss to Joe Biden, Giuliani spoke out about the results, which led him to be suspended from practicing law in New York by an appellate court, which claimed that he made "demonstrably false and misleading statements" about the election (via People).
According to Deadline, after Jeong and Thicke walked off stage, the two other judges, Nicole Scherzinger and Jenny McCarthy Wahlberg remained on set and shared some banter with Giuliani. Of course, this isn't the first time that the show has unmasked a controversial figure. In 2020, former Alaska governor Sarah Palin was revealed to be the bear.
While Giuliani is the first leaked "Masked Singer" contestant, his costume and song choice is being kept under wraps, so fans will still see a bit of a surprise when tuning into season 7, which premieres on March 9.