What We Know About The 911 Call Involving Chrisley Knows Best Cast Members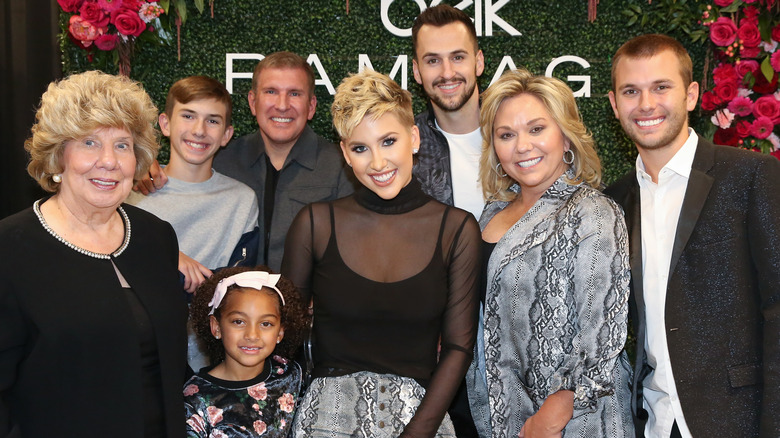 Terry Wyatt/Getty Images
The following article includes mention of suicide.
Throughout the years of the reality television show "Chrisley Knows Best," Savannah Chrisley, the daughter of Todd and Julie Chrisley, has been a mainstay. Her relationship with her ex-fiancé, former professional hockey player Nic Kerdiles, was also a major plot point on the reality television show. According to People, the pair first met on Instagram and began officially dating in November 2017. A little over a year later, in December 2018, the pair announced that they were engaged. However, the engaged couple appeared to be going through some sort of issues in their relationship, leading many to wonder if they had broken up for good just a year after they announced their engagement.
A now-deleted Instagram post made in September 2020 confirmed that the pair had called it quits. Despite claiming to have quite a bit of affection for one another, Savannah's Instagram post said that the pair were going to "move forward individually," per People. However, a year later, in August 2021, Savannah revealed that the pair were dating once again while speaking with E! News. "Nic is still in my life," Savannah told E! News. "We're still trying to figure things out ... I've decided to keep my relationships to myself because I feel like I deserve a little bit of privacy when it comes to that."
A recent 911 call made by the Chrisley family has shed some light on the strength of Savannah and Kerdiles' relationship.
Kerdiles threatened to commit suicide in a recent 911 call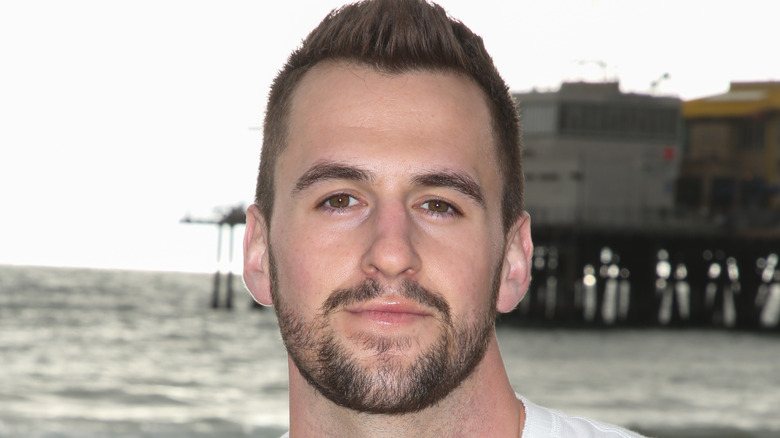 Paul Archuleta/Getty Images
In a 911 call to police on Monday obtained by TMZ, Savannah Chrisley and her father, Todd Chrisley, are heard speaking with Savannah's ex-fiancé and current partner, Nic Kerdiles, who was reportedly holding a gun to his head, threatening suicide. During the call, Savannah seems to be pleading with Kerdiles, who is holding a gun to his head. In the background, TMZ assumes that the voice that says, "Look at what you're doing to her!" belongs to Todd. Eventually, the Chrisleys were able to get the gun away from Kerdiles, and he waited outside of their home until the police arrived on the scene.
On Wednesday, Kerdiles, Todd, and Savannah filmed a video about Kerdiles' suicide attempt that was posted to Instagram. According to Kerdiles, it was the combination of his mental health struggles and mixing alcohol with a medication that he was taking for a recent COVID-19 diagnosis that led to his unstable state and suicide attempt on Monday. "I had a gun by me, and I don't know where I was at in my mental state, but between the depression, anxiety, the COVID effects, the medication, the alcohol I did something that I never thought I would ever do," Kerdiles said in the video.
Savannah also spoke about how his mental health struggles have impacted the entire Chrisley family. "Not only has the disease truly impacted us, so has mental health," Savannah said. "That's something I feel like I've told Nic for a little while now ... it's OK to talk about your feelings, it's OK to ask for help."
If you or anyone you know is having suicidal thoughts, please call the National Suicide Prevention Lifeline​ at​ 1-800-273-TALK (8255)​.
If you or someone you know is struggling with mental health, please contact the Crisis Text Line by texting HOME to 741741, call the National Alliance on Mental Illness helpline at 1-800-950-NAMI (6264), or visit the National Institute of Mental Health website.