Is Mario Badescu Facial Spray Worth It?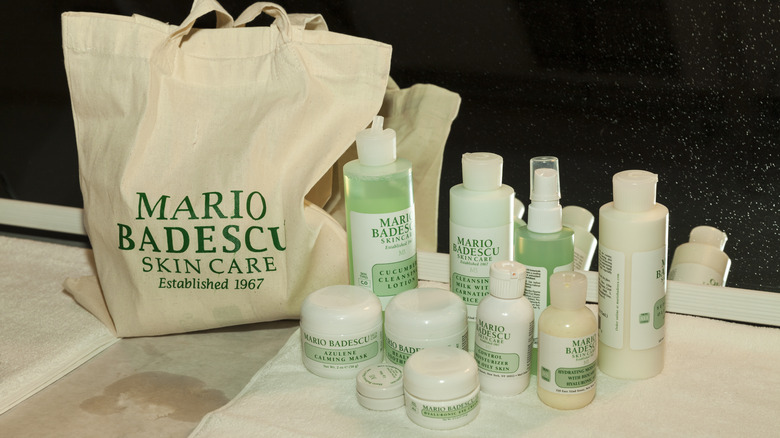 lev radin/Shutterstock
We may receive a commission on purchases made from links.
Whether you have acne or are looking for anti-aging solutions, Mario Badescu has the right product for you. After all, they've been in the beauty industry for over 50 years. Established in 1967, Mario Badescu wanted to bring European-style facials to New York City, which led to the birth of a world-renowned salon and product lines that are simple, gentle, and effective. Instead of coming up with countless products, Mario Badescu has collections focused on treating specific concerns like uneven skin texture or hyperpigmentation, making it easy to find what you are looking for (via Allure). 
This cult-classic brand is famous for its iconic drying lotion and facial sprays, and they recently introduced a new clean spray that's completely vegan (via Harper's Bazaar). One of the most unique features of this facial spray is the presence of powerful adaptogens that have anti-aging benefits, can reduce dark spots, and can restore skin elasticity. This is just the latest addition to their facial spray line, though. They already had a list of best-selling facial mists with various combinations with rose water, green tea, and lavender for all skin types (via Beauty Bay). Good Housekeeping specifically loves their Facial Spray with Aloe, Chamomile, and Lavender for glowing skin because it also has vitamin C. Let's see if Mario Badescu's newest creation will become a holy grail for skincare enthusiasts as well.
Works as a moisturizing toner and a makeup setter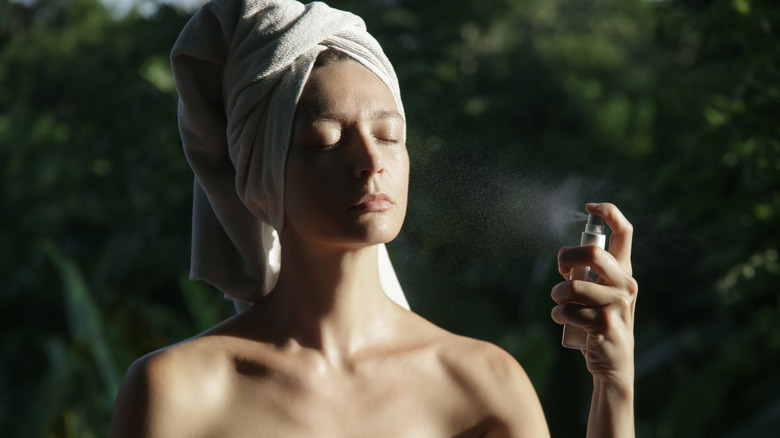 triocean/Shutterstock
Mario Badescu's Facial Spray with Aloe, Adaptogens, and Coconut Water is a miracle spray because it has skin-brightening niacinamide, hyaluronic acid for plumping, and coconut water for hydration. You can use it as a moisturizing toner before applying your daily serum and moisturizer, or you can use it to set your makeup with a dewy finish. Plus, you can use it throughout the day for a refreshing spritz during hot weather and an extra boost of hydration in the winter. It retails for $14 at Sephora.
Harper's Bazaar is already a fan of this new-and-improved facial spray because it doesn't have any alcohol, mineral oil, fragrance oil, or parabens, so it works perfectly on sensitive skin. It has maral root and chaga mushroom extracts that help skin elasticity and protect it from harmful free radicals. Best Reviews considers it among the best facial sprays because it has wrinkle-minimizing hyaluronate and is non-irritating. It doesn't have a smell, so some people may not love it, but it's great for people who don't like strong, herbal smells.
One of their most popular facial sprays has a rosewater base and can also be sprayed on dry hair for extra hydration (via Cosmopolitan). Similarly, besides being refreshing like their other facial sprays, this new addition is their first spray with anti-aging benefits. It seems promising because it has skin-serving nutrients. Plus, the price isn't too bad. It has our vote.