How To Get The Over-The-Top Robe That's Going Viral On TikTok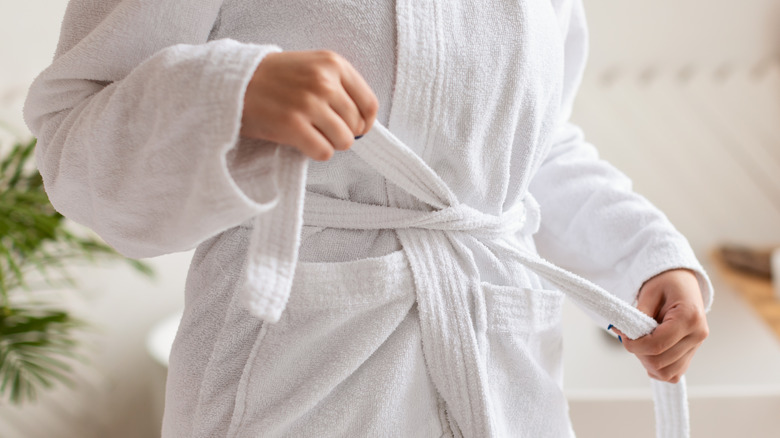 Prostock-studio/Shutterstock
As the Omicron variant is causing us to retreat back indoors, it looks like the comfy loungewear is here to stay (via The New York Times). While some may enjoy getting back to those elastic waistband sweatpants, others who crave a more glam look might feel disappointed that their bodycon dresses are once again going to the back of the closet (via Huffington Post). Luckily, there's a solution for all of you dolled-up divas who want to look good, while feeling good in the comfort of your own home — robes (per InStyle). There's just something about wearing a robe that can boost your confidence and make you feel alluring. After all, wearing a robe is just like wearing a cozy wrap dress.
One robe that is currently trending on TikTok will do all of that and so much more with its over-the-top style that will give you the ultimate diva look. If you're interested in looking like a classic 1930s Hollywood movie star, keep reading to find out what robe that will give you the ultimate Jean Harlow vibes.
Feel like a glamorous Hollywood star with this ornate robe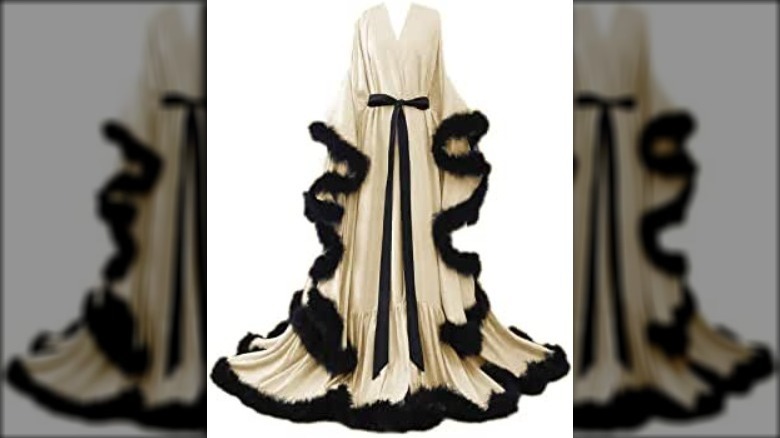 Amazon
The TikTok-viral robe is made by the brand yinyyinhs and is available on Amazon for $110. The style is a full-length satin robe with long, cascading sleeves, and feather trimming on the hems of the dress and sleeves. The robe comes in inclusive sizing ranging from Small-Medium to 4X-Large, and is offered in 39 different colors. Some of the options have contrasting trims for a super dramatic look. There's even an option to customize the sizing or request more feathers on the robe.
This ultra-glamorous robe went viral after being dubbed the "murder-your-husband robe" on TikTok, because of its similarity to what an old Hollywood actress would wear in a femme fatale role, per People. Now we certainly don't condone murdering your husband, but if you've ever wanted to feel like a dangerous seductress, this seems like a definite must-buy. Whether you're getting glammed up to get some groceries, or just lounging around and taking selfies for the 'Gram, this vintage vixen robe is the perfect self-love treat –- a Valentine's Day gift for yourself.