The 10 Trendiest Sweatpants We Can Keep Wearing After The Pandemic
Jeremy Moeller/Getty Images
We may receive a commission on purchases made from links.
As we shift away from lockdown to getting back outside, there are some things that we may have a hard time letting go of. For some, that includes the comfort of sweatpants and those waistline-friendly elastic waistbands. Luckily, there are plenty of sweatpant styles that will transition well out of the house. 
As a starting point, it's important to keep a pair of plain black sweatpants that will match with most tops, per Who What Wear. Amazon carries an affordable pair by Gildan. The Gildan sweatpants also come in other neutral colors like light gray and navy, as well as a fun color: aubergine. Wired recommends the Vuori performance joggers for a stylish, fitted pair of sweatpants. The sweatpants with side pockets feature cropped legs and a relaxed, tapered fit. According to Wired, the fabric, which is made of roughly 90% recycled polyester, is breathable and thin, while still keeping you warm.
Sweatpants you have to stock up on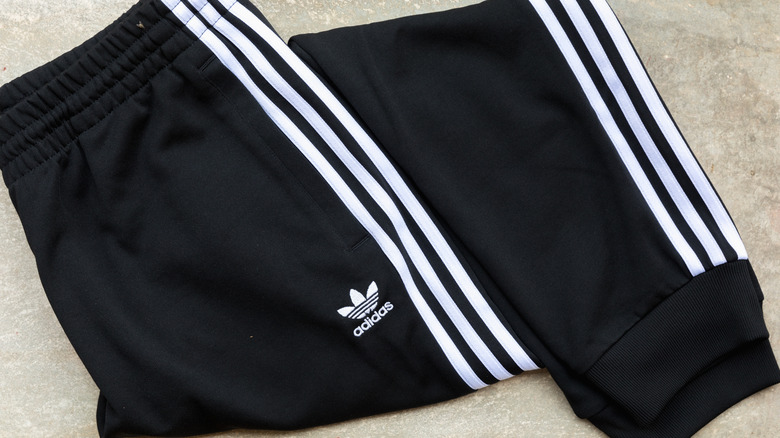 Shutterstock
With tracksuits making a comeback, Smarter Travel suggests a tried and true classic: Adidas track pants. The pants feature a slim fit, which will give you a streamlined look. If you're an outdoor enthusiast, the Cozy Up ankle sweatpant by prAna may be perfect for you. The fabric has UPF 50+ and natural, odor-reducing properties. The best part is the sweatpants come with side pockets. If you are into more luxurious fabrics, you might like the Allude wool-blend track pants that feature a wool and cashmere blend (via The Zoe Report). Who What Wear recommends stocking up on sweatpants of various colors, and especially recommended on-trend tie-dye prints like this pretty pair on sale at Urban Outfitters. For those who are fashion-conscious, you can also try a fun spin on the wide-leg trend with the H&M wide-leg sweatpants. 
There are also plenty of options if you want the comfort of sweatpants but the look of slacks. Smarter Travel recommends Lands' End mid-rise pull-on pants, which feature a trouser style and a soft spandex blend. They are available on Amazon, and the blue houndstooth pair looks especially office-friendly. Retailers like Express and Banana Republic also carry stylish sweatpants that could pass your workplace dress code, with options like the Express high-waisted satin jogger pants and the Banana Republic cozy fleece commuter jogger. There you have it: You can dress for both style and comfort.