The 'M To The B' TikTok Audio Explained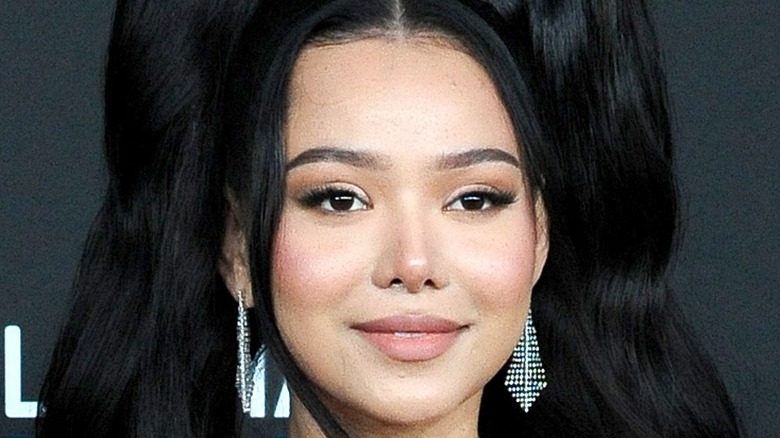 Tinseltown/Shutterstock
TikTok transcends international borders like almost no other social media app can. Its algorithm takes your For You Page on a trip around the world and makes stops along the way to check out new viral videos and sounds. This is great for all creators but especially for musicians. After all, TikTok is where many people discover new music, according to Music Business Worldwide. For instance, Nigerian artist CKay had his song "Love Nwantiti" rack up more than 3.8 million views on the app. Other artists like Doja Cat have become fixtures on Spotify's charts after TikTok got their music out there.
The "M to the B " sound is another that took on its own life on TikTok; right now there are tons of TikToks referencing the viral sound. It gained popularity after creator Bella Poarch decided to lip-sync the repetitive lyrics — "M to the B, M to the B, M-M-M-M-M to the B" — while pulling comical expressions in an upload for her 87 million followers. More videos on the hashtag followed suit as users lip-synced a sound that stays with you long after you close the app. Read on to learn what it means.
M to the B is from an old diss track by Millie B
The "M to the B" sound came from a song by a UK-based grime artist named Millie B. She wrote it when she was 16 (via BBC). The song is a diss track — a format popular on the grime scene. This one was directed at artist Sophie Aspin. "If you don't know me, I'm M to the B / Coming in hard / You better watch it, Sophie," the lyrics continue. The grime scene includes small-scale artists creating budget videos for their music, which is mainly characterized by "fast beats, electronic sounds and UK accents," according to MasterClass. The diss tracks went back and forth with Aspin writing one for Millie too.
Millie spoke to BBC about the sudden fame. "I've had like a couple of major record labels message, you know, get in touch and say, 'What [are] your plans for the future? You [want] to record anything?' Obviously, I'm a lot older now. I'm not like the kid who 'sends' for people ... I'd like to maybe make real music that relates to me." The artist is now 21 years old and noted the change in her own identity, "M to the B is probably like a performer ... I'm just Millie."