What Is The Difference Between Cream Eyeshadow And Powder Shadow?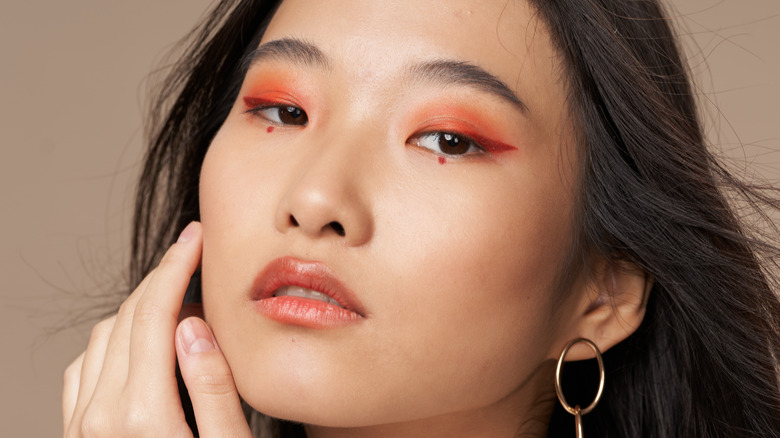 ShotPrime Studio/Shutterstock
Eyeshadow comes in a breathtaking array of colors. With so many amazing choices, you can pick up a single shade or a colorful palette. From there, all it takes is the swipe of a finger or brush to experiment with a whole new look. Light or dark, neutral or neon, your choice of eyeshadow can result in a natural look or an enhanced eye for a work-appropriate style. Or you can channel your inner rock star for a dramatic, bold glam for a night out.
According to the History of Cosmetics, eyeshadow has been enhancing looks since Ancient Egypt. Thousands of years ago kohl was used to accentuate the eyes; it also reduced glare and warded off infections. More recently, Elizabeth Arden brought eyeshadow to the United States following a visit to Paris in 1914 (per Sheen). 
With lots of eyeshadow options come lots of eyeshadow decisions. Which color is the best choice for your eye color? Glitter or no glitter? And what about the eyeshadow formula itself: powder or cream? We're here to help you choose which formulation will give you a long-lasting look and avoid sliding off or creasing.
Choose cream eyeshadow for mess-free and easy applications
nazarovsergey/Shutterstock
If you are looking to avoid messy eyeshadow fallout, choose a cream eyeshadow formula. International makeup artist Rae Morris told Refinery 29 that creams are faster to apply and longer-lasting. Because they are thicker and have more pigment than powder formulas, Expert Reviews recommended using these for increased color depth.
Meanwhile, Elle liked their ease of application and the variety of looks they can achieve. Cream formulas will help pull off looks that are subtle, dramatic, or anywhere in between. Some find that they stay on better and are easier to blend, too. Cosmopolitan pointed out that cream formulas don't collect in fine lines or enlarged pores, making them a great fit if you have drier skin.
Michael D. Patterson, a celebrity makeup artist, is also a big fan since they're easy to apply with your finger or a brush. Patterson recommended a synthetic, fluffy brush for a softer application. He suggested using the cream shadow as a base, then layering a power shadow on top for extra coverage and even more dramatic color payoff (per Makeup.com).
Layer up to experience the power of powder eyeshadow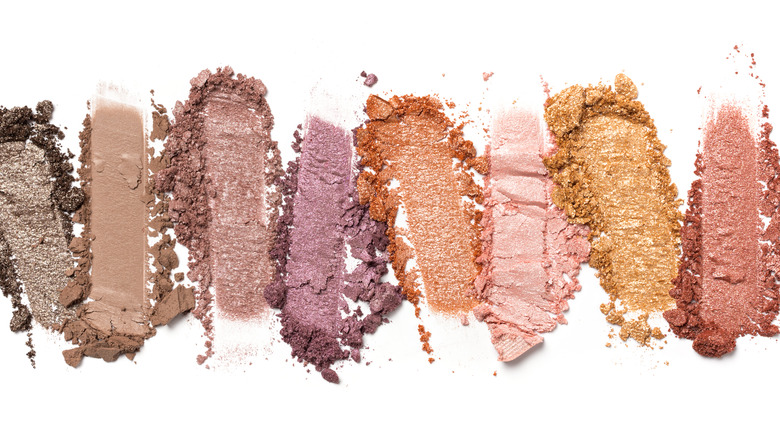 Chursina Viktoriia/Shutterstock
According to Cosmopolitan, powder eyeshadows are the best choice for oily skin. Powder formulas can even help absorb oil. The outlet also liked powder for its versatility in blending colors and textures.
Michael D. Patterson told Makeup.com that powder shadows get a top-notch rating in the variety of finishes they offer: sheer, opaque, matte, frost, and all the variations in between. To avoid creasing, he advised using a primer first. This is where a cream eyeshadow can come in handy for powder lovers. To build up your blending skills, Rae Morris told Refinery 29 that she likes to prep the eye with powder before adding a colorful powder eye shadow. This initial step helps absorb oil and makes it easier to blend.
What brushes should you use? For a soft, blended look, Patterson recommended a fluffy brush. Dense, flat brushes are useful for a bolder, more intense shadow application. If you're looking to maximize the color of your powder eyeshadow, Expert Reviews suggests using a wet brush to achieve an enhanced, bolder color.