Tips To Help You Master The Neon Eyeshadow Trend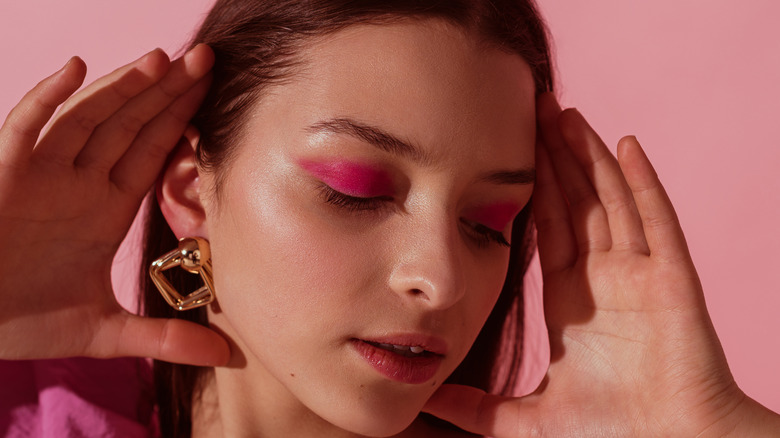 Victoria Chudinova/Shutterstock
If you're not creating makeup looks featuring neon eyeshadows, you're sorely missing out. This eyeshadow trend is a timeless one that continues to transcend years. The neon eye makeup trend was big in 2021, and neon makeup at large is one of the makeup trends that will take over 2022 in a big way as seen by runway shows featuring them (via Vogue). Interestingly, neon makeup may even be the perfect makeup trend for the Sagittarius zodiac sign (via MissMalini), though anyone of any sign can undoubtedly rock this trend.
As neon makeup becomes more popular, more beauty industry professionals and makeup artists — both small and large — are offering their favorite tips and tricks to applying this trend at home. According to Vogue, some of these tips include applying neon makeup sparingly and employing it as a graphic liner. These tips go hand in hand: graphic liner is typically applied sparingly to begin with, usually in straight or curved lines to accentuate the eye.
The best tip to come from this is perhaps to understand how the neon pops of color can best help you, rather than relying on them to create the look themselves. After all, you're in charge of your own face, and taking charge and experimenting is the only way you can find what works for you. Still, there are some extra tips that may be able to help you on the right track with this trend.
Neon eyeshadows require a specific brush for optimal results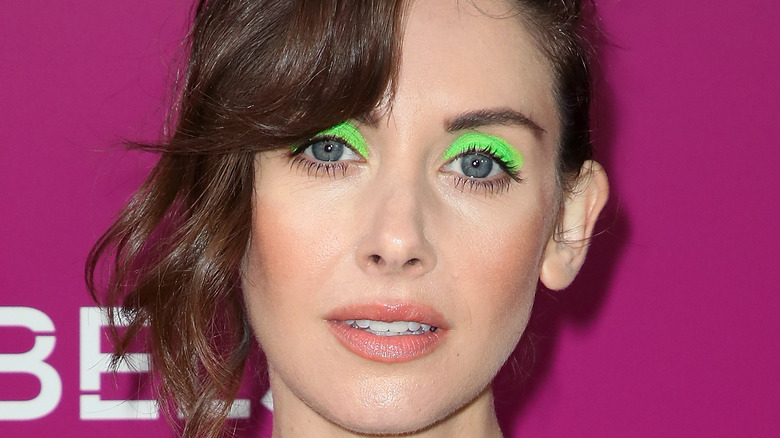 David Livingston/Getty Images
When applying neon eyeshadows, always consider which colors will look best together. These shades are often worn in conjunction with one another, meaning most neon eye looks feature at least two shades. You can combine neon pinks and oranges or greens or yellows; the decisions are all yours!
According to Teen Vogue, always apply black eyeliner when wearing neon eyeshadows. The black grounds the neon shadows and allows them to pop even more due to their contrast with the black's darkness. It essentially creates a well-rounded color palette where everything gets to shine. Moreover, Teen Vogue recommends applying your first shade in the inner corner of your eye before buffing it out into the rest of your eyelid. Then, apply your second color on the opposite side of your eye and blend them together in the middle, creating a smooth transition from one neon color to another.
When applying neon shadows, L'ORÉAL Paris recommends employing a small, flat brush for optimal precision, especially if working with more than one shade. Then, because these shades are all about their intense colors, always prime your eyes. The primer will allow your neon shades to be considerably brighter than without it. L'ORÉAL further adds that neon shadows can be statements instead of entire eye looks, too. A neon inner corner, for example, can make the rest of your face pop in a unique way.
Happy painting!