Is The SuperFit Treadmill Worth It?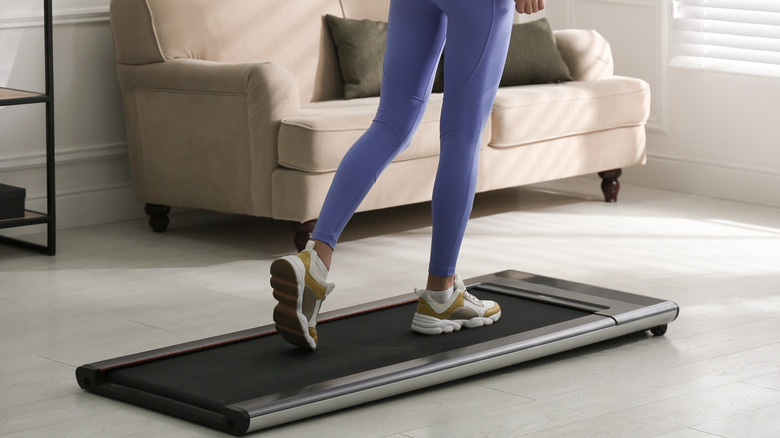 New Africa/Shutterstock
We may receive a commission on purchases made from links.
Walking is one of the best and easiest cardiovascular workouts. All you need to do is put on a pair of walking shoes, grab your headphones, and step out the door. According to Medical News Today, most adults should try to aim for 10,000 steps a day for general health, weight loss, and physical strength, but most people in the United States only get an average of 3,000 to 4,000 steps per day. Most doctors consider walking less than 5,000 steps sedentary, which is typical for most people who work at desks.
However, if there's a snowstorm or it's excruciatingly hot outside, it's much easier to step on a treadmill every day to get your steps in, no matter if you're a walker or a runner. According to the Hindustan Times, treadmills have many health benefits. Treadmills reduce impact compared to walking or running outside, and depending on your fitness level, you can choose the speed and program. However you decide to use the treadmill, it can improve your heart health, build muscle, and make you happier. Every gym is equipped with multiple treadmills, so you can take your pick, but if you are more of a homebody and don't like going to the gym, investing in a home treadmill is a smart move. SuperFit's treadmill is a popular option, but is it worth your time and money?
The SuperFit Treadmill is portable yet powerful
Do you want to lose weight and become healthy from the comfort of your own home? You may be interested in the SuperFit 2 in 1 Folding Treadmill. This treadmill has two modes for running or walking, one flat on the floor and the other resembling a traditional treadmill. It has a powerful 2.25-horsepower ultra-quiet motor, so it won't make any loud noise while you're working out. It also has a seven-layer non-slip and shock-absorbing running belt to help prevent you from injuring your joints, knees, and ankles. It currently retails for $356.39 at Overstock.
Treadmill Express Plus chooses it among the top 10 treadmills under $500 because it's an excellent cardio machine for people who are limited on space. It has a remote control and safety key features to ensure the treadmill stops immediately during an emergency. The New York Post also loves this convenient treadmill because it's portable, and you can easily fold and store it under your desk. It has Bluetooth speakers and a cell phone holder, so you can listen to music or watch a show while using it, and it lets you monitor the calories you've burned and the distance you've run or walked.
Compared to most treadmills, it's affordable, light, and has a weight capacity of 265 lbs., so it's an excellent investment for those who don't have the time to make it to the gym but want to prioritize their health.