Why Getting A Manicure Is So Expensive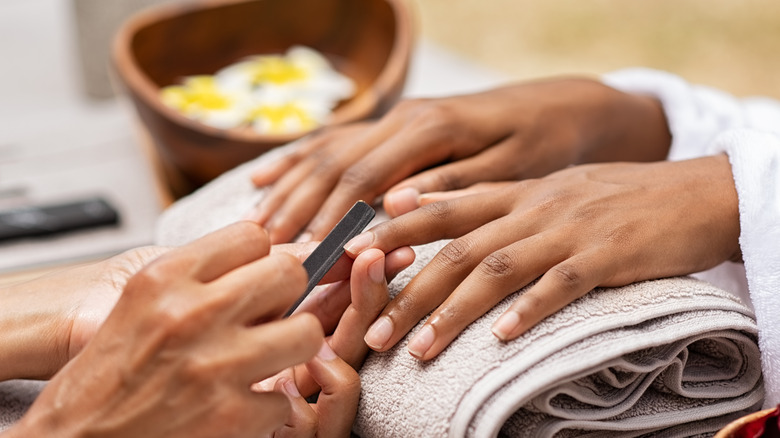 Rido/Shutterstock
A good manicure has the power to make us feel more put together, and it's an excellent form of self-care. After all, in today's world, we need it. Whether you're into neutral, nude nails or prefer something bright, a manicure can make us feel more beautiful. While some of us might have the skill and patience to properly paint our nails at home, others may prefer a trip to the salon.
Doing your own nails is undoubtedly cheaper in the long run. The average cost of a good nail polish from Essie or OPI is around $10, and if you want to splurge, you can even pay about $20 for polishes from Smith & Cult (via Byrdie). In either case, this beats the salon price.
Whether you are the type to get dip powder manicure or shellac, getting regular manicures can be an expensive habit. A basic manicure can cost between $10 and $15, and they offer endless possibilities such as hand massages and hot oil treatments (via Elle). This base cost can depend on your city and the kind of salon you choose. Still, it's always best to go to a reputable nail place if you're going to treat yourself to a set of beautiful nails.
This is why manicures cost so much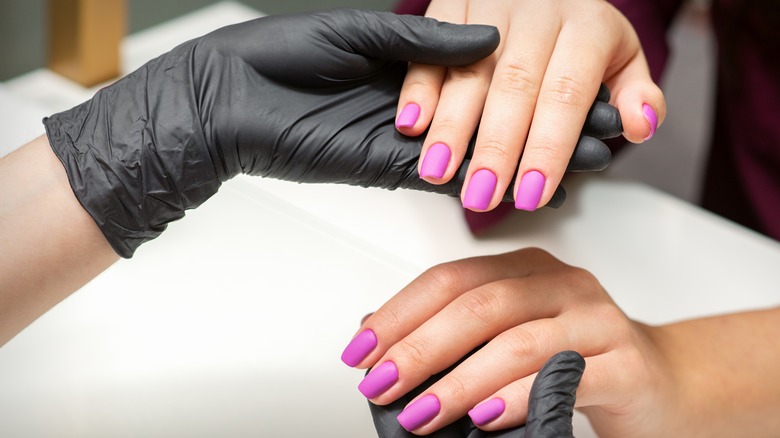 Michelle Aleksa/Shutterstock
According to Smart Mom HQ, a standard manicure can cost up to $100 for a full set of acrylic nails or gel nails with intricate designs at a high-end salon in big cities. After all, labor-intensive work costs more. You have to remember that a manicure can take over 30 minutes, and you have to consider the nail technician's time and hourly wage. Per Cost Helper Health, the average cost of manicures in cities like Chicago and Atlanta is higher than the national average, and these prices depend on demand and availability, too.
You might be the only one using your nail clippers and tools at home, but unless salons use disposable products, they will be using the same tools on everyone. Nail salons sterilize nail equipment for consumer safety by following proper guidelines, which takes time and effort — and can contribute to the total cost of the manicure (via Nail Super Store). For your own health and safety, you want to go to a decent nail salon where they practice good hygiene. The last thing you need is an infection after getting fancy nails.
Once you get a manicure, it's customary and polite to tip your manicurist, and, according to Southern Living, you should tip between 15% and 20% of your bill, though you should tip more if you received exceptional work. Plus, if you think it's too much money to tip your manicurist, you should probably be painting your nails at home.