The Celebrity-Approved Nude Nail Trend You Need To Try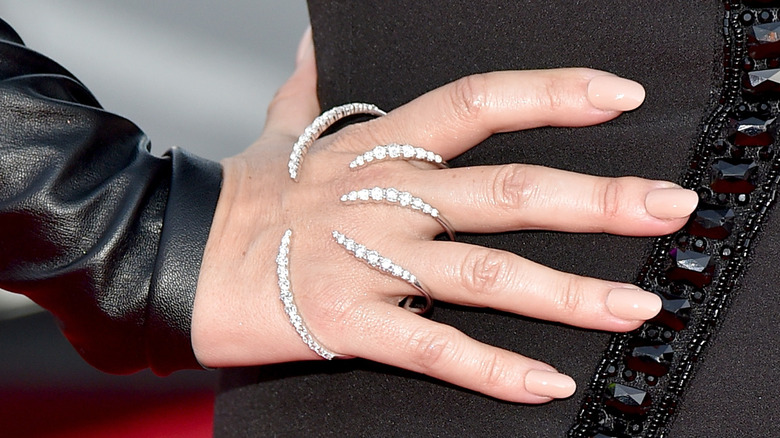 Mike Windle/AMA2015/Getty Images
We may receive a commission on purchases made from links.
Did you know that the Royal family members are not allowed to wear nail polish or grow their nails because it is considered "vulgar?" (via Vanity Fair) If Princess Kate wants to get wild, she is allowed to wear a nude shade, so she might just be able to wear the most fabulous nail trend without the Queen having a problem with it. Welcome to the world of nude, matte nails.
Super-bright nail art may have had its moment in the spotlight, but it is being replaced by the latest and greatest nail trend, which also happens to be the easiest. Say hello to the natural-looking, seamless matte, nude nails (via TZR). Celebrity manicurist Deborah Lippmann told Refinery29, "A matte finish is very fashion-forward, whereas sheer would be more elegant and crème shades are casual but chic." We spotted this trend on Gabrielle Union when she posted a picture on Instagram holding a glass of champagne with her husband in Italy.
Cosmopolitan called the matte, nude nails so powerful that they actually give them "the feels." Rainbow nails were everywhere in the summer (via Glamour), but it seems like we are saying adios to the blinding colors and saying hello to the neutral nudes. It is possible to elevate matte nudes by adding lace-like detail to some nails or an accent nail with gold lines if you aren't ready to commit 100% yet (via Byrdie).
How to get matte, nude nails at home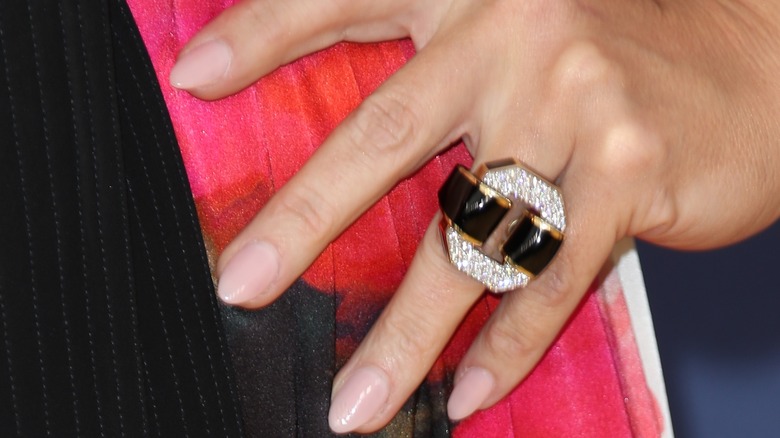 Dan Macmedan/Getty Images
Many stylish celebs like Selena Gomez and Bella Hadid have started wearing this "anti-trend" trend because painting your fingernails nude can make them look incredibly sophisticated and classy. Accompanied by long, flattering nail shapes, this trend gives the illusion of long, elegant fingers (via TZR). However, this tasteful trend works equally well on long and short nails.
First, you have to find the perfect nude to match your skin tone. Manicurist Jenna Hipp told Refinery29 that if you have fair skin, you should go with a creamy pinkish nude with a blue or yellow undertone; those with medium skin tone look great with a peachy-beige, and if you have dark skin, coffee-colored hues will work best. Once you have found your perfect nude nail polish, you can recreate your version of this viral trend at home. Celebrity manicurist Sarah Bland told Byrdie, "Cornstarch is best, but you can also use baby powder, fine flour, or baking powder" to turn any nail polish to go from shiny to matte. If that sounds a little messy for you, take the advice of nail technician Winnie Huang and carefully steam your nails with a face steamer but be careful not to burn yourself (via Byrdie).
If you don't want to play with baby powder and face steamers, the easiest way to get matte, nude nails might just be to invest in a matte top coat, like the one from OPI (via Bustle).