How Many Natural Disasters Have Taken Place On The Bold And The Beautiful?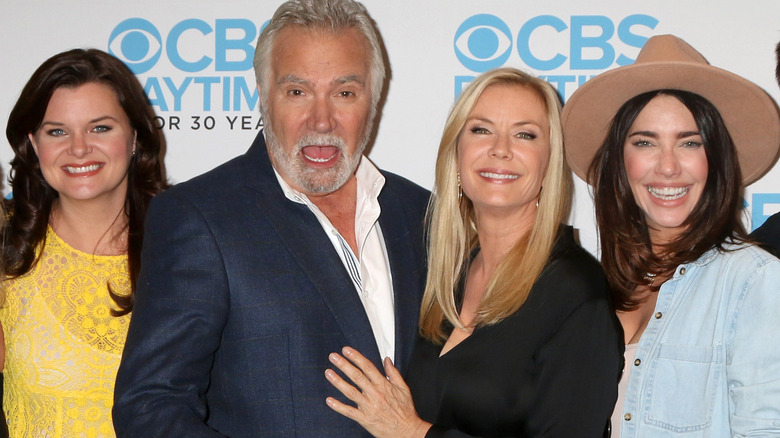 Kathy Hutchins/Shutterstock
Soap opera natural disasters can become a reset for a soap that gets the majority of current characters involved with one story that can change their lives forever. The NBC soap "Santa Barbara" had only been around for under a year when in 1984, a California earthquake hit the fictional version of this real-life town. That quake was originally supposed to be a hard and clean reset for the soap where only one character would be left, Minx Lockridge, played by Dame Judith Anderson, according to The Washington Post. NBC nixed that idea and instead, it was a soft reset that only claimed one character's life.
When NBC's "Search For Tomorrow" was breathing its last gasps of life in 1986, a flood wiped out almost the entire town, so all remaining characters had to live in the one boarding house that was left in Henderson, owned by the show's longtime heroine, Jo (Mary Stuart) (via The New York Times). The actual flood was a way to get viewers tuning in and putting characters together was a way to get viewers to stay tuning in. The stunt didn't work and "Search" was canceled by the end of the year.
"The Bold and the Beautiful" has pretty much shied away from natural disasters during its more than three decades on the air, and the one disaster it did have only involved a handful of characters, reinforcing the notion that this half-hour soap with a small cast is different from the rest.
Taylor and James get caught in a Big Bear earthquake
The Forrester family Big Bear cabin on "The Bold and the Beautiful" has been the site of many dramatic moments, including Stephanie Forrester trying to strangle Brooke Logan and Brooke Logan giving birth to her daughter, Hope. However, there were few moments as dramatic as the earthquake that psychiatrists Taylor Hayes (then played by Hunter Tylo) and James Warwick (Ian Buchanan) were caught in during a 1994 trip to Big Bear.
When a storm started brewing, Taylor and James sought refuge at the Forrester cabin, which she had access to as she was married to Ridge Forrester (then played by Ronn Moss) at the time. But then, the quake struck and destroyed the cabin, leaving Taylor and James huddled in the cold to keep warm, according to Soap Hub.
It also turned out that James was a virgin and he thought he was going to die. Not wanting his life to end without ever experiencing sex, he and Taylor later made love, despite her being a married woman, which is as soapy as it gets. James and Taylor never did become an official couple, but they do remain friends. In 2022, he is no longer on "B&B" but Taylor (now played by Krista Allen) is back and still wants Ridge (now played by Thorsten Kaye).