Mike Pence Makes His Stance On Donald Trump's Election Claims Clear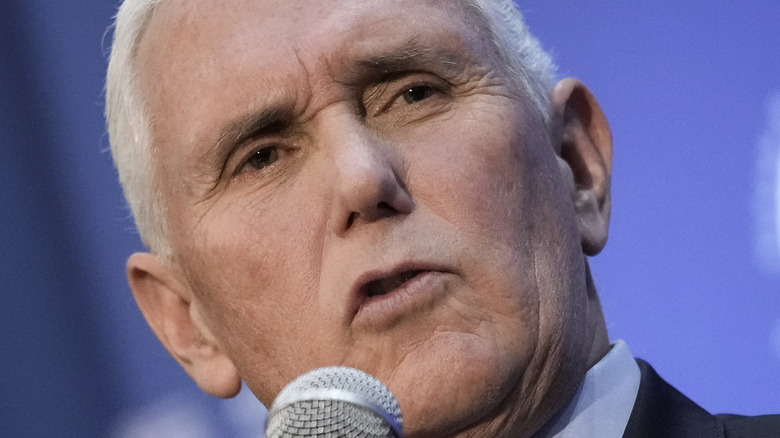 Drew Angerer/Getty Images
For more than a year, former president Donald Trump has insisted the 2020 election was "rigged" and he is the actual winner. In fact, USA Today reports that Trump tweeted the word rigged before a single vote was cast, from May 2020 right up until the election. From the time President Joe Biden was declared the winner of the race on November 7, 2021, Trump had his lawyers ready in state after state alleging voter fraud in court to no avail. A Michigan judge even sanctioned two of his attorneys, Sidney Powell and Lin Wood, for filing frivolous lawsuits (via CNN).
When January 6, 2021 came — the official day to certify the electoral college votes in Congress — Mike Pence, then vice-president, presided over the certification as all VPs do every four years, but soon needed to be escorted out of the Senate chamber by Secret Service as rioters chanted "Hang Mike Pence" and stormed the Capitol in a violent and deadly insurrection.
In January 30, 2022 statement, Trump was insistent that Pence should have and could have stopped the count, claiming changes Congress wants to make to the Electoral Count Act to explicitly say the VP's position is only ceremonial, meaning Pence had the right to "overturn the election," according to The Washington Post. Now, more than a year after the January 6 riot, Pence has spoken out about the former president's claims.
Mike Pence tells an audience that Donald Trump was wrong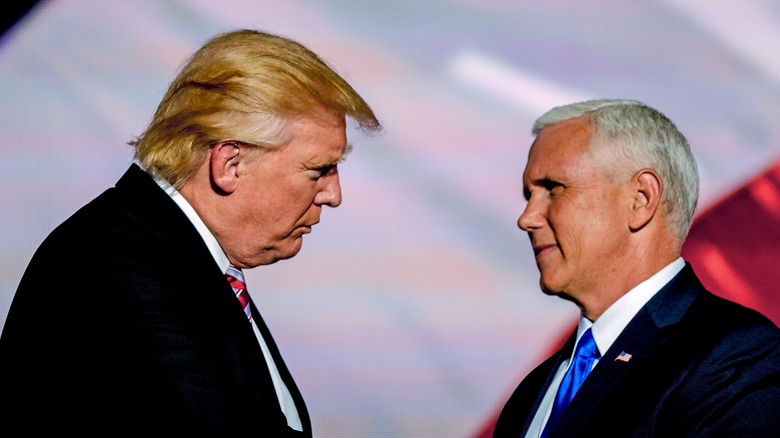 mark reinstein/Shutterstock
At a February 4 meeting of a Florida chapter of the conservative Federalist Society, former vice president Mike Pence delivered remarks and made it a point to bring up former president Donald Trump's claims about the VP's role in certifying an election.
"President Trump said that I had the right to overturn the election," Pence said, per The New York Times. "President Trump is wrong. I had no right to overturn the election. The presidency belongs to the American people and the American people alone. Frankly, there is no idea more un-American than the notion that any one person can choose the American president."
Pence went on to explain that the Constitution does not give the vice-president the right "to change the outcome" of an election, and that current Vice-President Kamala Harris won't have that right either in 2024. Pence, who many see as a 2024 presidential hopeful, stressed the importance of believing in our Constitution.
"The truth is there's more at stake than our party or our political fortunes," he said. "If we lose faith in the Constitution, we won't just lose elections — we'll lose our country."