What Mike Pence Did Before He Was Famous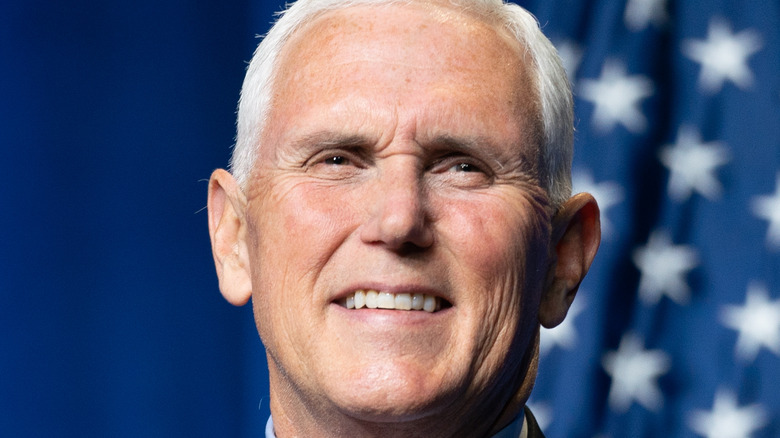 Sean Rayford/Getty Images
Mike Pence, the 48th vice president of the United States, may have been more reserved during his campaign and in his position than his counterpart, former president Donald Trump, but as Fox News reported in 2017, Pence was, at one time, "the most important man in America." In the center of quite possibly the most controversial presidency in American history, Pence was the bridge between both worlds of politics that the country needed, and this made him a critical player in the years of the Trump administration (via Fox News).
Surprisingly, Pence was raised as a Democrat, and he even voted for former president Jimmy Carter in the 1980 election (via Investopedia). It wasn't until later, when he attended Hanover College, that his religious and political beliefs changed, and he declared himself a Republican and Evangelist (Via The New York Times). Before his stint as vice president, you may recall that Pence was a conservative leaning congressman and governor, but what you may not know is that he once had his own radio show. According to Biography, in 1994 after two failed attempts at running for congress, "The Mike Pence Show" began.  
Mike Pence's radio show helped his political career take off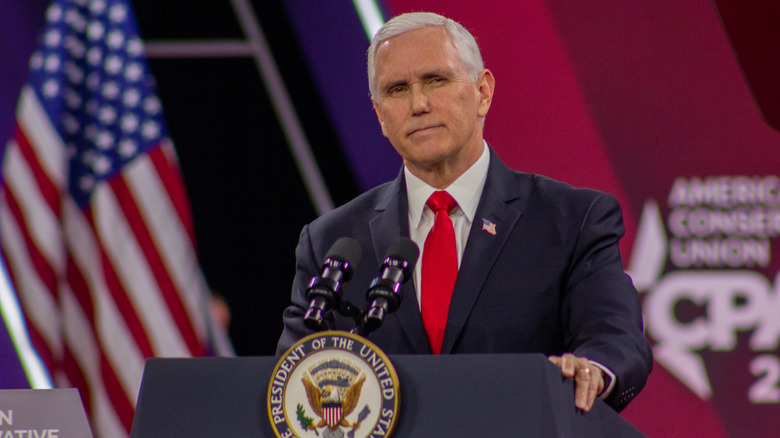 Valerio Pucci/Shutterstock
"The Mike Pence Show," which aired on Network Indiana, may have followed in the footsteps of other popular radio shows at that time, but Mike Pence made no attempt to be similar to other shock jocks. Rather, Poltico reported, he used his show as a "springboard" for his future political career, and as a means to really connect with he public. Steve Simpson, former colleague and news anchor at Indianapolis-based WIBC, recalled of Pence, "His political aspirations were never far behind that microphone," (via Politico).
According to Investopedia, Pence described himself as a radio host as "Rush Limbaugh on decaf." Even though the end goal was always about politics, WRTV Indianapolis suggested that Pence sounded more like a radio host than a politician. Scott Uecker, former director of news, operations, and programming for Network Indiana, recalled of Pence that, "People really took to him, because he was one of them ... I don't think what anyone at the time realized that what he was doing was building name recognition for his future political aspirations," (via The Republic).