Would Patrick J. Adams Ever Want To Work With Meghan Markle Again?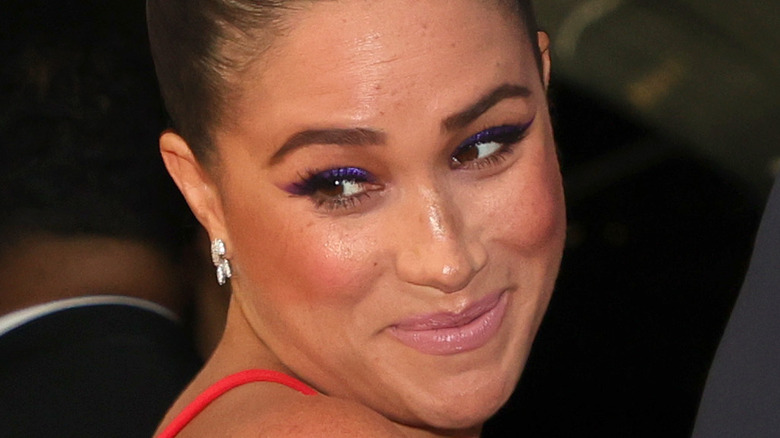 Dia Dipasupil/Getty Images
Meghan Markle's marriage to Prince Harry should have been a Cinderella story: Commoner wins the heart of royalty and lives happily ever after. Instead, it wasn't long before the press started tearing her down as savagely as Cinderella's stepsisters did to her dress. Former palace staffers claimed that Markle's "dictatorial" ways forced them to leave — though some of the accusations were later rescinded (via Daily Mail, Marie Claire). Prince William and Kate Middleton were praised by reporters for the same actions that got Harry and Meghan roasted: having scented candles at their wedding; holding a christening without the queen present; expressing emotions publicly; even eating avocados (via BuzzFeed). 
The criticism only intensified after the Duke and Duchess of Sussex left royal life to pursue their own career and family interests. Suddenly, Meghan became painted as the femme fatale tearing her husband away from his family. The candid Oprah interview left critics cold, with commentators like Megyn Kelly snarking that she was playing the victim card (via Insider). Even Meghan and Harry's Archewell charitable foundation has come under fire. When they announced that they would be funding relief centers for Chef José Andrés' World Central Kitchen foundation, the couple was dismissed as being wealthy "hypocrites" for not doing more to help (via CafeMom). 
One of Markle's former coworkers, however, has a very different view of the duchess and her charity work.
Patrick J. Adams says Meghan Markle inspired him to give back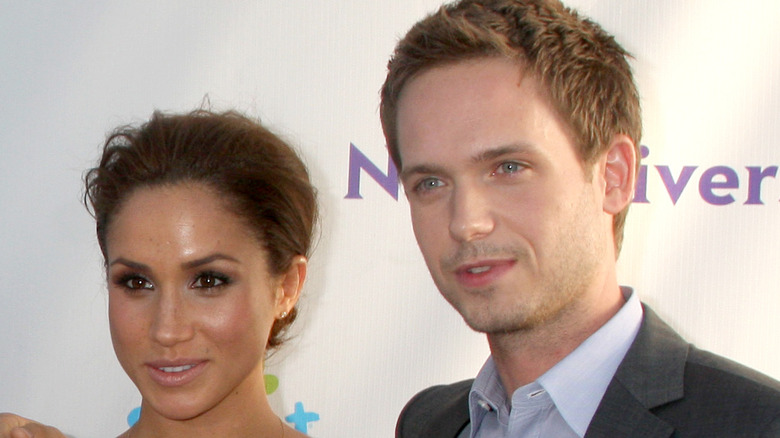 Kathy Hutchins/Shutterstock
Before becoming a British royal, Meghan Markle was an actress who had small parts in series like "Castle" and "Fringe" before landing a career-making role as Rachel Zane in "Suits." The costars who got to know her over the series' eight-year run describe Markle as anything but a domineering, headline-craving bully.  Executive producer Silver Tree recalled that when her own son was undergoing a "scary, complicated diagnosis," Markle jumped in and helped make a plan of action for his medical care (via Fox News).
Recently, Patrick J. Adams, who played Markle's love interest on the show, said in an "Extra" interview, "I would kill to work with Meghan Markle again. ... She's the most motivated, driven human being I've ever met in my life." Adams added that the example she and Prince Harry have shown through their philanthropic work have inspired him and his wife, Troian Bellisario ("Pretty Little Liars"), to do some good works of their own. They're working on a clothing collection inspired by their popular shows. The proceeds will go toward establishing a photography academy at a Boys and Girls Club in L.A.  
The "Suits" star also has no patience for people slamming Markle online. In January 2022, he tweeted: "Hello to the people and many bots debating all things Markle and including me in the conversation. I just want you to know a couple of things. 1. I don't read any of it. 2. Life is short. 3. There has to got to be better things for you to be doing. Even you, bots."