Charlie Day Wins Our Hearts Over With I Want You Back - Exclusive Interview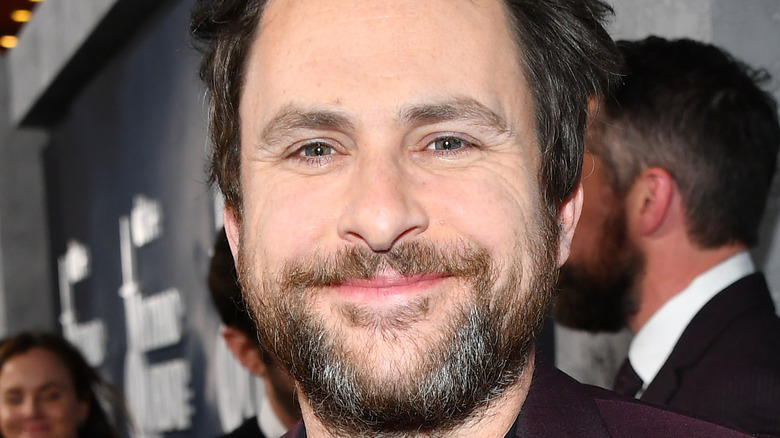 Amy Sussman/Getty Images
We may receive a commission on purchases made from links.
Charlie Day is a regular on our screens, thanks to the long-running sitcom "It's Always Sunny in Philadelphia" and unforgettable performances in movies like "Horrible Bosses" and "Fist Fight." Now, Day is taking the lead in the romantic comedy "I Want You Back" from Prime Video.
"I Want You Back" follows 30-somethings Peter (Day) and Emma (Jenny Slate), who connect after they're dumped by their respective partners, Anne (Gina Rodriguez) and Noah (Scott Eastwood). While drowning their sorrows, and after learning that Anne and Noah have already moved on with new people, Peter and Emma hatch a plan to win their exes back. Hijinks ensue when Peter befriends personal trainer Noah, and Emma attempts to come between Anne and her new boyfriend. It quickly transpires that interfering in other people's relationships comes with its own complications.
The List spoke to Charlie Day ahead of the release of "I Want You Back" to find out what it was like taking the lead in the romantic movie, and what's next for the "It's Always Sunny in Philadelphia" stalwart.
Working with Jenny Slate and Gina Rodriguez
"I Want You Back" is such a fun rom-com, but also a serious romance in a lot of ways. What drew you to the movie?
I think [it's what you just said]. I like the more serious aspects of the storytelling. I think I was excited for that acting opportunity and challenge, but also found it genuinely funny. And lastly, I always wanted to be in a rom-com, so I was happy that ... I was worrying I was starting to run out of time.
Why haven't they picked you to be a rom-com lead before?
I wasn't ready. I was ready now. I'm glad it happened now.
It was great to see you work so closely with Jenny Slate. What was it working with her on this movie?
Oh, she is a dream. I've been a fan of hers since the first time I started seeing her on "SNL" and all of her work and her amazing performance in "Obvious Child." And then I read her book, "Little Weirds," and I just said, "Oh, here's, this is a really special and interesting person. I hope that she likes me," and we really hit it off. I could not enjoy her company more. I honestly hope that I get to do the Tom Hanks, Meg Ryan thing with her and get to do a handful of these movies. It would be great.
In this film, your character has to juggle two very different romances. What was that like?
It wasn't hard because both Gina and Jenny are excellent. Gina Rodriguez and Jenny Slate, they're both so good at what they do that I [only] had to be present and available for them, and to get to do emotional scenes with them both was an embarrassment of riches.
Developing a bromance with Scott Eastwood
Your character develops somewhat a bromance with Scott Eastwood. Has that carried on offscreen?
Scott Eastwood and I were both in the sequel to "Pacific Rim." I had done the first "Pacific Rim" movie, and then Scott was in the second one with me, and Scott and I worked together in both Australia and China on that film. That was a bonding global experience, and we did a lot of press on that movie. We were friendly before and remain friendly, and I was excited for Scott to get a chance to do a role like this, to be a little bit more vulnerable and sweet and to let audiences see that side of him. I really enjoy his company and I like being around him and I hope I get to hang out with him more.
Even when he strips off?
That was the only part I had to power through.
Close your eyes.
I wasn't allowed to close my eyes.
There's some great comedic talent in this film. Was there much improvisation on set?
There really wasn't too much improvising. It was really all there on the page. Isaac [Aptaker] and Elizabeth [Berger] are such good writers, and maybe occasionally, we would muddy up the end of a line or something, but no. It was refreshing to work on a script where improv was not needed, that it was all there for us. We had to do the words that were written.
What do you hope viewers take away from this movie?
I really hope they enjoy the movie. I think it's such an enjoyable and funny and romantic film. I hope that they get a sense of nostalgia watching it, that it reminds them of some of the more timeless rom-coms that they might have grown up watching and enjoying.
I feel like there aren't enough big screen rom-coms like this, or romantic movies, anymore. So it's nice to see another one.
Well, maybe we'll kick that door wide open so people get to do it again.
Charlie Day's It's Always Sunny Family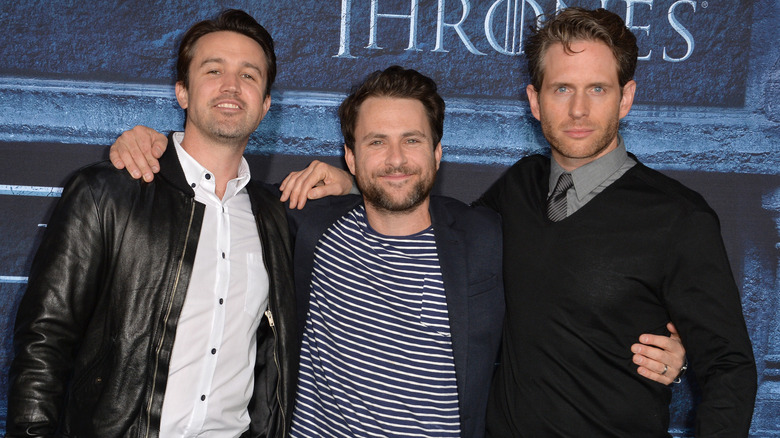 Featureflash Photo Agency/Shutterstock
A lot people know you from "It's Always Sunny in Philadelphia," which is continuing to break records and is seemingly going to run forever. What are you going to do when it finally ends?
I don't know what I'm going to do when it finally ends. I'm going to be ... Well, on the one hand, I'm going to be relieved because there's always the pressure of, "Oh, how are we going to do this again? And can we live up to what we've done in the past?" But on the other hand, I'm going to be deeply saddened because not only are those people some of my closest friends, but they all really truly feel like my family. I don't know. I can't imagine a year going by where I don't spend a lot of time with them. I'm not sure how I would do that.
But then I guess you've continued that a little bit by writing on "Mythic Quest"?
Yes, but that's really mostly Rob McElhenney and Megan Ganz and David Hornsby running "Mythic Quest." I think the podcast has helped, so Rob and Glenn [Howerton] and I have been getting together and podcasting, and to be in the same room with each other, even if it's only for an hour a week, it really fills my cup, as they say.
Taking directing advice from Guillermo Del Toro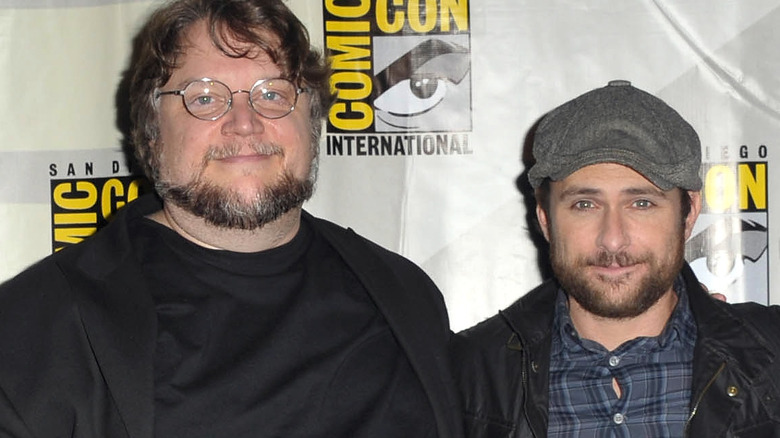 Albert L. Ortega/Getty Images
Your first movie as a writer and a director, "El Tonto," is coming out soon. What can you tell us about it?
It's been a long time in the making and I'd written it and I had shot it, actually, years ago. I used the pandemic as an excuse to take my time with it and really think about what it needed to be, and I had some wonderful advice from Guillermo Del Toro, who [told me], if I want to make changes to it, I should make the changes. I actually went and shot an additional seven days of filming, about 20-ish pages, mostly with Ken Jeong, who has a much bigger role in the film now. I am so happy with the film, and the shape that it's in, that hopefully I get it to the right studio, the right buyer, maybe a good festival this year. Hopefully, finally, I [can] get it out to the world this year, but I'm excited for people to see it. I really love the movie.
Are you're hoping to do more of that in the future?
I think so. I think there was a minute there where I was soul searching with the story and I thought, "I don't want to put myself through this torment ever again," but then I got on the other side of it and now I can't wait to dive back in.
That's like every creative project ever.
I think so. You've got to go through hell and hope you come out the other side.
Are there more rom-coms in Charlie Day's future?
I love you in the "Horrible Bosses" movies, and I wanted to know what it was like working so closely with Jennifer Aniston.
Oh my God. I adore Jennifer Aniston. Those movies were such a blessing, to be a part of that franchise, and to get to work with people like Jennifer and — look, she's an icon, and she's as lovely as she is talented. I really hope I get to either do another movie with her or maybe another "Horrible Bosses" movie. Who knows? But I would jump at the opportunity to do anything with Jennifer again.
Maybe a rom-com.
Maybe a rom-com! Yeah. Don't rule it out. She's pretty good at them.
I would love a "Horrible Bosses 3," though. You've given me hope.
Yeah. You and me both.
Anything else you want people to know about this movie before we go?
I think we're coming out Valentine's Day. We'll be out on the 11th, actually, so I think it's a perfect date night movie, or if you're single, it's also good to give you the romantic feels. I think I'm really proud of this movie. I'm proud of my performance in it and I hope people get to enjoy it because it was really fulfilling for me to do this movie and I really believe in it, so I hope people go and see it.
Well, I think you were great in this movie. It's so nice to see you in a lead role like this.
Thank you. I was happy that they gave me the chance.
"I Want You Back" will premiere exclusively on Prime Video February 11, 2022.