How Often Should You Be Replacing Your Eyelash Curler?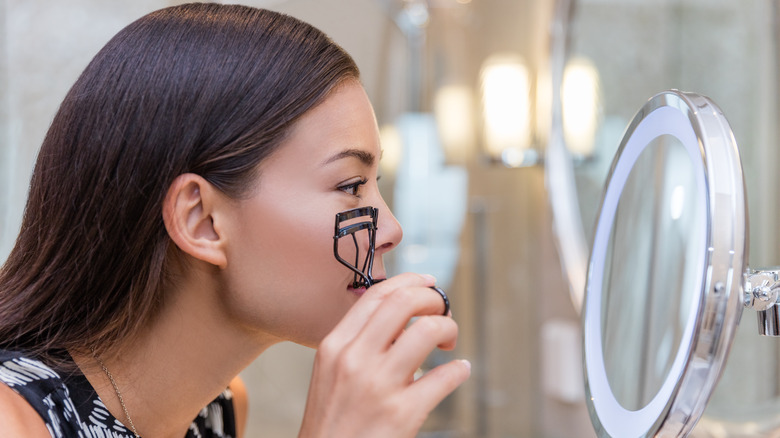 Maridav/Shutterstock
Eyelash curlers play a key role in the pursuit of long, bold, beautiful lashes. When combined with your favorite mascara, eyelash curlers are a game-changer in helping you to achieve wide-awake eyes. To see the best results from your eyelash curler, it's important to use proper technique. Celebrity makeup artist Katey Denno told Good Housekeeping that she suggests pulling the curler out, then gently angling your wrist and the curler toward your nose. Once you've found your favorite curler, the next step is keeping it clean so that it lasts longer. To avoid germs and damage to eyelashes, makeup artist Andrew Colvin told Self that curlers can be cleaned once every two months or so with a makeup wipe. For a more thorough cleaning, curlers can be washed overnight with dish soap.
Luxe Luminous recommends carefully storing your eyelash curler when not in use. Avoid placing heavy items on top of the curler to prevent the curler's shape from getting bent. But with even the most exemplary storage and cleaning process, every eyelash curler eventually reaches its end. So how do you know when it's time to invest in a new one?
Take care to replace your eyelash curler pad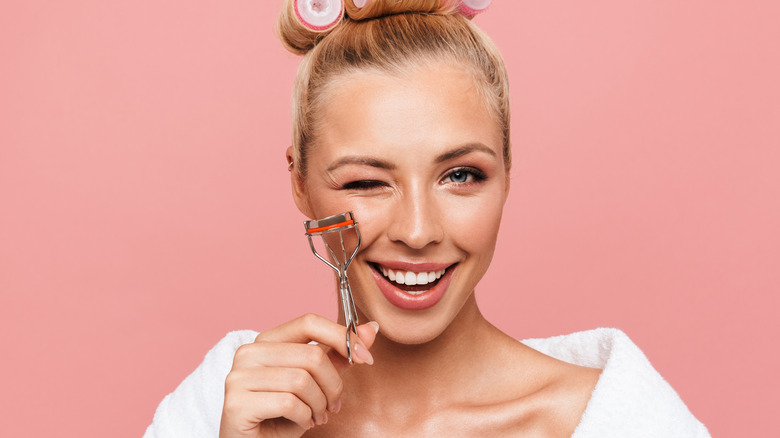 Dean Drobot/Shutterstock
Before you replace the entire eyelash curler, try replacing the cushion first. Some of these pads are made of rubber and can become dried out over time. Besides creating subpar curls, Luxe Luminous cautions that worn out pads could damage eyelashes. Your eyelash curler may come with replacement pads, or you can check to see if replacements can be purchased separately. Makeup artist Andrew Colvin told Self that he recommends upgrading rubber pads for silicone pads. He believes silicone pads from trusted brands like MAC, Surratt, and Kevyn Aucoin will last longer.
According to InStyle, the rubber pads in your eyelash curler have an average life span of about three months. A representative for cult beauty brand Shu Uemura told the outlet that their company's silicone pads will last three months if the curler is used daily. Though Shu Uemura's curlers come with a replacement pad, this means that you can extend the life of your curler another 90 days after the first pad wears out — meaning that your curler begins to break down after about six months. If your eyelash curler doesn't seem to be doing its job as well as it did in the past, this could be a sign it's time to replace it. Regardless of age, Sally Beauty suggests replacing an eyelash curler that has lost tension or exhibits rusty or corroded metal.