Inside Kat Von D's Scary Home Invasion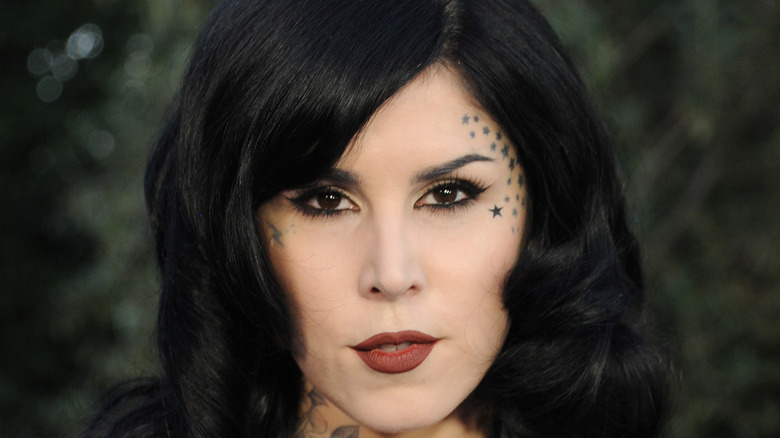 Gregg Deguire/Getty Images
In October 2021, famed tattoo artist and former reality star Kat Von D took to Instagram to announce that she and husband Rafael Reyes, alongside their young son, Leafar, would be relocating to Indiana, where the couple had purchased a home the previous year. 
"The more time we spend out there we realize we feel more at home there than we do here in LA," Von D wrote. "After much thought, we have decided we will permanently be moving to Indiana at the end of this year. We plan on selling our beautiful home here, and I will most likely open a private studio in Indiana once we are done with the house remodel there."
USA Today confirms that the "L.A. Ink" star bought the historic Benjamin Schenk Mansion, located in rural Vevay, which is about an hour away from Cincinnati. 
Von D previously called out California's "terrible policies, tyrannical government overreach, ridiculous taxing," and "so much more corruption" as reasons to move elsewhere, though it's still pretty crazy she's ended up in small-town Indiana.
The move necessitated Von D selling her beloved gothic mansion in L.A., though, as House Beautiful reported. The customized home, which includes a blood-red swimming pool, was listed at $15 million.
For the time being, of course, Von D and her family are still crashing there, and reports are circulating that they suffered a terrifying home invasion during the night.
Kat Von D awoke to find an intruder in her home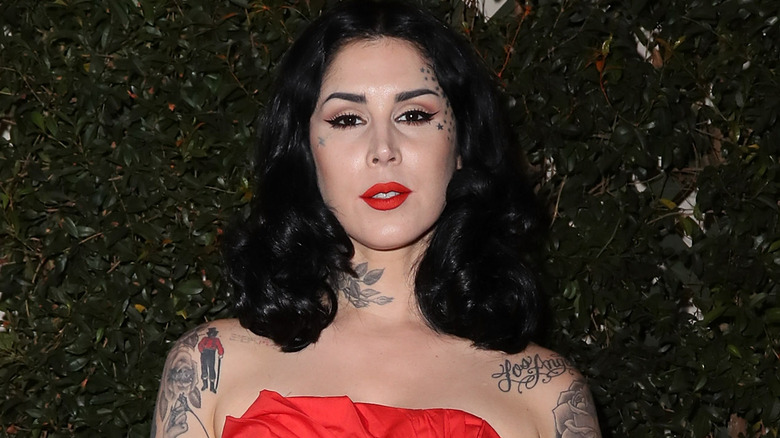 David Livingston/Getty Images
TMZ reports that Kat Von D woke up just after 10 p.m. to find an intruder wandering around her L.A. mansion. The tattoo artist was roused from her sleep by a beam of light bouncing around the house. 
She immediately fled with 3-year-old son Leafar in tow and alerted the authorities. A man in his 30s was later discovered upstairs in the home and reportedly told police he was interested in purchasing the property and was simply looking to use the bathroom.
The unidentified intruder was taken into custody and booked for residential burglary. He jumped over a fence to get in, but there were no signs of forced entry. 
Considering the man knew the property was for sale, it stands to reason he probably knew who the owner was, too. Sadly, Von D has previous experience dealing with intruders breaking into her home.
Following the backlash to a video of her and husband Rafael Reyes training with guns, the "L.A. Ink" alum took to Instagram to reveal they'd been pushed to extremes to protect their family.
"How would you feel if a mentally ill stalker who was convinced that they were married to you, with prior felonies broke into your home after already having trespassed onto your property before?" Von D wondered. "This is not the first time an incident like this has taken place. In fact, it's the third time I have ever had to file a restraining order."