Motivational Jewelry Brands That Will Make You Feel Good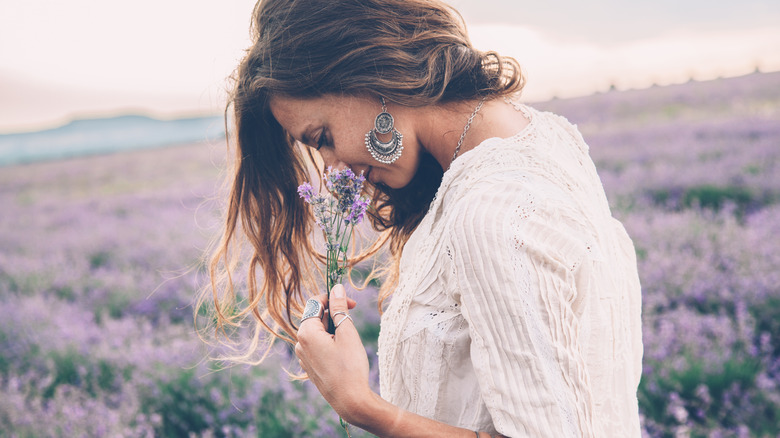 Alena Ozerova/Shutterstock
If you've ever lacked motivation or felt stuck in a rut, one way to help work yourself out of it is with positive affirmations. They can be as simple as referring to yourself with words like "strong," "brave," and "loved." Or you can try using longer phrases, like "Courage starts with showing up and letting ourselves be seen," as podcaster and author Brené Brown states. As a whole, adopting positive affirmations can help change your outlook on life.
"We live in a society where it's easy to get bogged down with lots of negativity," psychologist Lauren Alexander told Cleveland Clinic. "Positive affirmations are a way to help shuttle out some of that negativity, in terms of the things that we say to ourselves." Per Oxford Journals, scientific researchers have confirmed that positive affirmations literally change your brain, as they increase activity in the part of your brain that helps guide the sense of self. Therefore, choose an affirmation that is connected to your own set of values to ensure that the affirmation feels authentic to you. Whatever your affirmation might be, The Cleveland Clinic tells us that repeating it, writing it down, and reminding yourself of it helps the message sink in. And one of the easiest ways to remind yourself of an affirmation is by wearing it! Below, we've rounded up a few brands that feature beautiful jewelry which doubles as a visual symbol of affirmation. (These brands also give back, so purchasing any products is a win-win.)
These jewelry companies help women become independent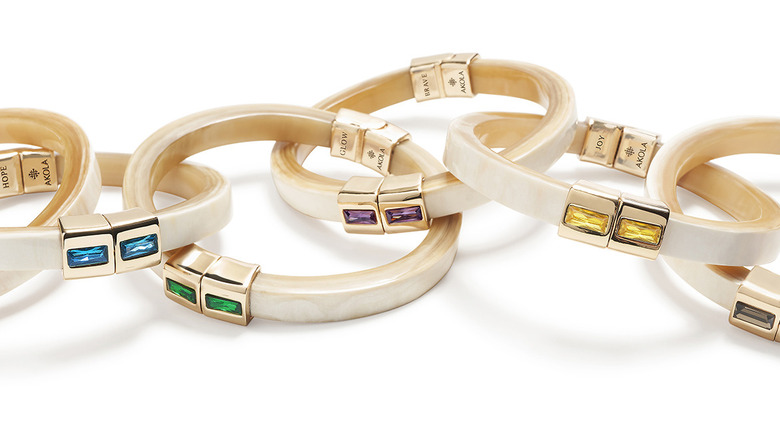 Akola
Akola offers a set of Unlock-it bracelets designed to help remind customers of their "inner strength just waiting to be unlocked." Each one includes a word on the inside: "strong," "joy," "grace," "brave," "glow," and "hope." The handcrafted jewelry is made using local and sustainable materials. Per the official website, the company chose its name from the word in a Ugandan dialect that means "she works." True to this name, Akola is rooted in a mission to provide jobs for Ugandan women by paying them living wages, as well as guiding them via leadership and financial literacy programs.
Another company that helps support women is Starfish Project. The nonprofit works to provide shelter, healthcare, and jobs for exploited and trafficked women in Asia. They also offer training and educational opportunities that empower these women to become independent. Over the past 15 years, Starfish Project has helped more than 160 women break free from exploitation. Starfish Project creates a range of jewelry, and several of these pieces come with positive affirmations. This includes the brand's 14k gold-plated bracelet engraved with the words "Love is kind," and the stainless steel "Give Mercy Necklace," which features the phrase "act justly" on one side and "love mercy" on the other.
Buying these bracelets supports worthy causes
Wishbeads is another jewelry company that believes in the power of positive affirmation. "I created wish beads to be your opportunity to explore how powerful you are, to create exactly the life you want," company founder Alexa Fischer explained on the brand's website. Wishbeads offers beaded bracelets, within which you place a written intention or affirmation. Along with being able to physically carry your intention, customers can choose a stone that speaks to a specific intention. Furthermore, Wishbeads gives back with a line of cause bracelets that benefit various charitable organizations. Their LA-based program, "Wishbeads Workshops for Teens," aims to help middle-school girls build self-confidence and mindfulness.
Likewise, jewelry company Mantraband also donates some of its proceeds towards worthy causes. The Mantraband Charity Bands collection features 20 different cuff bracelets, where $5 of each purchase goes to charity. Every bracelet in the collection has a message that ties to that specific charity — for example, "Listen to your heart" for The American Heart Association and "Remember your fighting spirit" for Wounded Warriors Family Support. In total, there are 20 different charities and the bracelets start at $25 with choices of silver, gold, and rose gold. Per the official website, the company is a member of 1% for the Planet, which means that 1% of their annual sales is donated to environmental nonprofits.