Body Lotion Vs. Body Conditioner: What's The Difference?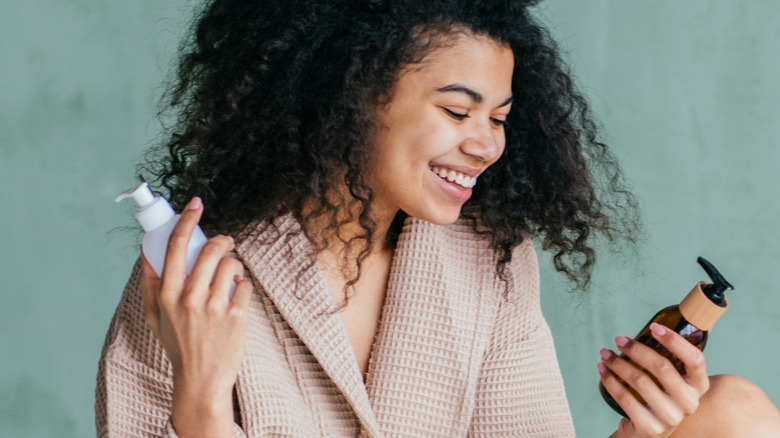 Iryna Inshyna/Shutterstock
We may receive a commission on purchases made from links.
We use a ton of skincare products on our face, such as cleansers, serums, exfoliators, and more. However, we don't have the same number of products to treat the skin on our body. There are bar soaps, body washes, and body lotions, but guess what? It's equally important to keep your skin smooth and supple. "A lot of people think moisturizers bring moisture into the skin, but their main function is actually to prevent water loss," Doctorly's Dr. Muneeb Shah told The Strategist. Shah added that moisturizers help protect against signs of aging, too. Using a hydrating body lotion after a shower is therefore a great way to attract moisture and form a protective barrier on the skin. 
Oprah Daily is a fan of Aveeno Daily Moisturizing Lotion because it has colloidal oatmeal and glycerin that are great for sensitive skin. However, if you have dry skin but love hot showers, you might need a little extra hydration. Body conditioners might just be the next big thing you need to give your skin the extra TLC it desires. An in-shower body conditioner is more moisturizing than a body lotion, and it's meant to be used before you step out of the shower when your skin is still wet (via Coveteur).
Body conditioner is ideal for anyone with skin conditions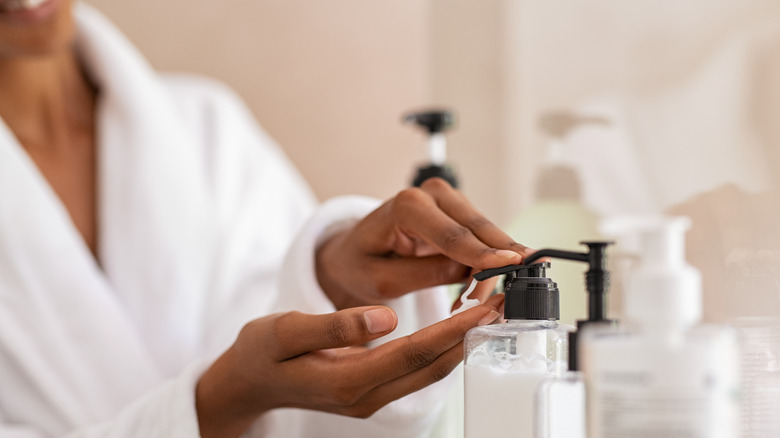 Rido/Shutterstock
Both body lotions and body conditioners hydrate the skin. Still, body conditioners hydrate quicker and penetrate deeper into the skin, which is beneficial for people with skin conditions like eczema and psoriasis. This is because it soothes the skin quickly and prevents inflammation caused by dry and flaky skin (via Coveteur). "Skin is much more permeable when it's wet," board-certified dermatologist Tiffany J. Libby told The Zoe Report. Therefore, your skin stays more hydrated if you use a moisturizer when your skin is still damp. Comparatively, body lotions prove to be less hydrating since they're typically applied to dry skin. The Zoe Report recommends Kiwi Botanicals Soothing Body Conditioner with Manuka Honey & Chamomile, which has anti-inflammatory and antioxidant properties to calm and soothe irritated skin.
Using body conditioners also saves time for people who need to rush out in the morning, saving an extra post-shower step. This doesn't mean you should stop moisturizing your skin after showering, but you might get additional skin benefits if you use an in-shower body conditioner, especially if you have dry skin. Overall, it's always encouraged to moisturize your skin after taking a shower because it rehydrates stripped skin. Body lotions add extra hydration to calluses or rough spots, and they can help you feel and smell good, too (via Everyday Health). This step can even be relaxing and help you feel pampered. So, are you ready to invest in some body conditioner?