What You Never Knew About Odell Beckham Jr.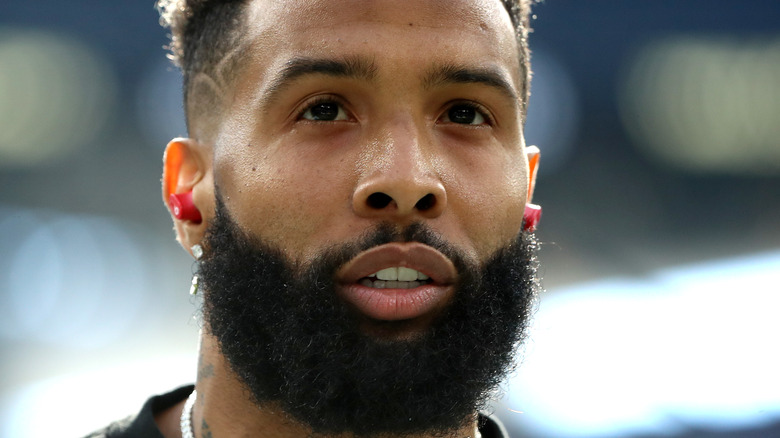 Katelyn Mulcahy/Getty Images
Los Angeles Rams wide receiver Odell Beckham Jr. has proven to be a formidable professional athlete, which isn't too surprising when you consider his background: Both his parents were athletes as well, with his father also playing football and his mother running track at Louisiana State University. 
While Beckham Jr. is clearly a talented football player whose prowess on the field has been repeatedly praised, his career has also been filled with some lows. In 2021, Mark Cannizzaro wrote a particularly searing piece on Beckham Jr. for the New York Post, referring to the state of his football career as a "sad waste" when compared to the expectations that many had when he joined the NFL in 2014. Beckham Jr. has been traded from team to team twice since 2019, and many fans are hoping that his stay in Los Angeles will be for good.
Despite some of the challenges he's faced, Beckham Jr. is a compelling, fascinating star on and off the field. Here are a few things you might not know about Beckham Jr.
Odell Beckham Jr. considers Shaquille O'Neal an uncle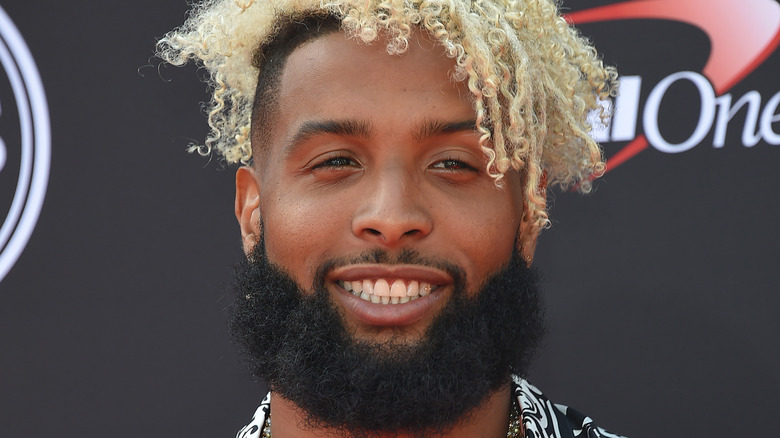 DFree/Shutterstock
While many of us associate Odell Beckham Jr. with football, it turns out he has quite a few connections with basketball as well. In fact, Beckham Jr. is especially close to one massively famous basketball player who is certainly a household name: Shaquille O'Neal, former Los Angeles Laker. His father attended Louisiana State University (his mother, too), which just so happens to be also be O'Neal's alma mater.
As O'Neal explained to NJ Advance Media, he and Beckham Jr.'s father both have strong ties to Texas, which is one of the first things the pair bonded over. As O'Neal explained, the pair "used to go to clubs, fight for each other, we were best friends." O'Neal later congratulated the Beckham family on the birth of their son.
The two still have a strong bond to this day, with both referring to one another as family. As O'Neal told NJ Advance Media, he's always there for Beckham Jr. He said, "I don't really bother [Beckham], but he knows if he needs anything, advice from Uncle Shaq — because obviously I've already lived it, and mastered it — ... if he needs anything, advice or whatever, just give me a call."
He almost played minor league baseball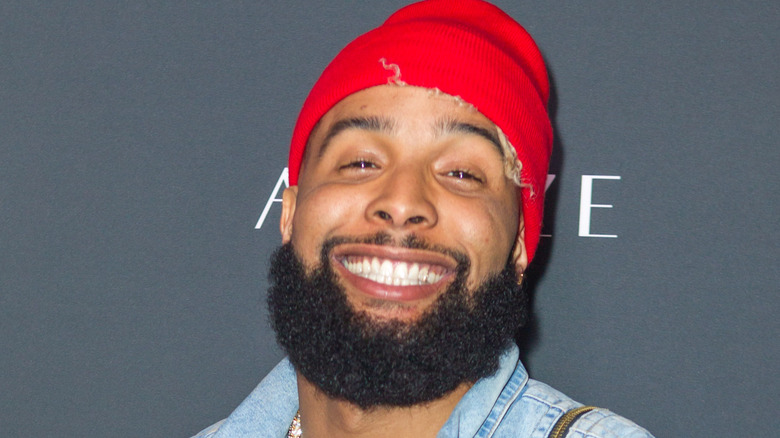 Jamie Lamor Thompson/Shutterstock
While it might be impossible to imagine Odell Beckham Jr. playing any sport besides football these days, there was a time in which he was very nearly ready to play minor league baseball instead. In 2015, Beckham Jr. was working as a wide receiver for the New York Giants when he got a call that could have changed everything: He was asked if he was interested up in picking up a side gig in minor league baseball for the Rockland Boulders. 
The Boulders team is also based in New York, and Beckham Jr. would have been traveling only 30 minutes had he taken the team up on their offer. As shared by CBS Sports, the move was inspired by a charity baseball game that Beckham Jr. participated in, in which he proved (to the delight of fans and baseball enthusiasts in general) that he's a multi-talented athlete. 
Shawn Reilly, the general manager for the team, told CBS that at the time that the team believed the precedent set by other football players who moved to baseball could have swayed Beckham Jr. He explained, "We think that getting experience pitching to professional hitters will give him the opportunity to follow in the footsteps of Deion Sanders and Bo Jackson." In the end, Beckham Jr. ended up sticking with football.
Odell Beckham Jr. is also great at soccer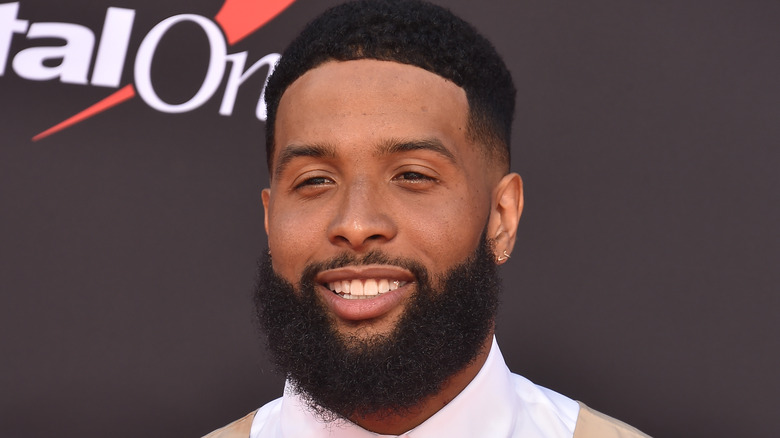 Featureflash Photo Agency/Shutterstock
When it comes to being excellent at sports, Odell Beckham Jr. hasn't limited his aspirations to football and minor league baseball — he is also reportedly a great soccer player, and could have even pursued a viable professional career in the sport. Colin Rocke, who was Beckham Jr.'s soccer coach when he was a tween back in New Orleans, told NFL.com that he believes Beckham Jr. could have gone all the way.
As Rocke put it, "Odell could be on the U.S. national team." Rocke added that it's clear from watching Beckham Jr. play football that he has what it would take to excel at soccer, too. He said, "If he stuck with the game, he'd be an elite soccer player."
Rocke also explained that the Beckham Jr. you see on the football field is the same as the younger version he coached, especially when it comes to one crucial aspect of the game. He explained, "He was exactly the same kid. Exactly the same. He was not cool about not winning. He was always upset about not winning."
The athlete ran drills with Peyton and Eli Manning when he was in high school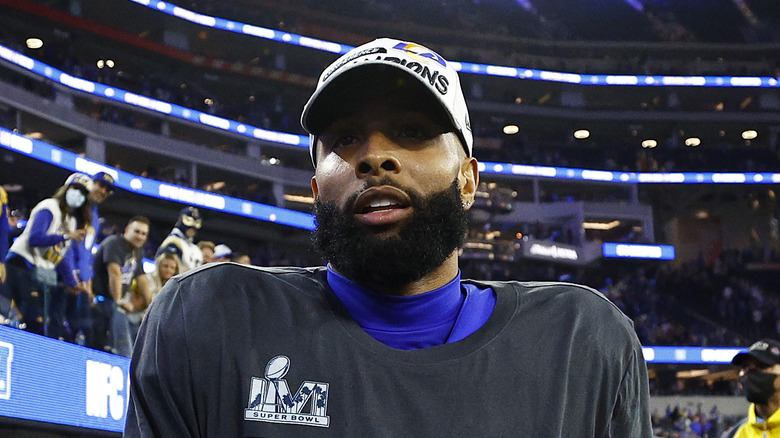 Ronald Martinez/Getty Images
Odell Beckham Jr. has plenty of friendships and connections with fellow athletes, but a few of those pre-date his experience in the NFL. In fact, when Beckham Jr. was still in high school he had the good fortune to work with a pair of equally famous football stars: brothers Peyton and Eli Manning, as noted by ESPN. The brothers Manning were in Louisiana when they called up coach Nelson Stewart at Isidore Newman School and asked if a few football players were available to run drills. Stewart sent Beckham Jr., and the brothers were immediately impressed.
Peyton was especially aware of the talent Beckham Jr. possessed, and he reportedly told Stewart, "That kid's a little different." Then Peyton reportedly made sure his brother played with the other students so he could work with Beckham Jr. himself.
Odell Beckham Jr. set a Guinness World Record in 2015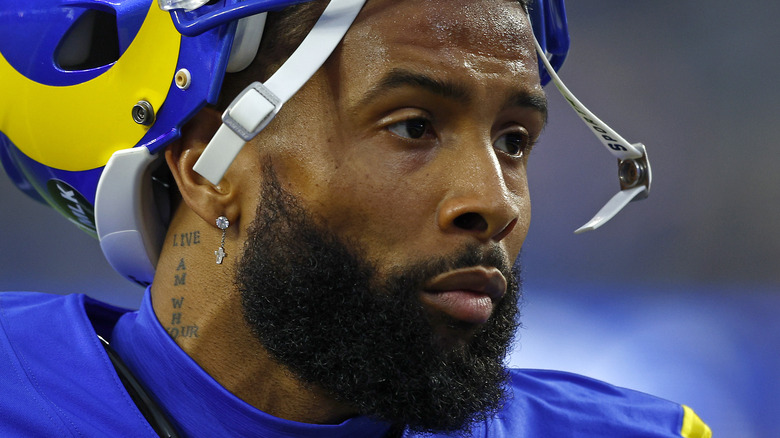 Ronald Martinez/Getty Images
In 2015, quarterback Drew Brees and Odell Beckham Jr. were asked by Visa Checkout to attempt to set the world record for the most one-handed catches completed in a minute. The attempt was part of a larger event in which numerous people tried to break world records. Beckham Jr. was successful in the quest, averaging at least one catch every two seconds, according to Guinness World Records.
As Alex Angert reported for the Guinness World Records, while Beckham Jr. may have made the feat look easy, it was anything but. He explained that Brees was all business during the event, making sure he gave Beckham Jr. plenty to work with. As Angert put it, "The Giants' rookie receiver didn't miss a single pass, and, while it may have looked like he was doing it with ease, I can confirm from a first-hand account that Brees' passes were zipped as if being fired out of a cannon."
He had some legal trouble in 2020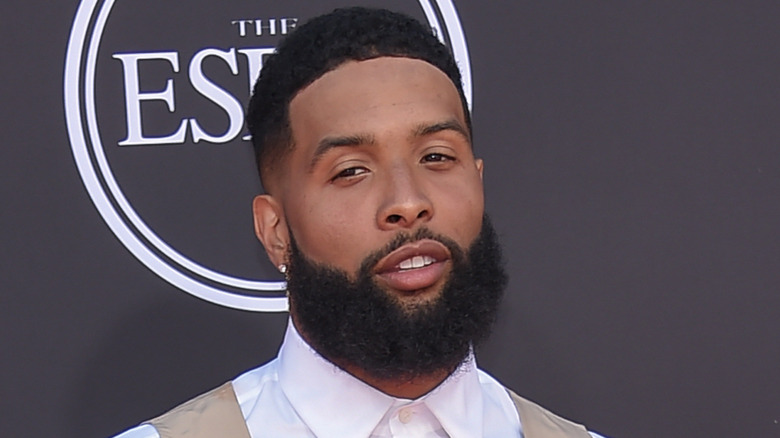 DFree/Shutterstock
In January 2020, many were shocked when the news broke that an arrest warrant had been issued for Odell Beckham Jr. The warrant stemmed from a locker room incident that involved the NFL star and a New Orleans security guard during the CFP national championship. While LSU was busy celebrating their win over Clemson, Beckham Jr. was filmed slapping the backside of the guard in the room, as reported by AL.com.
The incident was taken very seriously, and numerous outlets noted that they wanted to charge the football player with misdemeanor sexual battery. The guard in question is the one who filed the official complaint. Beckham Jr.'s team was quick to share that he was cooperating fully following the issue.
The warrant was extra concerning for fans because it followed a second display of poor choices that Beckham Jr. had made in the same time period. As noted by AL.com, he was captured handing out money to college football players following another LSU game.
The NFL star wears a custom chain with his dog's paw print on it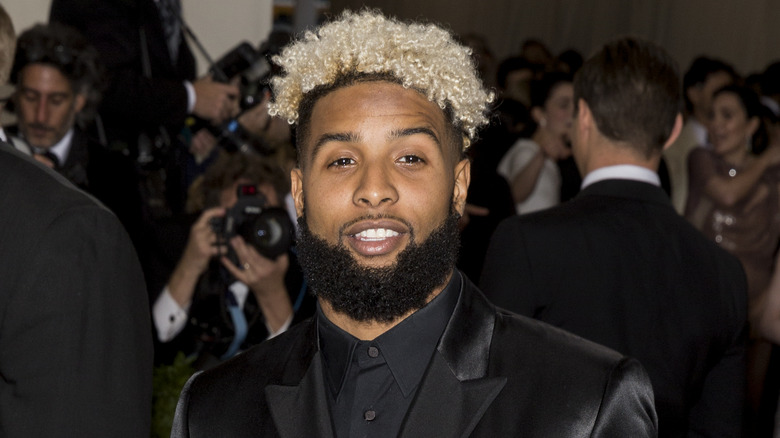 Ovidiu Hrubaru/Shutterstock
In 2016, Odell Beckham Jr. publicly mourned the death of his dog, Tzar. The loss hit Beckham Jr. especially hard, and he shared his grieving process with fans on his Twitter account. As Beckham Jr. explained, the dog was a constant that he had to come to rely on for two years. In one tweet, he wrote, "2/14/14 – 5-31-16 You were there when they counted me out. You were there for the ups and there even more for the downs."
In the time that followed Tzar's passing, Beckham Jr. came up with a sweet way to always keep his furry best friend with him in spirit. In an interview with GQ, he revealed there is one piece of jewelry that stays on during football games no matter what: a custom chain that has a pendant in the shape of his dog's paw on it. When asked if he worries about having it fall off during a game, Beckham Jr. had a very assured reply. He stated, "Nobody snatching my chain."
Odell Beckham Jr. could have played for the New Orleans Saints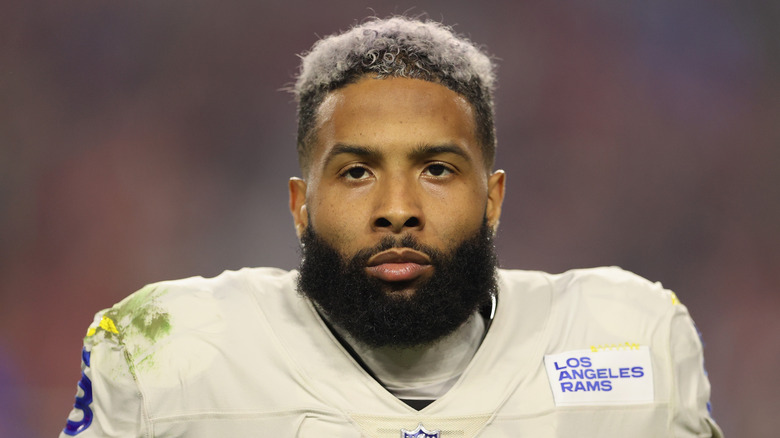 Christian Petersen/Getty Images
Right now, Odell Beckham Jr. plays for the Los Angeles Rams. However, as many athletes know, the career of a football star doesn't often play out in just one place, and Beckham Jr. has certainly moved from team to team. In late 2021, coach Sean Payton revealed that Beckham Jr. almost came back home to Louisiana to play for the New Orleans Saints.
Given his strong ties to the city and state where he attended college, the move would have made sense in a lot of ways. Per FanSided, it appears had Los Angeles not stepped into the ring, Beckham Jr. would very likely be right where it all started. He explained, "The question was all along if L.A. had an opportunity that's where he was going to go. I would say [Los Angeles wasn't involved] until mid-way through the process."