Here's What You Need To Know To Apply Cream Eyeshadow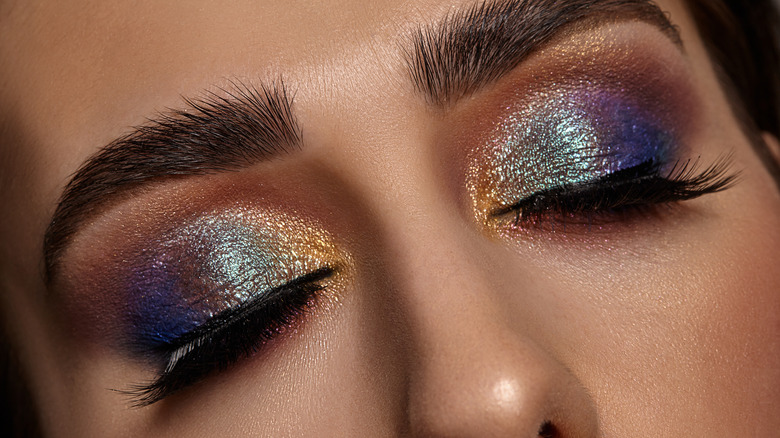 nazarovsergey/Shutterstock
It's no secret that some eyeshadow formulas, even including the best available, are trickier than others to apply, with powder eyeshadow being one of the most difficult to do correctly. The good news is that there's a more user-friendly formula that makeup artists recommend. Enter cream eyeshadow, whose formula is much easier to apply. It's super versatile, too.
Per Byrdie, cream eyeshadow is the easier option when it comes to eye makeup formulas because it blends really evenly and can be easily applied with a clean finger, no makeup brush needed. Of course, if you prefer to apply your eye makeup using a brush, you can. Ipsy reports that cream-based eyeshadow formulas are not only super easy to apply and blend but also that they're usually highly pigmented, have a strong color payoff, and are formulated to be long-lasting. Plus, they're a great option if you love a shimmery shade, a metallic shade, or a wet look.
Cream-based eyeshadows are overall a great, easy-to-use option, but how should you apply them for an eye look that's pretty, professional-looking, and that lasts all day? It's time to dive into this, as well as if they're good for all skin types.
Do cream eyeshadows work well for everyone?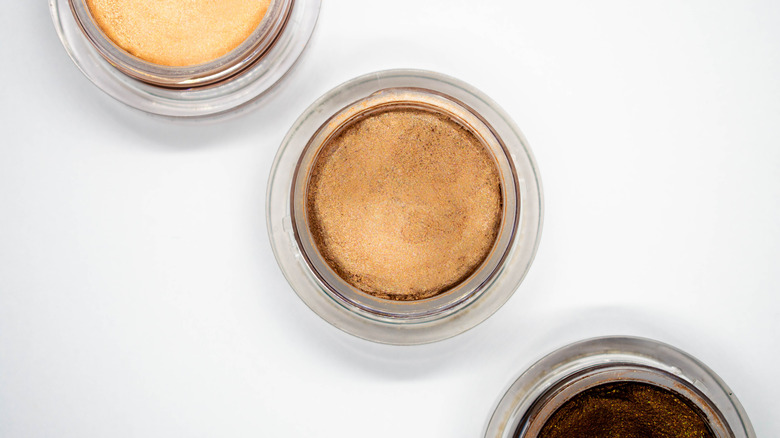 Victoria_Hunter/Shutterstock
Per Ipsy, cream-based eyeshadow formulas don't always work well on their own on every skin type. Different skin types have different reactions to different eyeshadow formulas, which can make the application process a little complex. For normal-to-dry skin, cream-based eyeshadow is the perfect beauty option. It tends to sit well on the skin, and it lasts well for an extended period of time. 
However, cream eyeshadows don't tend to work as well on their own on oily skin. This is because it may smudge more due to the excess oil sitting on the skin. Still, there is an easy hack to help solve this issue: You can apply translucent powder after your eye makeup primer but before applying the shadow itself. This should ensure that the formula remains properly in place. There's also the option of using a powder-based eyeshadow underneath a cream-based formula to help soak up any excess oil.
This is the best method for applying cream eyeshadow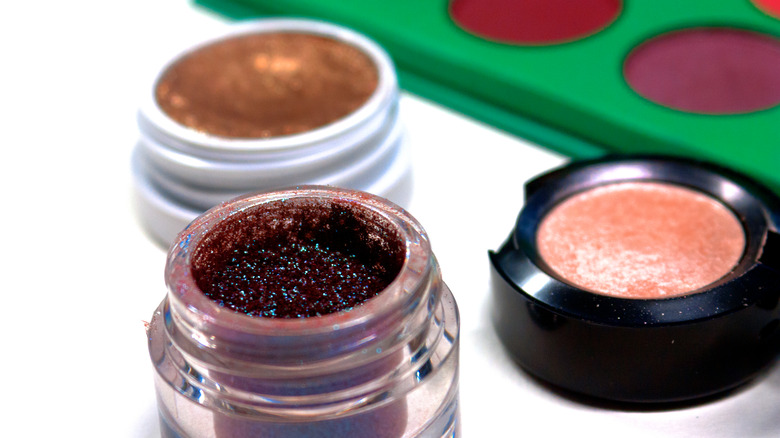 Le.magic/Shutterstock
There are some tips to properly applying cream-based eyeshadows, but makeup artist Tobi Henney explains that how you apply them is ultimately a personal choice (via Byrdie). "Sometimes you can use them with your fingers, [or] you can use a makeup brush, but they're just really easy if eyeshadow scares you," Henney told the outlet. Then, according to Ipsy, if you're going to use your finger to apply your eyeshadow, it's best to use your ring finger. This finger has the lightest touch. You should start by dabbing the product onto the middle of your eyelid, then moving slowly outward to the edges of the lid and up toward your brow bone.
If you're applying the product with a blending brush, pack the product onto the brush and use soft, circular strokes to create a smooth, even finish. Note, though, that you should still move across your eyelid in the same way as if using your finger. Henney also recommends tapping any excess product off. "I find that if you go straight from product to your eye, it's going to get a little bit messy and you may have a little bit too much product on your makeup brush, so it's best just to tap the excess off," she added.
To lock your look in place all day, Ipsy recommends priming your lids with an eye makeup primer before applying cream-based eyeshadow formulas. Then, you're good to go!