Hillary Clinton's Snarky Jab At Donald Trump Has Twitter In A Tizzy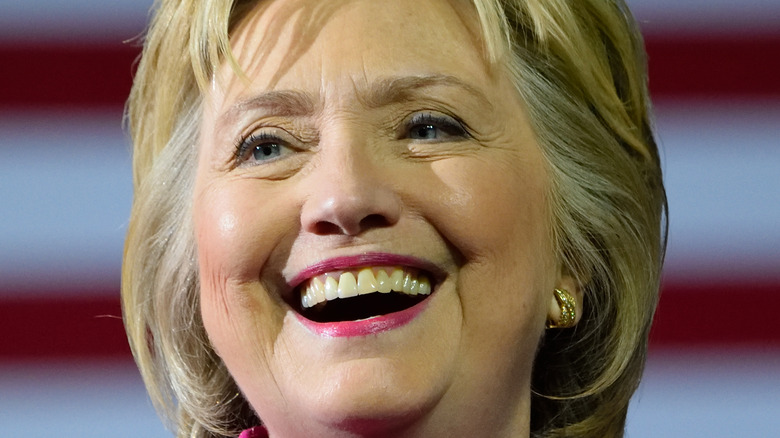 Evan El-Amin/Shutterstock
There's not much love lost between 2016 Presidential candidates Hillary Clinton and Donald Trump. As just one small example, in one political debate, Clinton said that Trump was unfit to serve as president and Trump said he'd put her in jail (per Politico). Trump jailing Clinton was a major rallying cry for his supporters, with the slogan "lock her up" often being chanted at Trump events (per CNN).
It was tied into Trump saying on the campaign trail that he planned to launch a special prosecutor's investigation into Clinton using a private email server while she was Secretary of State. However, once elected, it wasn't something he followed through on (via CNN). In July 2016, the FBI confirmed that while her actions may have been careless, they weren't criminal. However, her emails came up again in October 2016 when then FBI Director James Comey said new emails were discovered. He then confirmed two days before the election with July's assessment — that criminal charges weren't applicable (per BBC).
So, when it was recently confirmed by The Washington Post that Trump frequently ripped official Presidential documents that are required to be preserved, Clinton seized the opportunity to throw some shade.
Hillary Clinton's fans loved the shade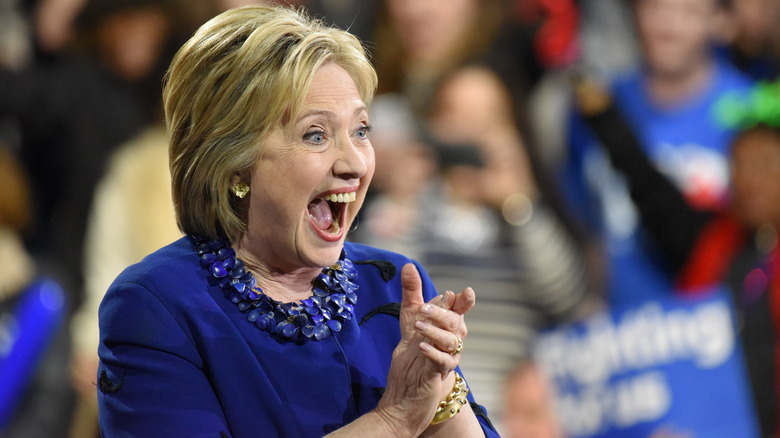 a katz/Shutterstock
Hillary Clinton tweeted, "Take a sip from your new mug as you read the news." The tweet was posted along with a picture of The Washington Post headline, "'He never stopped ripping things up: Inside Trump's relentless document destruction habits," next to a mug with "but her emails" underneath a stylized drawing of Clinton wearing sunglasses and looking at her Blackberry.
The jab was clear — all the uproar of her emails from Republicans but not much about Trump shredding Presidential documents — and Clinton's fans on Twitter came out in force. Plenty of her fans posted receipts of them having purchased the mug or said they'd ordered one, while others were just living for the joke of it. One tweeted, "Wicked sense of [humor] still" along with a heart. "Hillary Clinton = Shade Queen," another wrote on Twitter.
One fan wrote, "We need one that says 'She Was Right About Everything'. And I mean everything," while another said, "Drag him and keep dragging him. You had this right and tried to warn folks. I so admire, appreciate and love you Ma'am."
A few, however, weren't impressed. Someone wrote, "Didn't you smash up devices LOL rich." This in response to the FBI report that uncovered that on two occasions, an aide destroyed two of Clinton's old mobile phones (per Business Insider).