Why Downton Abbey Producers Didn't Allow Costumes To Be Washed During Filming
Aside from the talented cast and brilliant writing, "Downton Abbey" has received praise for its historically accurate period costumes. The costumes were so popular, in fact, that they ended up being celebrated in an exhibition, per the "Downton Abbey" Exhibition's official website. The costume showcase toured the world so fans could get up close to the exquisite pieces and see the antique detail of each item. 
According to Gentleman's Gazette, the show worked with four costume designers throughout the six-series run to oversee historical accuracy, though Anna Robbins is cited most often when talking about the clothing of "Downton Abbey." Robbins joined the show during its fifth series — just as it was about to tackle the Jazz Age.
During an interview with the Evening Standard, Robbins revealed that the secret to the historical accuracy of "Downton Abbey" was down to a mixture of original and vintage designs. "We will physically go and visit lots of different vintage shops and traders," she explained, including monthly vintage markets in London and even further afield in Paris and America. "It's always worth going that extra mile because you might find one gem — if you uncover that gem, it's worth the travel."
The level of historical accuracy was actually taken one step further on the show, with producers reportedly requesting to leave the outfits unwashed for the duration of filming.
To maintain the authenticity of certain vintage costumes, they're rarely washed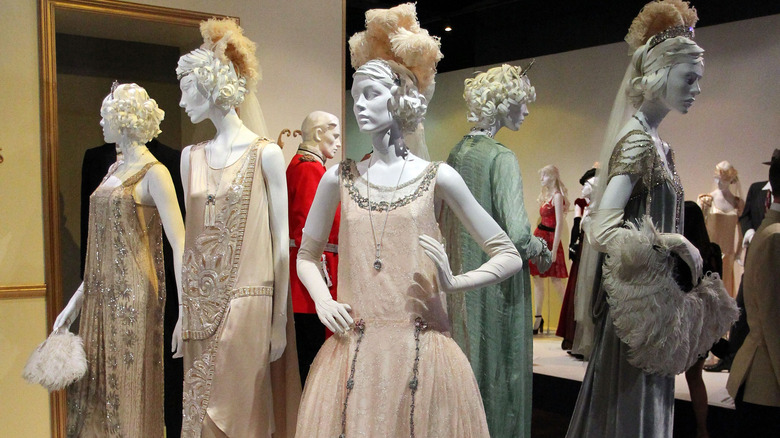 David Buchan/Getty Images
To keep these vintage pieces looking, well, vintage, "Downton Abbey" actually followed a "no-wash" policy, according to actress Sophie McShera, who played Daisy Mason in the series. "We do stink, as they don't wash our costumes," she revealed to the Daily Mail. "They have these weird patches, which are sewn into the armpits and which they wash separately."
The reason why the vintage costumes aren't washed is to maintain its authenticity, according to the Daily Mail. When it comes to the original pieces, these see a little more attention to detail in the prim and proper department. According to costume designer Anna Robbins, around 60% of the wardrobe for the "upstairs" characters are made from scratch (via Daily Mail). Though the clothing isn't washed, that's not to say that the vintage costumes don't receive any TLC — the designer revealed that each piece of vintage clothing they acquire is carefully and diligently restored, which can reportedly end up costing up to £1,000.