Inside Ja'Marr Chase's Love Life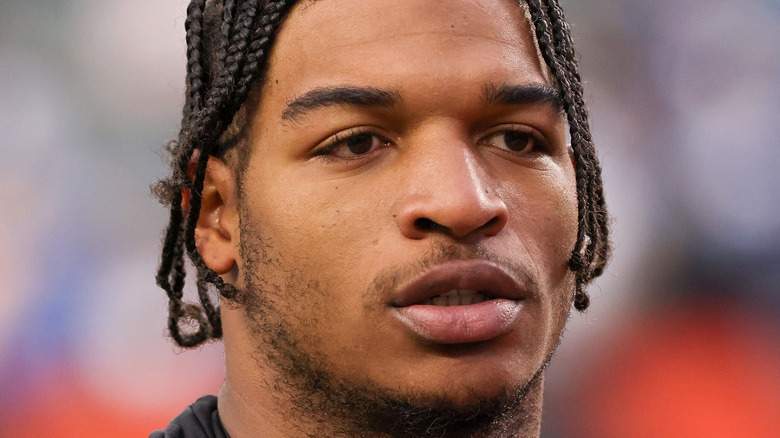 Dylan Buell/Getty Images
It seems the majority of the Super Bowl competitors this year are in serious, long-term relationships. Both the Los Angeles Rams and Cincinnati Bengals have several players who have taken the family route, like Andrew Whitworth, who has been with his wife for years and has four children with her (via ABTC).
Ja'Marr Chase's love life is a bit more complicated. While he is unstoppable on the field, teaming up with quarterback Joe Burrow to successfully run 542 yards and score seven touchdowns, there is no better duo in football (via ESPN).
Off the field, the 21-year-old Chase has shown maturity and will never become a diva, at least according to his coaches (via NBC Sports). He is greatly respected by the members of his team.
However, his love life has had its ups and downs. After having a very public falling out with an alleged ex, Chase has chosen to keep his love life quiet.
Things got ugly between Chase and an Instagram model
According to The US Sun, Chase had an interesting relationship with an Instagram model named Ambar Nicole from Los Angeles. While the public figures didn't post much about each other while they were together, when things went south, their business was out in the open.
Allegedly, Nicole was pregnant. By her account, Chase's reaction was far from supportive (via Total Pro Sports). When she told the football star about the pregnancy, she claims he responded with, "Go take a Plan B then," and blocked her on all social media platforms.
Nicole took their argument to her social media pages, posting screenshots of their conversations and calling him out by name for all to see. While the posts have all been removed from her account now, the damage was done. She has also put her account on private.
Chase took to Twitter, writing, "these fake pages be killing me bruh," alleging that it wasn't even him who sent those messages. The facts surrounding the matter are foggy, but regardless, the split between Nicole and Chase was ugly.