Marjorie Taylor Greene's Latest Gaffe Has Twitter In Hysterics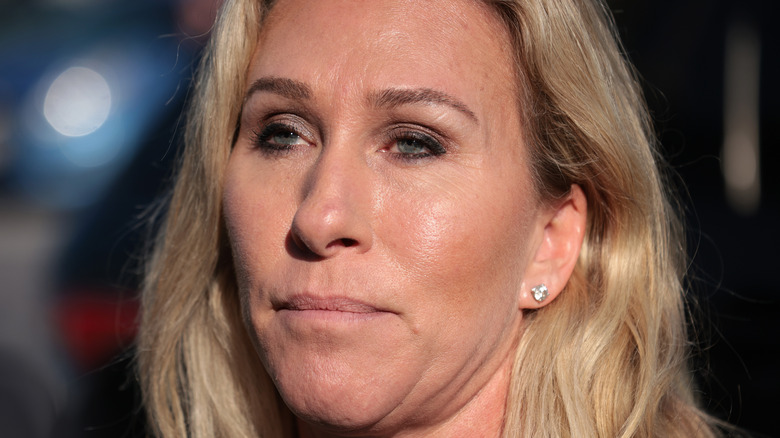 Win Mcnamee/Getty Images
Marjorie Taylor Greene may be banned from Twitter for spreading misinformation about COVID-19 (via TMZ), but she still knows how to stir up controversy on the social media platform. The Republican congressperson has become better known for her often-outrageous statements than for the legislation she backs. The Associated Press has listed some of her more choice words, such as her claim that Democratic Reps. Ilhan Omar and Rashida Tlaib, both American citizens, should "go back to the Middle East," and that they aren't true members of Congress because they didn't swear their oaths on a Bible.  
But Greene's latest gaffe is destined to haunt her for the rest of her political career, if not the rest of her life. In an interview on February 9, 2022, with the conservative network One America Network (OAN), Greene discussed a news story about a Republican Congressman who had tweeted that the Capitol Police had gone into his office without consent. "Not only do we have the D.C. police — which is the D.C. gulag — we also have Nancy Pelosi's gazpacho police spying on members of Congress, spying on the legislative work we do," Greene commented. 
Greene continued talking, not realizing that she'd made a mistake that was obvious to both history students and foodies. But the error certainly didn't go unnoticed on social media.
Marjorie Taylor Greene made a soup-related gaffe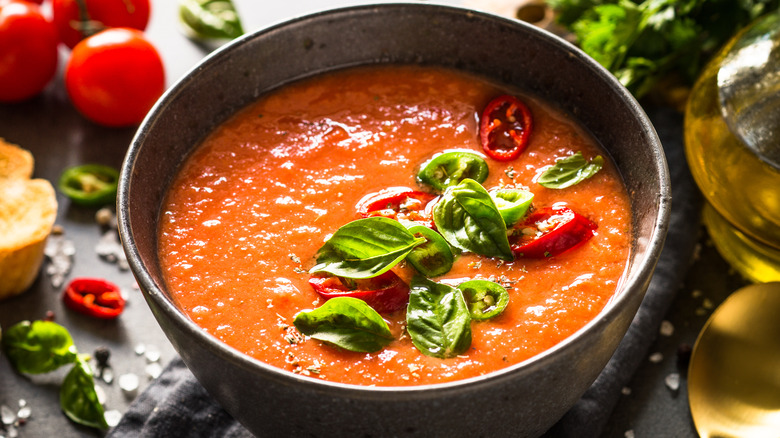 nadianb/Shutterstock
During her interview with One America Network, Greene attempted tp make reference to the Gestapo — the secret police of Nazi Germany who ruthlessly sought out Jews and other "undesirable" communities and sent them to torture and death in concentration camps (via Britannica). However, Greene mistakenly used the word Gazpacho, which is actually a cold soup originating in Spain, that is typically made with tomatoes, cucumbers, peppers, garlic, and olive oil (via AllRecipes). 
Naturally, social media were quick to pick up on the gaffe. "The same ignorance & lack of intelligence also fuel conspiracy theories, bigotry & other hogwash, because these people truly don't know anything," tweeted one user. 
One of the best responses, however, came from Chef José Andrés, who knows a thing or two about Gazpacho soup. "Dear @RepMTG the Gazpacho police was created by me in 1993 to make sure that no one will add Tabasco or [jalapeño] or strange things to my beloved soup! Please don't blame anybody else but me...stop by for a glass anytime. Don't forget your mask and vaccination card!" he wrote.