Matchmaker Reveals The Best Ways To Catch An Online Dating Con - Exclusive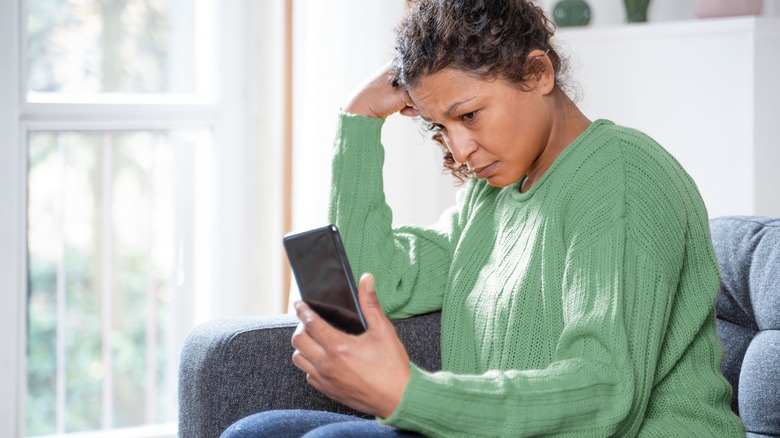 tommaso79/Shutterstock
With Valentine's Day steadily approaching, you might be still searching for that special someone to share a meal with on Cupid's holiday. Like millions of people around the world, you're likely swiping through dating apps like Tinder to find this special someone. Before you begin vigorously swiping through these online dating apps, though, you might want to heed a warning presented by a recent report published by the Federal Trade Commission's Consumer Sentinel Database. The report found that, in 2020 alone, romance scams cost people a whopping $139 million, which was up around 50 percent from 2019. In February, the release of the Netflix documentary, "The Tinder Swindler," which documents a multi-million-dollar scam conducted on Tinder by famous con man Simon Leviev, has only fueled the fear for those who are trying to find love on a dating app.
For starters, if you believe your dating app match to be a conman or conwoman, Susan Trombetti, matchmaker and CEO of Exclusive Matchmaking, says that thinking like a con can help you catch them in the act. "Just act like you are trusting and believe everything they say, so they continue to pour it on," Trombetti told The List. "The more they tell you, the sloppier they will be with their lies and the more you can disprove their lies. You certainly don't want to question them because they will tell you more lies that will just leave you feeling even more confused and your head will be spinning."
Do a bit of sleuthing to discover your match's true motives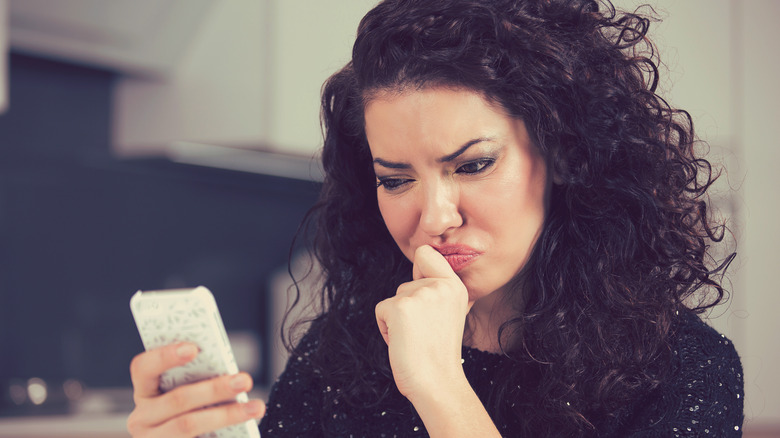 pathdoc/Shutterstock
If you want to catch your dating app match in a lie, you might need to play detective. "Google reverse image search on their photos can reveal a true identity," Susan Trombetti, matchmaker and CEO of Exclusive Matchmaking, told The List. "It's great when the truth pops up, but it's not always that cut and dry. Some cons know not to use photos that are out there, so this isn't 100% reliable. ... Also, check the GPS coordinates on their photos to see where they are located. If they claim to be home, and that's a photo in Turkey, you know they aren't telling you the truth. Also, photos that are stripped of GPS coordinates are suspect, too."
Online sleuthing can be further facilitated with the use of services like Spokeo, Instant Checkmate, and Social Catfish that allow you to search for public records associated with your match. "These will reveal social media accounts, or emails that you didn't know and all sorts of other details that you should be able to go down a rabbit hole verifying all sorts of other info," Trombetti told The List. "Just beware if they have a common name and you can't find them, or you find no digital footprint anywhere. Not finding something is as critical as finding that they have spent the last 20 years incarcerated."
Finally, simply listening and documenting everything that your match says and does can help you catch them in a lie. "These notes are your bible," Trombetti says.