Are Figure Skating Duo Madison Hubbell And Zachary Donohue Dating?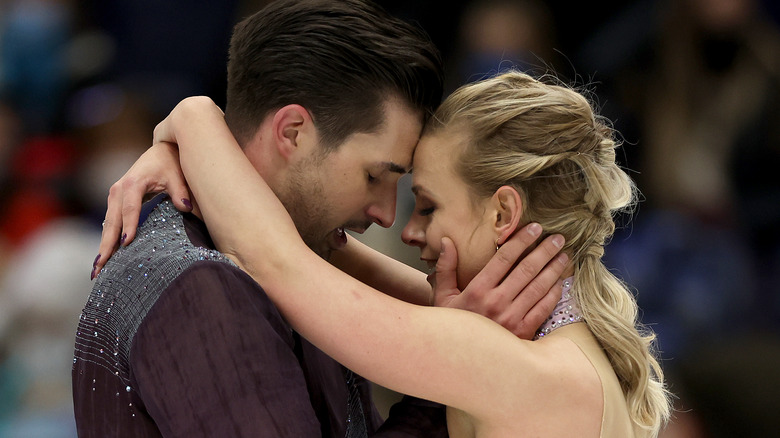 Matthew Stockman/Getty Images
Figure skating duo Madison Hubbell and Zachary Donohue helped the United States Olympic figure skating team earn a silver medal at the 2022 Beijing Olympics. As Zip06 reported, the pair managed to take first place in the ice dance rhythm dance portion of the competition. Since first being paired up together back in 2011, the pair have earned a handful of medals and awards in competitions all over the world. 
The Beijing Olympics will actually be the last event that the figure skating duo will compete in before retiring as partners. "This will be our last official season together as competitive athletes," Donohue told ABC 4. "We're going to sit in this moment and realize all the work we've put in over the last 11 years is enough, and just be present and be completely absorbed in the moment," Hubbell added.
In every interview they have done together as a pair, Hubbell and Donohue have been incredibly complimentary of one another. Coupled with the chemistry that they share on the ice, many have wondered if the pair are actually romantically linked. So, are Hubbell and Donohue dating? 
Madison Hubbell and Zachary Donohue have a complicated history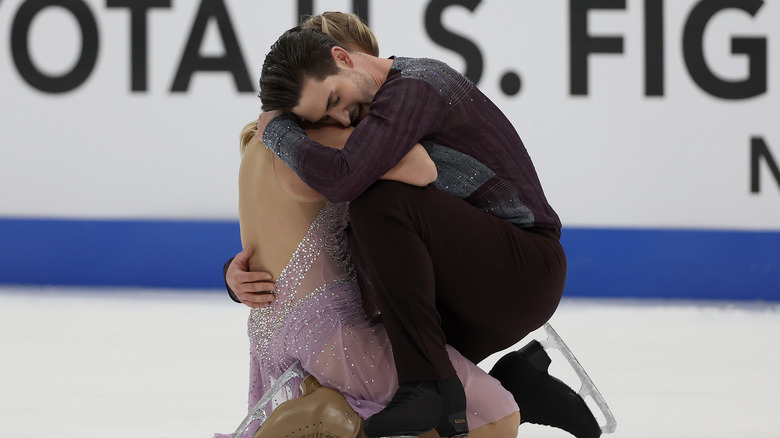 Matthew Stockman/Getty Images
Shortly after their professional partnership began in 2011, Madison Hubbell and Zachary Donohue began dating off the ice. After two-and-a-half years together, the pair called it quits on their romantic relationship, but decided to remain partners on the ice, USA Today reported. 
Despite ending their relationship, the pair still enjoy an incredibly close relationship as an ice skating duo — and even as friends. "To be able to just look at someone and say 'I love you,' in a way that I don't love other people, is something powerful to admit," Hubbell told USA Today. "It's helped us in the last couple years re-form a new bond and a new friendship. And it's part of that calm I think that we're feeling on the ice now with each other. We look at each other and there's full trust and vulnerability and adoration."
Hubbell is currently engaged to Spanish professional figure skater Adrián Díaz, who is also competing in ice dancing at the 2022 Beijing Olympics. "This was a particularly wonderful way to begin the Games not only with a season's best score but ... especially special for me with my fiancé in the stands because usually we're focused on our events," Hubbell told Reuters. Hubbell and Díaz are set to exchange wedding vows in Barcelona, Spain, in 2023.