Are Figure Skating Duo Alexa Knierim And Brandon Frazier Dating?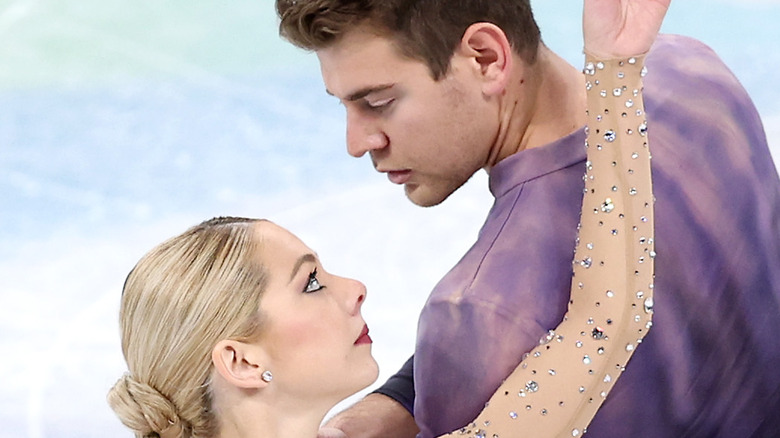 Matthew Stockman/Getty Images
On February 6, figure skating duo Alexa Knierim and Brandon Frazier's routine to "Fix You" by Coldplay helped the United States team to earn a silver medal at the 2022 Olympics, according to TODAY. Though the pair have only been an official ice skating duo since 2020, their chemistry on the ice was palpable. Just as the pandemic was beginning to shut down ice rinks around the world, Knierim and Frazer began skating together for the first time. As they revealed in a video on the NBC Olympics' website, though they had been skating with other partners, Knierim and Frazier teamed up to bring their ice skating game to the next level. "We both had very successful careers with other partners," Knierim said in the video. "And we both reached a point where it was time to start something new ... Honestly, the first time we took the ice and held hands we kind of knew. Brandon and I are just so united and connected when we skate. I almost feel like we share a brain when we take the ice."
Talent aside, viewers tuning in to watch figure skating pairs take the ice at the Olympics often ask one question: Are they dating? As it turns out, there has been a bit of romantic matchmaking in Knierim and Frazier's past.
Frazer introduced Knierim to her husband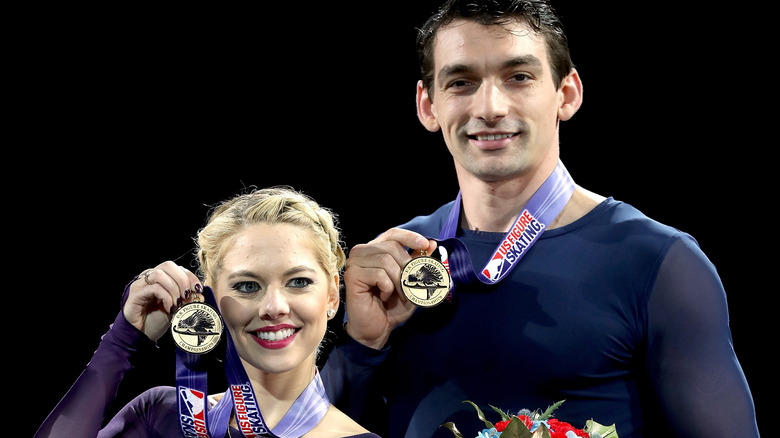 Matthew Stockman/Getty Images
Though many might have concluded from their performance at the 2022 Olympics that figure skating duo Alexa Knierim and Brandon Frazier are dating, it turns out that Alexa is actually married to another professional figure skater. According to TODAY, Alexa has been married to now-retired figure skater Chris Knierim since 2016. During an interview with TODAY, Frazier revealed that he had actually played matchmaker for Chris and Alexa. "Chris and I, way back in the day when we both were living in Colorado, used to do a lot of things together," Frazier said. "Fishing, hiking and obviously trained together, and I was there when Alexa moved [there]. We would invite Alexa to come fishing and stuff. I was in between, always whispering back and forth, kind of doing the nudging."
Alexa and Chris, apart from being a married couple, performed together as an ice skating pair and even won a bronze medal at the team event at the 2018 Olympics in PyeongChang, per TODAY. However, in 2020, after experiencing a series of injuries and bouts of depression, Chris announced that he was retiring from professional ice skating and would turn to coaching instead. "I've been struggling with injuries — one gets better and then another pops up," Chris told the US Figure Skating Fan Zone in 2020. "I've been struggling with my jumps a lot this season and now I'm ready to move on. But Alexa, she's still gung-ho and ready to go, no doubt. She's such an athlete and competitor. I support her 100%."