Jason Ritter On Why He Reads Comments About His Raising Dion Character's Big Reveal - Exclusive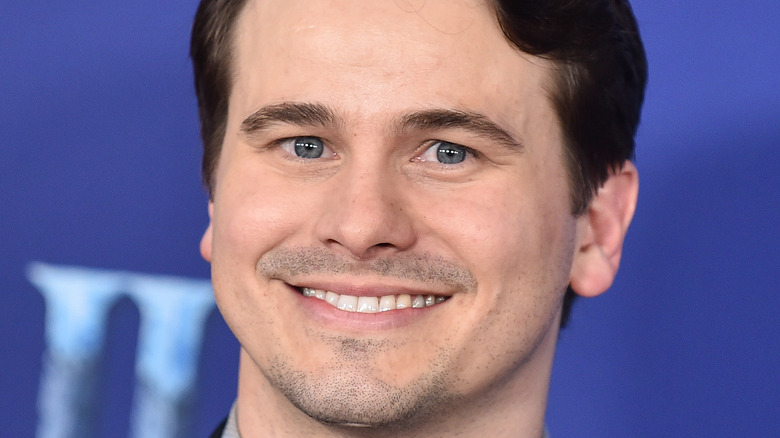 DFree/Shutterstock
It's been hot minute since the debut of "Raising Dion," the hit Netflix series about a young boy named Dion (Ja'Siah Young) who shocks and surprises his mother (Alisha Wainwright) when he begins to display mysterious superpowers. After a lengthy pandemic-related delay, more than two years later the show has finally returned. Viewers who watched the entirety of the first season may find it surprising that Jason Ritter is back for the second, given that he was revealed to be the villainous "Crooked Man" who'd been plaguing Dion and his loved ones. Even more importantly, the last time viewers saw Pat, it was in his "crooked" form while he exploded into a flurry of electrical sparks at the end of the season finale. 
So yeah, Pat's return understandably raises some questions — and also brings viewers face to face with a whole new revelation about Pat, one that promises to shift the character's dynamics within the show considerably.
In an exclusive interview with The List, Ritter explains why he loves to read fan comments about his "Raising Dion" character — the nastier, the better!
Jason Ritter especially enjoys the 'mean' comments about his Raising Dion character
Many actors prefer to stay away from reading fan comments about them on social media, and that includes Jason Ritter — usually. When it comes to "Raising Dion" and his villainous character, however, he's willing to make an exception. 
"That was one of my favorite things. I'll go on Twitter and read everything that I can find," Ritter divulges. "It's not that I haven't been wounded in the past for doing that before, but it's been really fun. It's been a spectrum of people, some from the very beginning of Season 1 were like, 'I don't know about Pat, something's off.' Then some people, even after Pat was revealed to do all the horrible things were like, 'No, this isn't Pat, something else is going on.' It's interesting to have that entire spectrum of feelings about Pat starting in Season 2."
As for how viewers of the show will respond to Pat 2.0, Ritter is ready to find out. "Will some people trust him right away? Will some people still really hold off on that, or never trust him? Or, where are they going to lie?" he says. "I'm really excited to read all the comments, even the mean ones."
The second season of "Raising Dion" is now streaming on Netflix.