What You Never Knew About Joe Burrow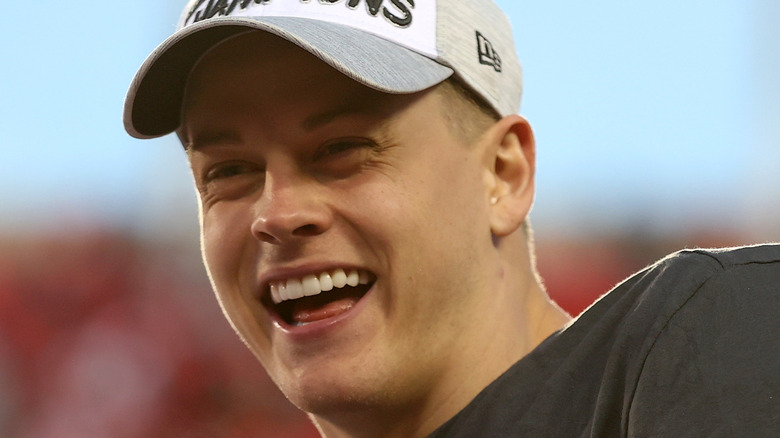 Jamie Squire/Getty Images
As Super Bowl Sunday approaches, all eyes are on Joe Burrow. Burrow is the quarterback of the Cincinnati Bengals who helped bring his team from down and out to the playoffs, and eventually all the way to the big game (via Go Long). The young quarterback from Louisiana State University has revived his team and hopes to carry them to a Super Bowl victory.
According to Marca, Burrow is in serious preparation mode as Sunday approaches. He's not checking social media and focusing on his game plan. When asked about that plan, he said, "Focus on getting better," continuing, "Don't have a workout and post it on Instagram the next day and then go sit on your butt the next day and everyone thinks you're working hard but you're not. Work in silence. Don't show anyone what you're doing. Let your performance on Friday nights and Saturday nights and Sunday nights show all the hard work you put in. Don't worry about all that social media stuff."
Now that he's headed to the Super Bowl, fans might feel like they know everything there is to know about their beloved quarterback. However, there's an aspect of his career that may surprise even the most dedicated fans.
Burrow attended another school before his success with LSU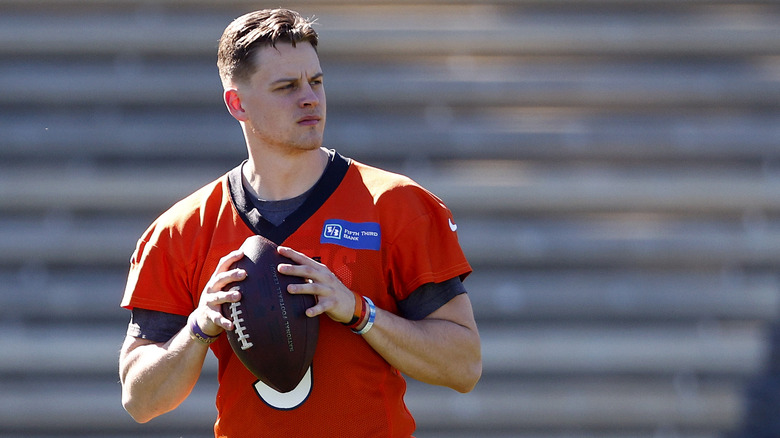 Ronald Martinez/Getty Images
Joe Burrow was a beloved player at Louisiana State University. Fans remember the fight he made to lead his team to the National Championship in 2019 (via NFL Therapy). It wasn't just his performance in the big game that left a lasting impression on LSU fans, it was the celebration after the fact that made him go down in history at the school. After LSU won the championship game, Burrow was caught smoking a cigar in the locker room. While that doesn't seem like such a big deal, Burrow and his teammates were nearly arrested for the act. In New Orleans, smoking indoors is illegal, making their post-game celebration a crime. However, the team was not arrested, and the story has become infamous.
It turns out, however, that Burrow's LSU infamy almost didn't happen. Burrow went to Ohio State University and actually graduated from the college before transferring to LSU to play football (per Fansided). Burrow was playing in Ohio, but the college team didn't have much success. So, he made his way to LSU, a bigger football school and the rest is history!
Burrow on the subject said, "I'm definitely still a Buckeye, I graduated from there, I still have relationships to this day that I wouldn't have without being there."