What We Know About Joe Burrow's Girlfriend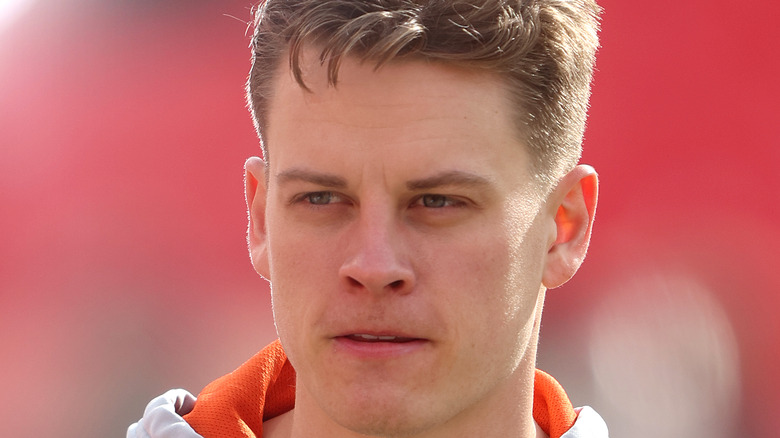 Jamie Squire/Getty Images
Joe Burrow is the young quarterback that has taken the NFL by storm. The athlete was drafted number one overall by the Cincinnati Bengals in the 2020 NFL draft, and now less than two years later, he's led them to their first Super Bowl appearance in 33 years (via Full Press Coverage). Burrow has given Bengals fans the ride of a lifetime this season, which includes the team's first playoff appearance and AFC North division title in six years.
Throughout the entire season, Burrow and his Bengals have been proving that they can win games and compete with the league's most dynamic teams. However, the quarterback doesn't like the narrative of his team being called a Cinderella story. "No, I'm tired of the underdog narrative," Burrow said in January 2022, CBS Sports reported. "We're a really, really good team. We're here to make noise and teams are going to have to pay attention to us. We're, like I said, a really good team with really good players and coaches and we're coming for it all," he added.
Thankfully, Burrow has a really good support system to help him on his journey to an NFL championship. The football player's parents, Jimmy and Robin, have been by his side supporting him through his entire career, injuries and all, and they have no plans to stop now, per Sports Illustrated. In addition, the athlete also has his longtime girlfriend, Olivia Holzmacher, cheering him on.
Joe Burrow and Olivia Holzmacher have been together since 2017
Joe Burrow's girlfriend, Olivia Holzmacher, was in attendance as he punched his ticket to Super Bowl LVI with the Cincinnati Bengals, per The Sun. Holzmacher is reportedly a native Ohioan like Burrow, who attended Mason High School, where she played volleyball. Currently, she works as a senior process specialist and analyst with The Kroger Company.
Burrow and Holzmacher were said to have met in 2017 (via Page Six). The pair's first social media post together came in 2017 when Burrow was set to leave Ohio State University in favor of playing at LSU. In 2020, Burrow won the Heisman Trophy, and Holzmacher was by his side to celebrate the moment. "The best weekend ever!. I'm so proud of you," she captioned a sweet selfie of the pair before the ceremony.
Burrow was later drafted by the Bengals and moved back to Ohio. Since rising to fame for his stellar play during the 2021— 2022 season, fans have become much more interested in Burrow's personal life, which includes his relationship with Holzmacher and it shows. Her Instagram following has surpassed 60,000 followers at the time of publication, and it's sure to get even higher thanks to the athlete's participation in the Super Bowl.
Fans will definitely be keeping an eye on Burrow and Holzmacher's relationship, as an engagement could be the next big chapter in the quarterback's life.